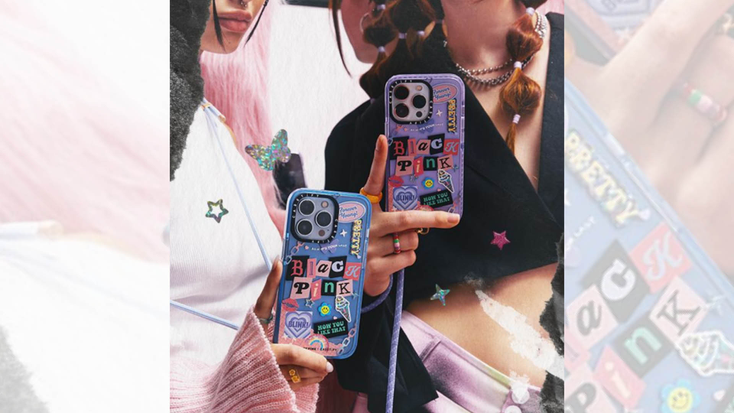 CASETiFY x BLACKPINK phone case
CASETiFY
Today's smartphones can do a lot more than your old cell used to, with high-quality photo and video capabilities, group chatting, counting daily steps and much more. It has become the ultimate accessory, with Statista reporting nearly 15 billion mobile devices being used worldwide as of the end of 2021. In the U.S. alone, Pew Research reports 97% of Americans own a cellphone, with 85% using smartphones. With cell phones having this much mainstream popularity, cell phone case companies have branched out beyond simply giving consumers protection for their precious devices. They have become a fashion accessory with different colors, styles, textures and licensed properties to choose from.
According to Verified Market Research, the mobile phone protective cases market size was valued at $21.61 billion in 2020 and is projected to reach $35.81 billion by 2028. Based on type, Verified Market Research categorized the cases into multiple kinds: body glove, pouch, phone skin,
hybrid cases and others.
The largest segment was the body glove, which they credit to the introduction of smooth textures (called smooth plans), combined with the utilization of advanced materials like silicon, elastic and thermoplastic polyurethane. Regardless of its accessory power, consumers still seek protection for their devices.
Verified Market Research notes that major players in the market are Mophie Technology, Moshi, Griffin Technology, Apple, Samsung Electronics, CG Mobile, Incipio, Otter Products and FIT Hon Teng Limited.
Another trend in the phone case space is customized and customizable phone cases. From influencer collaborations to IP additions and even the option to add your own graphics,
currently boasts around three million followers across all of its social media profiles and is popular among millennials and Gen Z. From bands like BTS and BLACKPINK to artists like Keith Haring, popular shows like "
" and more, CASETiFY has some of the highest-profile collaborations in the phone case game and is both following trends in the market and creating them.
"Back in the day, phone cases were grouped with mouse pads, computer cases or laptop bags," Wes Ng, chief executive officer and founder, CASETiFY, told High-Snobiety. "You never really see tech accessories with fashion, but we're trying to make people think differently, to show that a phone case can also feature great design and express creativity. As a designer, I don't just want to put a logo on the back of the case and call it a day. Customization and aesthetics are important, and our team constantly tries to push this."
Brand licensing is a big part of fashion, but fashion extends beyond essential apparel. For some, accessories add to their wardrobe and can complete a look they want to achieve.
For the licensing industry, it's a good look. According to
License Global's Top Global Licensors Report
, most licensors said that brand collaboration at retail was paramount to their growth strategy for 2023, including accessories.
Accessories are also a big part of a licensee's world. In
November's Leading Licenees report
, about a third of licensees on the list created licensed accessories in 2022.
Read more about:
Subscribe and receive the latest news from the industry.
Join 62,000+ members. Yes, it's completely free.
You May Also Like
Loading..