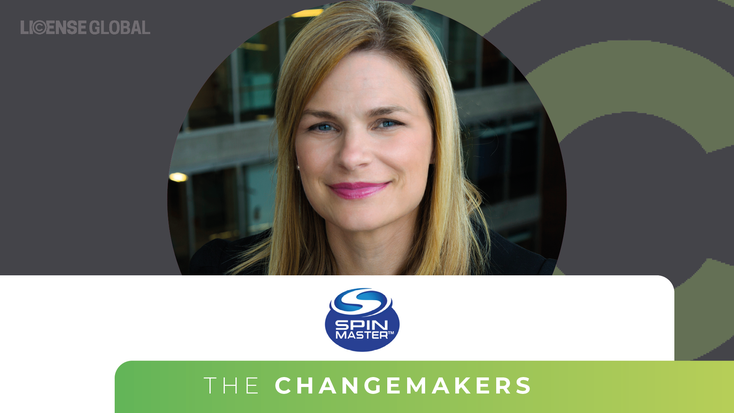 Tammy Smitham.
Spin Master
The licensing industry has global influence; consumers flock to buy the products the industry creates, and the revenue driven at retail is a substantial driver in a brand's power to implement change. Some executives harness the power of their position to become what License Global is calling a changemaker, meaning that to create the change they want to see in the world, they are uncovering licensing's potential as a catalyst.  
To celebrate the initiatives and individuals behind change, License Global explores how the licensing industry is making an impact on sustainability and diversity and inclusion through a monthly insight column called "Changemakers" (formerly "
"). 
For this installment, Tammy Smitham, vice president, communications and corporate social responsibility,
, outlines how the toy and entertainment company is giving back and what it hopes to do next. Smitham also has with her Grace Whaley, a past winner of a Spin Master scholarship, to give additional
insight on how these initiatives change lives. 
License Global: Spin Master is well known in the toy and entertainment space. How does the company use its reach to implement change?
Tammy Smitham:
As a leader in children's entertainment, we are creating magical play experiences for children and their families every day. In doing that, we recognize the need to be responsible custodians of the world these children will one day inherit. That can take many forms, from introducing more sustainable materials into our toys to creating entertainment content that reflects the diversity of our audiences around the globe to building safe, inclusive digital game environments where kids feel they can be their authentic selves.  
You oversee philanthropy for Spin Master. Why is this task important to you and what does this position entail?
TS:
Spin Master has a long history of giving back and our employees are very passionate about having a positive social impact. We believe that every child should have the opportunity to experience the joy of play and that play can spark imagination and open up learning potential.  
Together, with my team, we get to plan and execute a number of programs to benefit children in need. Our signature Toy Movement, which is celebrating its 10th anniversary next year, brings toys to children living in disadvantaged and displaced situations, working in partnership with several charities, including Save the Children and World Vision. To date the Toy Movement has delivered 850,000 toys and this year we will be conducting missions to Turkey, Puerto Rico, Liberia and Zambia and a few other countries.  
We also have strategic relationships with several charities, including the Boys and Girls Clubs of America in the U.S. and Let's Talk Science in Canada to provide toy donations as well as creative arts and innovation programming – from teaching kids to solve the Rubik's Cube to encouraging them to design their own toys. Last year we positively impacted the lives of 610,000 children through our charitable programming.  
Another important part of our giving is employee volunteerism. Last year, we recorded 5,000 volunteer hours through local events, whereby our employees pick local causes to support – from building bikes for kids, planting rooftop gardens and donating time at local hospitals. I could talk all day about the amazing ways our employees give back in their communities.  
How have you used your position at Spin Master to create the change you want to see in the industry, and what do you have planned in the future? What do you hope to achieve?
TS:
Where to begin? I think there is no shortage of opportunity to make an impact. From an industry perspective, we have been trying to find ways to reduce our carbon footprint by reducing the amount of plastic in our packaging, introducing sustainable materials into our toys and beginning to work with our suppliers on creating their own environmental action plans. I believe that the advances our product development and engineering teams make will benefit the industry as a whole. We have begun idea sharing across retailers, other manufacturers and licensed partners to see where there are opportunities to reduce plastic and extend the life of our toys. Ideally, we want to protect the planet to ensure our kids and their kids can enjoy it the way we do today.  
Spin Master has a scholarship program that promotes representation within both the licensing industry and Spin Master that is doing great things. Can you tell me a bit more about that?
TS:
As part of our larger efforts to support inclusion, we established the Future of Play scholarships in 2020. These scholarships are intended to provide aspiring creators from equity-seeking groups and communities (BIPOC, LGBTQIA+ or women) in North America with financial support to pursue post-secondary education and be a part of the next generation of creators, inventors, designers and entrepreneurs in children's entertainment. Each year we award scholarships to eight students and continue to support them throughout their studies.   
We believe that diversity of thought fuels new ideas and innovations which will not only benefit the industry, but also benefit the children and families we entertain.  
Grace, you're a 2021 winner of this scholarship and used the funds to pursue animation. How has this scholarship affected your life since you won it?
Grace Whaley:
The Spin Master Future of Play Scholarship is a gateway to being able to create for the rest of my life. My biggest dream, for as long as I can remember, has always been to stay creative and exercise my imagination. I want to inspire others through art and writing and tell stories that will stick with people for the rest of their lives. Spin Master is giving me the opportunity to do exactly that. 
Tammy, what advice would you give to those in the licensing industry that wish to give back?
TS:
When developing your own giving strategy, I think it is really important to start with your purpose and tie your programs back to who you are and what you stand for. Be grounded in your values and leverage your own expertise to benefit others. For us, we are focused on creating magical play experiences for kids so naturally we wanted to partner with charities that can help us reach children and enhance their lives. We also have the resources to support our efforts as well as our deep understanding of play so we can knowledge-share with our charitable partners.  
What do you hope to do to make change in the future?
TS:
I think one of the areas where we would like to do more is partnering with others in the industry to further amplify our programs and reach more children. For instance, Spin Master creates toys, digital games and entertainment; we are able to share and donate these easily, but there are other items that kids need. Stationary, publishing, sports equipment – all of these items are in short supply in many of the contexts we visit with the Toy Movement. We would love to work with others in these categories to make an even bigger difference in the lives of children. 
Read more about:
Subscribe and receive the latest news from the industry.
Join 62,000+ members. Yes, it's completely free.
You May Also Like
Loading..