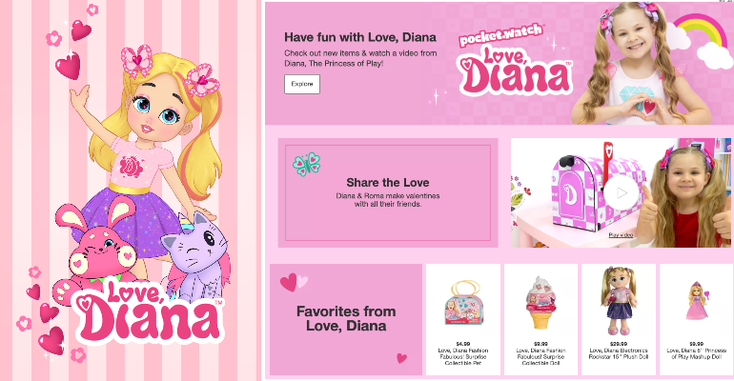 Pocket.watch is no stranger to creating children's properties that stick. One of the biggest children's brands in the world is theirs: Ryan's World. The toy-reviewing tot has created an enormous licensed consumer goods product line, and Pocket.watch has been hard at work creating the next biggest brand in kids' licensing: Love, Diana.
In May of 2020, Pocket.watch announced a new partnership with Diana from "Kids Diana Show" to expand into licensed products. The new brand, called Love Diana – the Princess of Play, covers multiple categories. Diana's YouTube channel boasts more than 5.5 billion monthly views and more than 74 million subscribers.
Diana's internet popularity has exploded on to the licensing scene, with Diana's product line already expanding tremendously.
"The sales are demonstrating why we think it's going to be the next hot thing," says Stone Newman, chief revenue officer, Pocket.watch. "Within a month of being on the shelf in Australia, it was the fourth best-selling doll brand.
We launched in the U.S., U.K. and Australia with a limited distribution strategy very late in 2020, and Independent 3rd Party Industry Retail Data has confirmed that Love Diana is in the Top 10 New Licenses that launched in 2020. It's in there with some unbelievable best in class brands, like Blue's Clues. That gives us great confidence that what we had anticipated has now proven itself. Her sheer enormity and the sheer passion for Diana by her audience, with billions and billions of views a month, five and a half billion views a month across her channels, and 10s of millions of subscribers, the way kids engage with that content, she is the princess of pretend play. We found that was a very dynamic place in the market where there deserved to be to be a brand that celebrated play, and that is what Love, Diana."
Diana's brand has launched successfully across many categories. Diana boasts toy lines, clothing, a dressup game and more. From apparel in Australia with Mitch Dowd that was one of the top-selling new introductions in December in the country, to programs at Target and Walmart with collectibles and dolls, to a fashion accessories program with Claire's, audiences are already in love with Love, Diana after such a short period of time. The brand has been embraced so much so, in fact, that licensees have expanded five-fold from eight to 40 in less than a year.
"The industry is very excited," says Newman. "We've shown explosive growth, where we now have over 40 licensees, we now have nine agents around the world, including coverage in India, China, Southeast Asia, Australia, New Zealand, Latin America, Southern Europe, Western Europe, the Nordics and the Middle East. There is now not a country in the world where Diana has not been presented to licensees and retailers, and I think it's very, very realistic that that number of licensees goes from 40 to well over 100 in a short period of time. Love, Diana's impact has already soared beyond expectations for online reach as well."
Pocket.watch's "Diana Dressup" game launched late last year, and it's already surpassed one million downloads, faster than "Tag with Ryan," Pocket.watch's massively successful and popular mobile app for Ryan's World. With this trajectory, Newman and other executives at Pocket.watch see even more categories for Diana in the near future.
"You will see massive expansion in the coming months from where we are today in the US with Toys at Target and Walmart to a broader category coverage at both retailers in the coming months.   You will see Love, Diana's presence expand to 5 categories at Walmart and 6 categories at Target by Summer.   Our hope is to see even broader expansion where we achieve the type of broad coverage we have in Australia.   Our programs at Big W, Target and K Mart are extensive running very broadly across more than 10 categories.   That is explosive considering the brand debuted in Australia in November '20."
Diana is set to be an even more enormous force in the licensing industry, and she's all about spreading the love. Love, Diana is now launching at Target through a large initiative focused on spreading love during the Valentine's Day season.
Diana is "sharing the love" with her fans and created a video that showcases kids all over the world contributing to a big collaborative Valentine's Day card.
"Diana's Valentine's gift to everybody is a really special video," says Newman. "I think we could all use a little bit of love for this global pandemic, and especially as we approached Valentine's Day, and we're really thrilled to spread that love with Diana and our family and the pocket.watch family across the entire licensing industry globally."
Additional Love, Diana news will be shared in the upcoming months.
Read more about:
Subscribe and receive the latest news from the industry.
Join 62,000+ members. Yes, it's completely free.
You May Also Like
Loading..