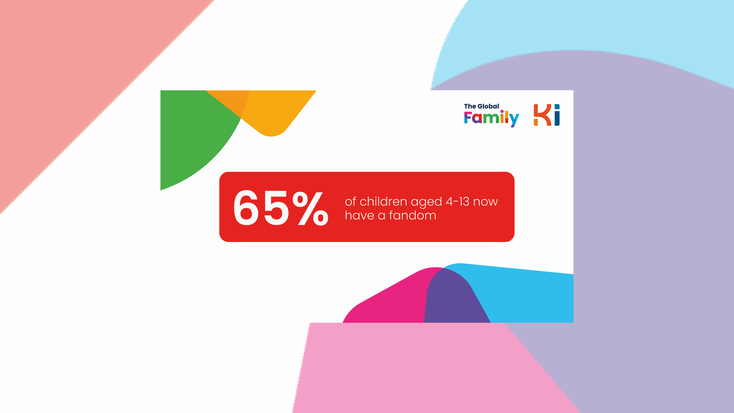 Kids fandoms statistic
Kids Industries
New global research by
has identified that 65% of children aged 4-13 now have a fandom – and are actively seeking out others and communities who share their likes and preferences to engage in social, cultural and media activities around it.
The study of 5,000 families (20,147 family members), carried out across 10 countries spanning six continents, reveals children are expressing their fandoms an average of 3.5 different ways – making fandoms much more comprehensive than just watching a video or playing a game. Looking at the top ways fandoms manifest themselves, 39% share moments with others, 31% buy or receive products and 30% engage with as many touchpoints as possible – for example, books, music, gaming, TV and film, sports and lifestyle. 
"Our research demonstrates the appetite for fandom amongst young people, yet the reality is that fandoms are harder than ever to develop," says Joshua Brocklehurst, senior researcher, KI. "Thanks to the overwhelming access and volume
of content available – the global family has an average of
6.1 types of devices and 5.1 platforms to access video content
) – achieving cut-through is incredibly challenging. Add in the growing partial attention span issue thanks to multiple screening, and you can see the challenges that brands are facing in building fan communities."
Key insights revealed include:
Fandom is expressed in a number of ways (3.5 on average)
The No. 1 way children express their fandoms for brands, titles and people they love is by sharing with friends and family (39%). In second place with 31% is purchasing products/asking for products featuring the brand/stars and in third place is wanting to know all the latest information about the things they are a fan of (30%).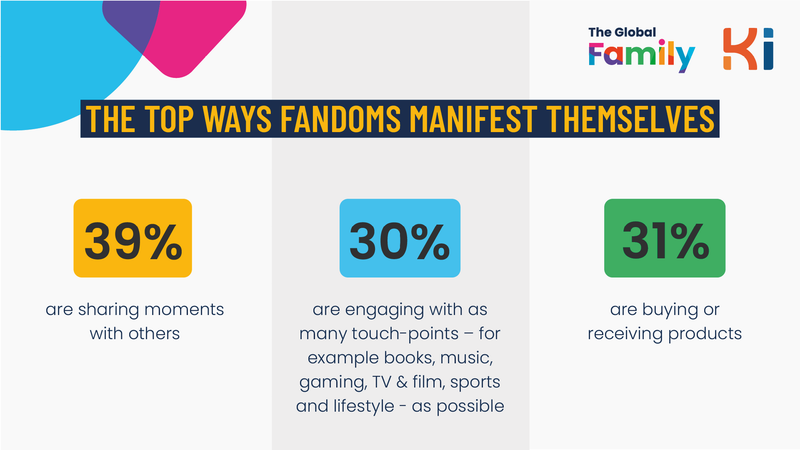 The top ways fandoms manifest themselves, Kids Industries
• Twenty-four percent of children follow a brand/stars on social media – the same figure for those who are engaging with the thing they are a fan of daily
• Sixteen percent create fan art, including customizing and editing and 15% consume fan art
• Thirteen percent attend in-person events
Personal connections are increasingly important
Due to the rise in user-generated content, it is now business-critical to develop a genuine and deep connection with children to develop a fandom – a subculture that celebrates a mutual bond such as Taylor Swift's "Swifties" or Harry Potter's "Potterheads." Eighty percent of children aged 4-13 now watch user-generated content (70% of 4-6s, 81% of 7-9s and 83% of 10-13s) – the expectation for more responsive and personalized content is there.
Fandom is driven by participatory culture
Brands with the strongest fandom growth tend to facilitate creative self-expression and community sharing and focus on ensuring their audience's needs, lifestyle and values are reflected in everything they do. Social media is now used by 35% of children aged 4-13 – so the use of community-based, expressive platforms isn't uncommon among youth audiences and grows rapidly with age (that's 16% of 4-6s, 29% of 7-9s and 52% of 10-13s).
Experiential platforms, "Roblox" and "Fortnite," are showing levels of affinity comparable to long-standing multimedia brands such as Pokémon and Barbie
When asked which brands they liked or loved (were a fan of):
• Fifty-eight percent like or love
• Fifty-six percent like or love
• Fifty-three percent like or love Minions
"Brands must focus on creating experiences – new ways of telling very easily shared stories – and particularly experiences that can be shared with others," says Brocklehurst. "They also need to ask themselves, 'To what extent can our audience feel valued as creative contributors to their fandom and our brand?' and use the opportunity to really stretch their touchpoints, tap into different spheres of influence and importantly, be visible physically and digitally. By doing so, they can reap real rewards. I'd also caution against rushing campaigns and experiences out (in a race to the bottom) – take responsibility for safety and audience-centricity and develop with that in mind."
Subscribe and receive the latest news from the industry.
Join 62,000+ members. Yes, it's completely free.
You May Also Like
Loading..