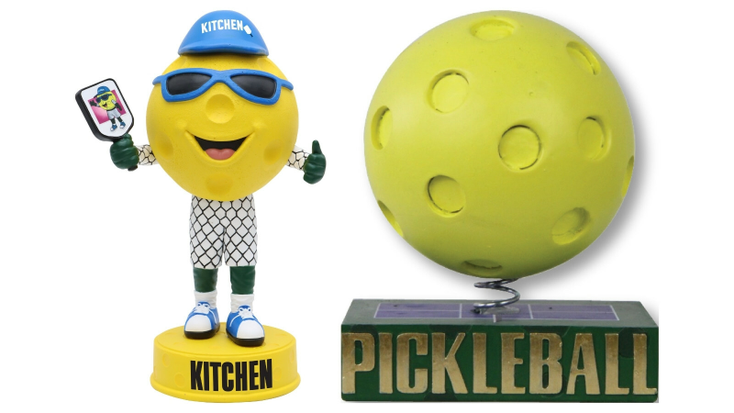 Pickleball Bobbleheads
National Bobblehead Hall of Fame and Museum
Pickleball. If you haven't heard of it, you will. A combination of tennis, badminton and ping-pong, it's the fastest-growing sport in America right now, according to NBC News. Touted as being inexpensive to play and easy to learn, the game has found a huge following among seniors and others who enjoy its tennis-like action with less-demanding exertion. According to CNBC, over 36 million people played pickleball last year in the U.S. And Pickleball courts are appearing in all sorts of unlikely places, from abandoned parking lots and playgrounds to YMCAs and even reclaimed outdoor tennis courts. In Milwaukee, there are new pickleball courts under the I-794 freeway. In other areas across the country, unused indoor mall space is being adapted into year-round Pickleball courts, in a concept dubbed "Picklemall." The Picklemall company has opened its first U.S. location at Arizona Mills in Tempe, Ariz., with plans to establish a chain of 50 Picklemall locations across the country within the next 24 months.
"Racquet sports are trending right now," says Julia Day, executive director of business development, Circana (formerly IRI and The NPD Group). "From pickleball's popularity to the recent excitement of Wimbledon and the upcoming U.S. Open, these are moments that create an enthusiasm that transcends the sports themselves."
According
to Circana's Checkout, its receipt-based tracking service, which recently expanded to include data for the U.S. outdoor and sports equipment markets, the growth in racquet sports equipment sales is primarily being led by more buyers in the market – 20% more compared to one year ago – and buyers spending more. Year-over-year sales for racquet sports equipment increased by 27% to $684 million in the past 12 months, led by the continued surge in pickleball sales. Capturing $50.8 million in retail sales just three years ago, pickleball paddle and ball sales is now a $304.2 million business. These sales results align with the latest participation findings reported by the Sports and Fitness Industry Association (SFIA): pickleball maintained its position as the fastest-growing sport in 2022. Furthermore, for the first time since 2015, every racquet sport increased its total participation number compared to 2021.
"I may not have a crystal ball, but I can confidently say that pickleball is here to stay," says Day. "Pickleball is fun, easy to learn, highly social and has a low barrier to entry. We are seeing market share shifts, as pickleball racquets are gaining share at the expense of tennis racquets. To become the dominant player, retailers and manufacturers need to equip themselves with actual sales and shopper data to understand market dynamics and quantify opportunities."
Sports have always been big for licensing, whether it's equipment, clothing or shoes. The growing popularity of racquet sports, both as activities and as fashion, is making a mark on apparel, footwear and equipment sales. The racquet sports equipment market alone is nearly six times larger than it was just three years ago, dominated by pickleball fever. In the U.S., sales revenue for tennis apparel increased by 15% in the 12 months ending June 2023, versus the prior year, and is up 38% versus three years ago, according to 
. Following in these footsteps, tennis shoe sales grew by 21% versus the prior year and increased 37% compared to three years ago.
In May,
started to see some of the first licensed pickleball products when American pickle brand, Vlasic Pickles, teamed up with Sprints, a performance accessories brand, to launch a limited-edition collection of pickleball gear. Earlier this month,
launched pickleball footwear and signed U.K. pickleball pros (yes, pros), Thaddea Lock and Louis Laville, who wore Skechers pickleball shoes and gear at the Pickleball English OPEN in Telford. On National Pickleball Day, which is celebrated Aug. 8, the National Bobblehead Hall of Fame and Museum unveiled the first Pickleball Bobbleheads.
When something as hot as the pickleball rage comes along, we can be assured that licensing opportunists will be vying for a piece of the game.  
The pickleball phenomenon appears to have had a positive impact on the tennis industry too. Perhaps some picklers feel their racquet chops are improving to the point that they want to re-enter the tennis court. At any rate, there's a noticeable resurgence in the venerable sport of tennis and its related product markets.
"The growth of the tennis soft goods market is no doubt a result of heighted appeal for both tennis and pickleball, but there are other powers at play," says Kristen Classi-Zummo, apparel industry analyst, Circana. "A balance of sporty and chic, tennis apparel has carved a place in consumers' post-pandemic wardrobe evolution as they swap their sweats for something more stylish without sacrificing on comfort. The versatility of athletic dresses, skirts and other tennis-inspired apparel is having just as much of an impact on sales as the sport itself."
The market for athletic skirts and dresses grew a combined 24% in the past 12 months, compared to the prior year, and sales have more than doubled since 2019. Sales for tennis-inspired sneakers, which have the performance-based heritage of a tennis shoe but intended for everyday wear, increased by 9% in the past 12 months, compared to the previous year.
"While it's clear that the increased participation in racquet sports is propelling the sales of the performance footwear worn for these sports, the related – and perhaps even more interesting – trend is the growth of tennis footwear as a fashion statement," says Beth Goldstein, footwear industry analyst, Circana. "Through the rising popularity of tennis-inspired footwear, we can see the impact that the interest in tennis as an activity is having on fashion – by reaching a much broader audience than those who are actually playing the sport."
Read more about:
Subscribe and receive the latest news from the industry.
Join 62,000+ members. Yes, it's completely free.
You May Also Like
Loading..