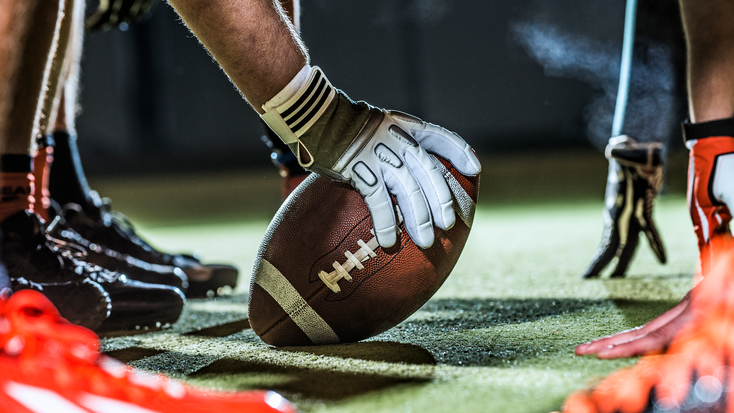 Bernhard Lang/Getty Images
We Americans certainly love our Super Bowl. It is the ultimate football matchup (for American football, that is, not to be confused with the global sport of football, or as we label it, "soccer"). 
It's the annual championship game of the National Football League (
), where the National Football Conference champions battle the champions of the American Football Conference for a chance to win the prized Lombardi trophy (named after legendary NFL coach, the late Vince Lombardi, who led the Green Bay Packers to victories in the first two Super Bowl games).
It is also one of the biggest single-day sports events in the world, drawing high television ratings each year. According to a recent poll by
, three in five U.S. consumers plan to watch Super Bowl LVII. Of the consumers polled, 61% said they are planning to watch this year's game – 75% at their own home, 20% at someone else's home and 5% at a bar, restaurant or other public space.  A national survey released by the
Siena College
 Research Institute and St. Bonaventure University's Jandoli School of Communication
found 75% of Americans plan to watch Super Bowl LVII Sunday, and 53% say the game is an important part of their life. In fact, 78% love the game and never miss it and 29% consider the Super Bowl a national holiday.
While some folks just love watching the game, for others, it's an excuse to throw a party, eat unhealthy snacks and drink beer (
, anyone?) Some will just sit through the first half of the game until they can see the
concert (aka the halftime show).
The 2022 Super Bowl halftime, which starred Dr. Dre, Snoop Dogg, Eminem, Mary J. Blige, Kendrick Lamar and 50 Cent, attracted an audience of over 103 million viewers. 
Dedicated football enthusiasts, like the many fans of the Kansas City Chiefs and Philadelphia Eagles, might feel they have some skin in the game. But a whole lot of us, if we're honest, just want to see the Super Bowl commercials. 
According to an
from February 2022, among people who planned to watch the Super Bowl in the United States, 27% of respondents said their favorite part of the big game were the commercials. Among female respondents, this figure rose to 32%, while 23% of males said they were especially tuning in for the ads. When considering age groups, the 18-29-year-olds were the ones who most favored ads, with 32% deeming them their favorite part of the Super Bowl. In fact, Numerator found that this year, commercials will be a bigger draw than the halftime show. Super Bowl watchers are looking forward to watching the game (64% of respondents), watching the commercials (60%) and eating and drinking (52%). Less than half (49%) say they are looking forward to the halftime show. The Siena/St. Bonaventure Survey was kinder to Rihanna, finding that 80% enjoy the halftime show.
Ad Wars 
To be sure, post-game Monday news will again cover fans' reactions to the ad lineup, listing their favorites and the flops. And those TV spots mean big money. According to
, in 2022, advertisers had to pay an average of $6.5 million dollars to air a 30-second commercial during the Super Bowl LVI broadcast. Many advertisers feel it's worth the price, due to a huge captive and captivated audience. 
Statista reported in an August 2021 survey among viewers in the U.S. that 43% of respondents said they tuned in to the Super Bowl to watch the commercials. When it came to women, this figure rose to 60%, while 24% of men said they tuned in to the big game to watch ads. The Siena/St. Bonaventure Survey found that 82% were looking forward to the new commercials. The good news for advertisers is that Numerator found NFL watchers find advertising entertaining. Compared to the average consumer, NFL fans are 22% more likely to say they learn about products, services and brands through television, and they are 23% more likely to find advertising entertaining. 
A Collab Bonanza 
But it's not all commercials and corn dogs, brats and beer. There are myriad licensing deals to be seen in this space as well. There's a reason the National Football League Players Association ranked 25th on
License Global's Top Global Licensors
list this year.
You can be certain that Super Bowl fans will be representing in licensed goods. According to the Siena/St. Bonaventure Survey, 40% of those watching will wear team apparel and 22% are planning to buy Super Bowl merchandise this year. And 42% buy Super Bowl-themed foods. 
Last week, Fisher-Price announced the launch of its NFL and NFLPA licensed Little People Collector Super Bowl LVII Champions set. The exclusive set, which will feature three NFL players and one "super fan" as Little People figures, displayed in commemorative packaging, will only be available in the winning team's look – either the Chiefs or Eagles.  
is debuting a special collection with
and Fenty in support of Rihanna's Super Bowl Halftime show performance.
More deals are sure to follow leading up to and even after the game. 
Last year, following the Los Angeles Rams' Super Bowl LVI win,
partnered with the NFL on a limited-edition Little Playmate cooler honoring the champion team.
Also in 2022, in celebration of Super Bowl LVI, Funko unveiled new NFL vinyl figures from
, a line dedicated to spotlighting iconic music and sports luminaries, alongside Funko Games and NFL accessories from Loungefly. 
Read more about:
Subscribe and receive the latest news from the industry.
Join 62,000+ members. Yes, it's completely free.
You May Also Like
Loading..