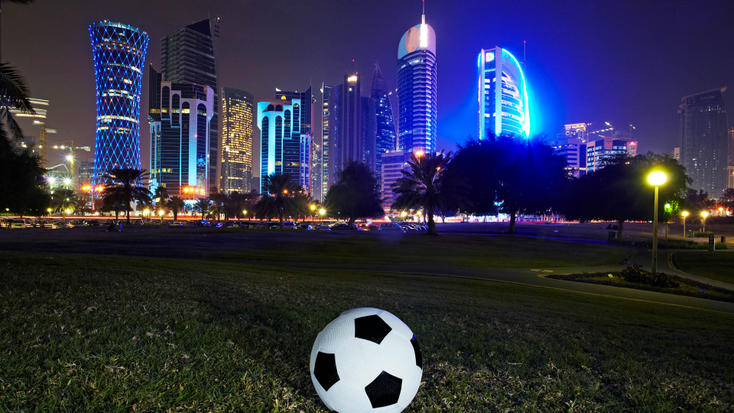 Skyline of the West Bay, Doha, Qatar.
Getty Images
Usually, the furor that surrounds a FIFA World Cup means it's virtually impossible for the build-up to the tournament to not appear on the radar of even non-soccer fans. The
of host this time around, Qatar, means
has transcended into mainstream media, but on the eve of the 2022 World Cup, how much of an impact has its unique timing had on licensing and retail? 
The World Cup and sunny beer gardens or fan parks go hand in hand; the tournament has been held in June and July in each of its previous 21 incarnations. But this time, due to the climate in the Middle Eastern nation of Qatar, we will see our first-ever winter World Cup, with the 2022 World Champions being crowned just a week prior to Christmas Day. 
Whilst that might have an impact on the hospitality industry, does the unusual timing of the tournament and the fact that so many are opposed to the tournament even taking place at all, have an impact the plethora of merchandise that usually
surrounds the event? November and December are already traditionally busy times for retail, with
and
spree's occupying the minds of many. To combat that, a host of retailers, such as Marks & Spencer, ASOS, Primark and JD Sports opted to release their World Cup sportwear ranges far in advance of the tournament. This year though, Christmas sweathers and winter bobble hats are the order of the day, rather than the traditional flip-flops and sunglasses in the colors of your favorite nation.
Stepping Into the Unknown
Planning has been crucial, when perhaps in tournament's gone by you can rely on historical blueprints and sales data, this year is stepping into the unknown.
adidas launched the Qatar 2022 Official Match Ball
, which will feature new connected ball technology, as far back as July. Licensees too have, naturally, been prepared well in advance.  
"The reality is that with the approach of a major competition, any fan of the national team wants to be rigorously equipped to support the team," says Manuel de Mello, head, merchandising, licensing, Federacao Portuguesa de Futebol. "That's why the star product is the official shirt. With the launch of new collections before each competition, we have a peak season, where you need to prepare. Anticipate potential logistical problems, offer customization to customers, giving the opportunity to have the jerseys as similar to the players as possible." 
This is backed up by digital sports platform and global licensed sports merchandiser,
.
"As the official partner for several of the national teams competing in this year's tournament, including England and Germany, Fanatics has worked closely with these partner organizations, as well as our wider network of more than 900 of the world's largest sports teams, leagues and organizations, to be ready for this year's tournament," says Matthew Primack, senior vice president, International Business Affairs and Development, Fanatics.
However, with the first match taking place in some instances just a week after domestic leagues paused, getting fans into the mindset has been a challenge this year. 
"We always see a huge spike in shirt sales around launch day and the following week, naturally we see sales spike in the build up towards the tournament," says Michael Lees, licensing partnerships manager, The FA Group. "As the timings of this World Cup are so unique, it's fair to see sales of replica shirts have been congested into a much smaller window with fan focus switching from club football to England only 10 days or so before our first World Cup game."  
With such a condensed time frame, things such as the personalization of shirts with player squad numbers being announced so late, have also caused issues.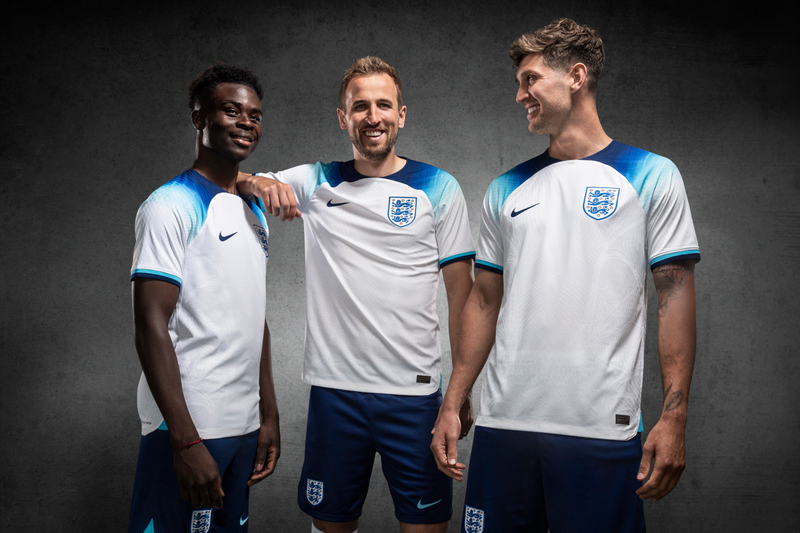 Seasonal Winter Products
Seasonal products have performed well though, as people prepare to watch the games huddled in front of the fire, rather than outside over a barbecue.  
"Christmas jumpers, cozy blankets, pajamas and hoodies [have all sold well]," says Lees. "We're seeing a clear trend towards cold weather products and products that lend themselves to watching the games at home with family." 
Naturally, there is a correlation between how well the team does on the field, with the number of sales of consumable goods and how long that crest of sales lasts.  
"We know that demand for specific merchandise product lines spikes significantly for a limited period of time following certain sporting events," says Primack. "Not knowing how long this 'Hot Market' will last causes a challenge when ordering and holding stock."
"Fanatics and our licensees all bank on England getting to a certain stage in the tournament and will plan against that run accordingly," says Lees. "Anything beyond that may lead to stock issues, but the reality is if England get knocked out early the stock burden is heavy for everyone and very risky. There's a fine line between under forecasting and being too bullish. This is sport, and anything can happen!" 
"There is always a 'fever' before the competition starts, but sales are directly linked to sporting success and how quickly we react to it," says de Mello. 
Female Merchandise Trends 
The Women's World Cup will return to a more traditional time in the calendar, when it takes place in Australia and New Zealand in July 2023. England's Lionesses will go into that tournament as European Champions and campaign plans are already underway at The FA to make sure that retailers are well prepared this time around, as the popularity of the women's game continues to rise.  
"Retailers are getting behind the Lionesses products ahead of next Summer in a big way, so expect to see plenty of England/Lionesses product across the country next year," says Lees. 
"There weren't that many that put product in stores ahead of the 2022 UEFA Women's European Championships [which took place this summer] and I think they all know they missed an opportunity. A lot of apparel SKUs and accessories that are geared towards Lionesses fans, particularly young girls. It's great to see them getting behind the team in a big way ahead of next year, every year is a tournament year as far as we are concerned and we're glad that retail is starting to assume a similar mindset." 
The increased demand for female merchandise has also been noted by Fanatics as well.  
"One big trend we have seen is an increase in demand for women's merchandise over recent years and particularly around the European Championships in the summer," says Primack. "This isn't just a flash in the pan however, better serving female fans of all sports with high quality, on trend products has led to women's merchandise to becoming one of Fanatics' fastest growing categories. In fact, since 2018 we have seen sales of women's merchandise in the U.K. grow by 150%." 
"Fanatics was able to ensure the full range of England 2022 winner's product was live within minutes of the final whistle, leading to more women's merchandise sold in just four hours following the final whistle than in the seven days leading up to the final." 
Read more about:
Subscribe and receive the latest news from the industry.
Join 62,000+ members. Yes, it's completely free.
You May Also Like
Loading..