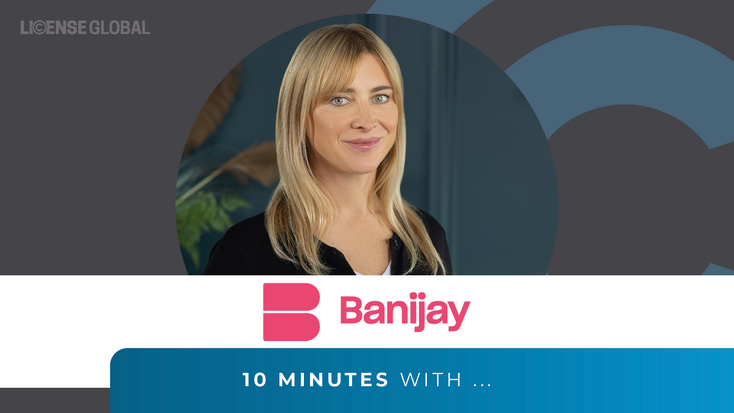 Alice Bernardi
Banijay Brands
License Global: What trends are you seeing in the TV and streaming space?
Alice Bernardi:
The demand for premium-quality content remains high. Our creative teams working with broadcasters and streamers report strong demand for unscripted productions, which in the current climate can be a great way to reduce costs, improve production efficiencies and deliver volume. In particular, adventure/reality shows are proving popular, such as our long-running brands, Survivor and SAS: Who Dares Wins, and new shows coming through the pipeline like "The Summit" and "Deal or No Deal Island."
Competition formats such as "
" remain in great health and have huge global followings across wide demographics, which allows us to build out strong international licensing programs.
In addition, premium scripted shows continue to draw big audiences, and with a portfolio that boasts iconic IP, such as "
" and "Black Mirror," we can tap into these highly engaged audiences and create a broad range
of products and brand activations.
What are fans looking for when they purchase a licensed consumer product related to their favorite show?
Viewers become emotionally invested in their favorite shows and have a desire to engage with them beyond the screen. Consumer products are a vital part of the overall brand offering and when done well, can further enhance the audience's connection with and affinity for the show.
Any product must reflect that on-screen experience and uphold the quality and values intrinsic to the brand. For example, "MasterChef" is aspirational, accessible and a celebration of excellence – all key elements that we must incorporate into any
The "MasterChef" brand continues to pull in audiences globally and lends itself well with licensed consumer products, with its range of kitchen appliances and utensils. Is the key to that show simply its format?
"MasterChef" is an iconic brand, with nearly 70 local versions produced around the world. Originally created by Franc Roddam over 30 years ago, it is still the biggest cookery show in the world! Every version is unique and tailored to its market and local audience, but at their core are the key format pillars. Ultimately every version is about a love of cooking and ordinary people aspiring to change their lives – two universal themes that translate everywhere.
With such a strong property, we have been able to build an impressive licensing program for the franchise, with a combination of local initiatives and global deals, that span a vast array of categories including kitchen ranges, cookbooks, tours, games, immersive entertainment and restaurants.
The amazing format certainly helps its commercial success, but we also must ensure that each product and experience reflects the quality associated with the show, and we diligently select partners that will uphold the brands' values in every way.
Location-based experiences is the core theme for Brand Licensing Europe this year. Banijay has plenty of experience in this space, particularly with the "Peaky Blinders" brand. What's the key to turning a successful IP into a live immersive experience?
is a brilliant fit for TV IP, as it offers fans an immersive experience unlike no other. After COVID lockdowns, I think we all value sharing memorable experiences with family and friends that little bit more.
The key to a successful live event is to not dilute the IP in any way. This category offers fans of a show the chance to really feel like they are part of it, and this must be as authentic as we can possibly make it.
As creators of entertainment, live events are a complementary discipline to Banijay's successful content business and the company has identified it as a significant growth opportunity. Earlier this year Banijay announced several significant moves and investments in this space, including the launch of Banijay Events, which will capitalize on the company's expertise and success in content production and the acquisition of prestigious live event creator, Balich Wonder Studio, to name just a few.
What brands/IP will you be showcasing at Brand Licensing Europe next month?
It's always hugely exciting to be heading into
and we have a packed portfolio of brands from the entertainment and scripted worlds, through to animation and game shows.
We have of course the unstoppable "MasterChef," scripted hits, "Black Mirror" and "Peaky Blinders," plus the globally loved animations, "Mr Bean" and "Simon's Cat."
And this year, for the first time, we will be showcasing "SAS Rogue Heroes," which is a new scripted IP for us, created by "Peaky Blinders'" Steven Knight. The first season was a huge hit with viewers, and with a second run already filming, we think the show has bags of potential for brand extensions and products.
I'm also thrilled to continue exploring opportunities for our long-running brands, "Survivor," "Big Brother" and "Deal or No Deal," all of which have big, much anticipated returns to U.K screens imminently.
What is your top tip for first-time visitors attending the show?
BLE is the place to be to identify the current industry trends and learn about the latest innovations. It is a great opportunity to connect with partners, both familiar and new, so I would say, soak it all up, meet as many people as you can and ENJOY! P.S., have your camera ready for some epic selfies at the character parade.
What do the next 12-24 months look like for the IPs you represent, anything you can share with us?
We have some incredibly exciting and unique projects in the pipeline for our brands. I'd be in trouble if I say too much, but you can expect premium and highly creative products and experiences, in partnership with some of the best licensees in the business.
To learn more about "MasterChef," "Black Mirror," "Peaky Blinders," "Mr Bean," "Simon's Cat," "SAS Rogue Heroes," "Survivor," "Big Brother" and "Deal or No Deal," visit Banijay Brands at stand C130 at
, Oct. 4-6, ExCeL, London.
Read more about:
Subscribe and receive the latest news from the industry.
Join 62,000+ members. Yes, it's completely free.
You May Also Like
Loading..