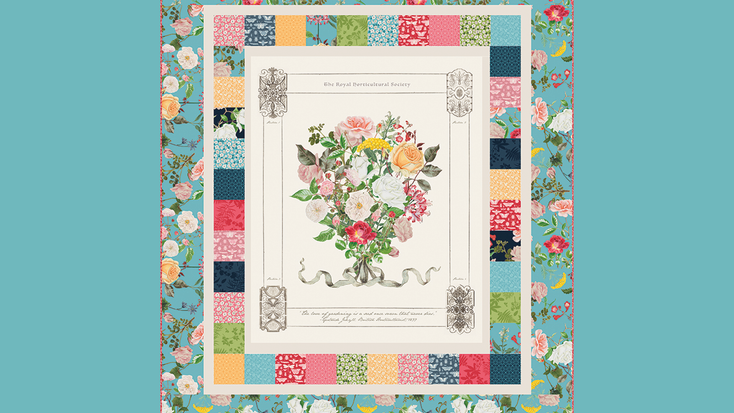 Quilting Fabrics
Royal Horticultural Society (RHS)
Following its licensing agreement with U.S.-based, family-owned fabric manufacturer,
, to bring RHS-inspired cotton quilting and sewing fabric to online and physical outlets worldwide, the
(RHS) has announced the unveiling of the official name and visual inspiration that will guide this collection.
The collection, called Floral Gardens, will launch in December. In developing this collection, the RHS and Riley Blake Designs have been inspired by the range of horticultural artists in the RHS Lindley Collections, a collection of botanical art.
"It wasn't easy choosing appropriate illustrations from the vast riches of the RHS Lindley Collections, but the result has been some extraordinary and memorable artwork that, combined with our own skill in fabric manufacture, has resulted in a unique and irresistible collection," says Cindy Cloward, owner, creative director, Riley Blake Designs.
The result is a series of illustrations of plants spanning more
than three centuries adapted to produce fabric panel designs that can be used as part of quilting, apparel or home décor projects. Among the artists featured in the designs are Pierre Francois Ledoulx and Lydia Penrose.
Inspiration has also come from Caroline Marie Applebee, the daughter of a rector of East Thorpe, Essex, and prebendary of Lincoln, who spent most of her life in Colchester, and is known to have exhibited plants at her local horticultural society's shows. She also produced 40 years of drawings – more than 300 in all – which record the floral world.
Also featured is Graham Stuart Thomas, known for watercolors of roses and his work in the 20th century gathering and popularizing old and new shrub roses, along with Lillian Snelling, a winner of The Victoria Medal of Honor, the Royal Horticultural Society's highest award, as well as an influence on many other British botanical artists.
The result of this artistic input is a collection of high-quality quilting cottons as well as designs in natural linen. A home décor tea towel panel and DIY quilt kits will also be part of this collection. Distribution will be through more than 3,000 independent fabric and quilt stores, more than 15 distributors and specialty fabric e-commerce in the U.S. and its territories, as well as Canada, the U.K., the EU, Australia, New Zealand, Japan and South Korea.
"Quilting and sewing enthusiasts across the globe will be both amazed and delighted at the way Riley Blake Designs has adapted some of the world's finest botanical art to the colorful, fresh and beautiful fabrics it produces," says Cathy Snow, licensing manager, Royal Horticultural Society. "This is a very beautiful and special collection."
Read more about:
Subscribe and receive the latest news from the industry.
Join 62,000+ members. Yes, it's completely free.
You May Also Like
Loading..