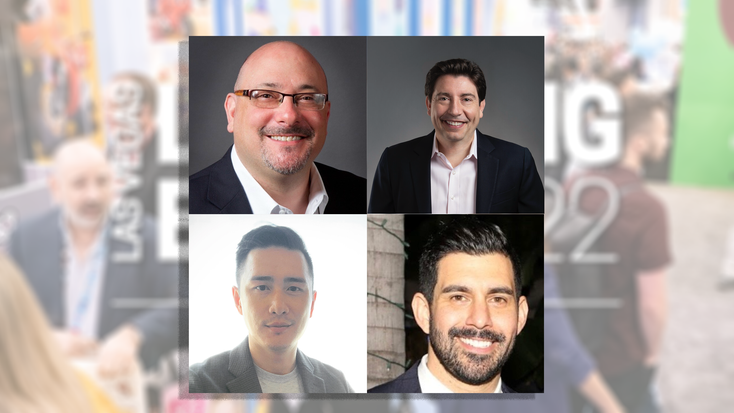 Licensing is a proven approach that helps brands adapt to a changing marketplace and respond to new consumer-driven trends. Retailers love brand partnerships as they have the power to increase foot traffic from consumers in search of the hottest new collaborations and raise shelf stock by 5-8%, according to
.  
But often, brands drive the latest trends by introducing new characters, stories and product lines that reshape consumerism. Many of the globally recognized brands society looks to for the latest trends in entertainment, technology, toys, gaming, education and experiences are confirmed to either exhibit at or attend next week's
, the world's largest licensing trade show slated for May 24-26 at the Mandalay Bay Convention Center.  
Licensing Expo serves as the industry's chance to discover the hottest new IPs available for license and get a sneak peek into up-and-coming trends to keep an eye out for. With the event only a few days away, I asked senior executives
from
,
,
,
,
and
what trends they expect to see on the show floor across categories.   
James Ngo, executive vice president, franchise management, Legendary Entertainment, shares entertainment trends.  
One trend that has proliferated the entertainment licensing industry in the last six months has been brands flocking to the metaverse to create their digital identity. But equally important to reinforce a brand are meaningful and longstanding real-world experiences that balance out all the digital activations, which can all too often be fleeting in a saturated and cluttered online landscape. As a result, live, in-person experiences have also been a destination for entertainment brands to further engage with their fans. We see those as two complementary growth areas that will continue to build in the next few years. Legendary is poised to maximize on those trends as our IPs are immersive in the digital world as they are in real life. 
Warren Schorr, vice president, business development and global licensing, Crayola, shares location-based experience (LBE) trends. 
Licensors will be showing off existing LBE initiatives in their booth buildouts, and I am sure there will be some big announcements in the dailies. The category is growing, so we can expect more operators, designers, developers, tech suppliers and real estate companies attending the show than ever before, and they will all be looking for new partnerships and out-of-the-box experiential ideas to differentiate. While the entertainment IP is always top of mind, the growth in the category and influx of attendees will benefit non-entertainment brands with experiential concepts or stories to showcase. For those new to the category, attending meetings and the LBE speaker sessions are a great way to learn more about the category, the providers and the strategies that enable success.  
Alex Gomez, senior director, licensing and partnerships, SEGA, shares gaming trends.  
The gaming category enjoyed significant growth during the last two years of the pandemic, especially at the beginning, as folks spent more time at home and chose gaming as a primary form of entertainment and means of spending time with their friends and families. With the gaming audience having grown so significantly recently, I think we might see a lot of great new gaming IPs open for licensing at the show. I believe we're also going to see game publishers and gaming brands extending further into LBE programs, as that seems to be a space to which consumers and brands are ready to devote more of their focus and time. 
Jeremy Padawer, chief brand officer, Jazwares, shares toy trends.  
In looking at current toy trends, there is a proliferation of content and entertainment properties, so toy manufacturers will have to be innovative in their approach to not only gain shelf space but consumers' hearts and minds. While I believe digital universe-related and digital-driven collectibles will be a hot trend, there are a tremendous number of players on the content creation side, and manufacturers need to be incredibly careful when participating.  
Jazwares has been at the forefront of digital gaming for years with popular toy lines for Roblox, Fortnite, HALO and Pokémon. And, we recently were named master toy licensee for World of Women (WoW), a digital art collective celebrating inclusivity and diversity through more than 10,000 pieces of digital art across its platform. This is an industry first, and we'll be designing, manufacturing and marketing dolls, collectible figures, doll accessories and more, all inspired by the expansive WoW universe.  
And let's not forget about mega pop-culture brands sought after by kids and collectors. According to April NPD data, our global phenomenon, Squishmallows, has ascended to the toy industry's No. 1 plush brand and No. 2 property. It's a huge milestone for us that's opened the door to some really cool licensing collaborations that we'll be announcing soon. 
Julian Zag, executive vice president, global operations and head, consumer products, ZAG, shares animation trends.  
Over the past two years, the animation business was a lot more adept at navigating the massive challenges that COVID brought to the industry. Unlike live-action movies and series, animated content could continue production, with adjustments, of course, but it didn't grind to a halt. In fact, it surged, and the market is continuing to grow. A recent report from Precedence Research projects that the global animation market size is expected to hit around $642.5 billion by 2030. In 2020, it was valued at $354.7 billion, so this is staggering growth. There are many reasons for the increase, including the proliferation of streamers, low-cost internet access and widespread use of mobile devices.  
This is great news for companies that own animated IP and those who want to create it. The huge demand is generating opportunities for creators waiting to tell their untold stories, and I think we'll see significant growth for more adult-skewing animated content. 
For studios such as ZAG, focusing on creating content for children and family audiences is very exciting as animation touches children on an emotional level, and there's always room for a new hit animated series or movie! And animation, by nature, transcends cultural boundaries making it easier for TV series and movies to travel across the globe. Children love new things; they have a sense of fun and adventure and are curious. And when they have fallen in love with the stories and characters, they want to engage with them everywhere – through the episodes, social media, gaming, consumer products, live and immersive experiences and more! We've evidenced this with the considerable growth of our globally successful Miraculous Ladybug brand. The TV series, available in over 120 countries, reaches kids and family everywhere (linear TV, cable, VOD, YouTube, etc.), and has garnered No. 1 slots with partners across the globe since the series was first broadcast in 2018. Since then, we have engaged fans across social media and just hit over 30 billion views on YouTube. And we've partnered with over 400 premier partners across the globe for over 150 categories of licensed products. In fact, at the end of 2021, we hit over $1 billion in retail sales. Beyond that, we created our own video game division. And we were the first company to bring a TV series to Roblox in the summer of 2021 – since that time, we have had over 300 million gameplays. There will continue to be enormous opportunities in the animation space for brands based on animated IP.  
Trevor George, chief executive officer, Trevco, shares licensing trends. 
Social commerce is on the rise. There was brick and mortar. Then e-commerce. Then marketplaces. Now social commerce or commerce transacted through social platforms like TikTok or Instagram. This will be on the rise. In fact,
forecasts that U.S. retail social commerce sales will rise by 24.9% to $45.74 billion in 2022. While fashion categories including apparel and accessories remain the largest for social commerce, other lifestyle brands looking to market electronics and home décor are also key players. And brands featuring new and differentiated products are best suited for the social commerce environment. 
Secondly, bridging the gap between the physical and the digital world. The metaverse has been a hot topic for the past year and will continue to be a leading topic of conversation – but will by no means be the only means of connecting the digital and physical worlds. Fans want to be part of a community, and their access is a digital token (an NFT). The access they get will include exclusive physical merch, in real-life (IRL) events and more. Even things as simple as scanning a QR code on a toy that then gives information or rewards to the user in an application will become the norm. 
Finally, the supply chain game. Thanks to COVID-19, the supply chain isn't just a part of the process anymore; it is the game. Producing on or near shore, in real-time, on time and shipping fast will separate the winners from the losers.  
Join the $292 billion licensing industry in Las Vegas for three days of trend spotting, IP discovery, networking and deal-making – register for Licensing Expo
.  
Read more about:
Subscribe and receive the latest news from the industry.
Join 62,000+ members. Yes, it's completely free.
You May Also Like
Loading..