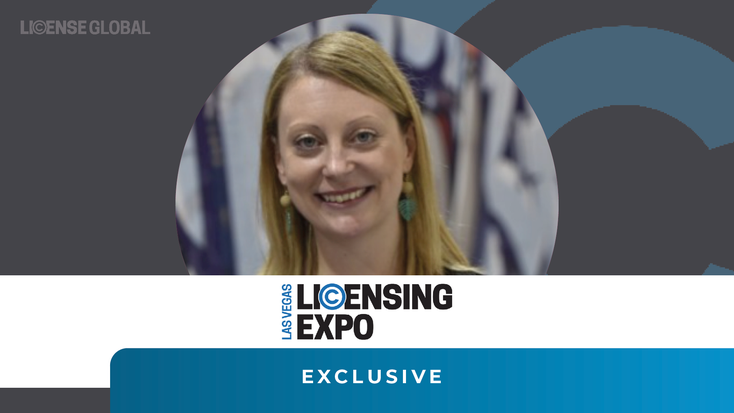 Anna Knight
Global Licensing Group
License Global: Licensing Expo is less than one month away. How are preparations going and how are you feeling right now?
Anna Knight:
Preparations are going really well, thank you. This is definitely the busiest time for all of the team, but in a good way as we're really starting to see the final touches on everything – activations, booth designs, content decks, etc. I'm feeling very positive and can't wait to welcome the global licensing community to Vegas!
How will this year's Licensing Expo differ from past years?
This is our first "proper" return since the pandemic, and by "proper," I mean that we don't have any major restrictions in place globally. This has translated into a real boost in terms of the global nature of the show and we're delighted to welcome back exhibitors and attendees from Asia and Europe in particular. We will definitely have a truly global show once more. On top of that, we have really concentrated on increasing the quality and engagement from our retail audience,
which is critical to all attendees. We are already seeing the number of retail registrations exceed prior years and take up a larger percentage of our overall audience. Once again, you'll see sustainability and purpose embedded into the show but on an even bigger scale than previously. The Thursday of the show is also our day of purpose and I'm really looking forward to seeing the content in the theater that day. Lastly, our
Fashion theme has plenty to enjoy
, including a showroom featuring 16 activations from several brands, awesome keynotes and some great new exhibitors.
The Licensing Expo theme this year is Fashion. Why do you think that's an important industry for licensing professionals to focus on in 2023 and beyond?
If you total up sales from fashion-licensed merchandise across apparel, accessories and footwear, it represents the No. 1 product category for licensing globally so commercially, it's a very important part of the industry. We also know that most licensed ranges start through apparel or toys in the most part, so it's one of the most-important first entries into licensing for many IPs, new and old. I also think that there is so much going in the space – be that exciting new collaborations with brands you never expected to team up, or the wonderful focus we're now starting to see on inclusivity. There is so much opportunity for creativity, innovation and commercial return.
There are a lot of opportunities for learning at Licensing Expo: keynotes this year include Sam Edelman and "Minecraft" x Crocs. What other exciting opportunities will be available at this year's event that you can share?
As well as our
, we also have a jam-packed agenda of content in our theater across all three days. This includes our day of purpose on the Thursday, Licensing 101 and orientation sessions for those new to licensing or new to the show, and
during lunchtime on Tuesday and Wednesday that focus on specific licensing categories or international territories. The full agenda can be found at Licensingexpo.com and I'd encourage you to get a seat for the keynotes as early as you can!
Licensing executives often call Licensing Expo the must-attend event for the industry. How would you say Licensing Expo differs from other events in the licensing industry and why is it a must-attend?
Personally, I'd say that all of the Global Licensing Group's events are a must-attend! But
remains the flagship event and I think it's due to its global nature with attendees from every continent, the fact that people are there to do business (and that really starts from the Saturday before the show right through to the final few hours of the Thursday) and it's also an amazing networking opportunity – there are so many meetings, social events, dinners, awards that take place and so many opportunities for the entire ecosystem to meet that makes it such an effective use of time for all who attend. As you can tell, I'm very much looking forward to it!
Read more about:
Subscribe and receive the latest news from the industry.
Join 62,000+ members. Yes, it's completely free.
You May Also Like
Loading..