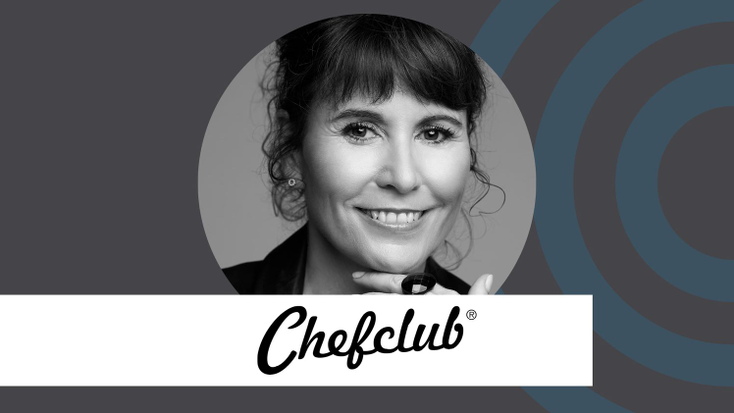 Marie-Laure Marchand
Chefclub
After partnering with French restaurant chain,
, Chefclub brought promotional books to kids' tables as well as on-site culinary experiences for grownups. As F&B collaborations grow within licensing and consumer experiences worldwide, License Global explores the opportunities of engaging restaurant brands to grow organically.
License Global: Why do restaurants work well for consumer engagement, regardless of brand, and why is your latest campaign with Flunch perfect for Chefclub?  
Marie-Laure Marchand:
"For food-based content, restaurant promotion is great for consumer engagement because you have a captive audience in a relaxed, positive environment for a long time. Restaurants are where people go to have a nice meal, to share an enjoyable moment with their families, colleagues or by themselves. It is indeed an innovative way to interact with Chefclub fans. Our promotion at Flunch – which includes a Chefclub dessert on the menu, the Chocookie, and recipe videos playing on screens in the restaurant and on social media –creates a direct link between consumer and content and an enhanced brand experience for people who aren't that familiar with the brand, in addition to the Chefclub community.  
For
Flunch, the Chefclub partnership is a way to extend their in-restaurant experience for both kids and adults: for kids, with a mini-mag featuring the Flunchy mascot and the Chefclub Friends, as well as themed games and activities around Halloween. And for adults, they get to taste an actual Chefclub dessert in real life, taking our content from social media and digital to the real world – and back to social media through social postings across all platforms nationwide. This is the ultimate experiential brand extension for a food-themed studio and entertainment company like Chefclub!  
Chefclub's and Flunch's positioning is similar: Flunch offers affordable, high-quality meals to families, a memorable restaurant experience with innovative food areas (i.e., plancha, pizza and pancakes), and kids' counter where kids can order and pick up their meals, while Chefclub's content is creative, encourages families to share positive experiences around food and helps kids be independent in the kitchen."
Where did the demand for restaurant activations arise? What are the key trends within the restaurant space regarding licensing?  
The pandemic has hit the restaurant industry hard over the past few years, so food establishments have had to reinvent themselves to keep business moving ahead. Many companies turned to digitization, take-out solutions, and other more creative ideas. In this climate, I reached out to Flunch because our DNA and brand positioning are very similar. Luckily Flunch was also eager to find an outside-the-box promotion, so it was just a perfect match.   
As for licensing, experiential marketing in all areas – not just retail – is a fantastic way to create loyalty with our clients. Our brand is tailor-made for this marketing initiative, so we are developing live events – like our nationwide tour with Klepierre French Shopping centers – and promotions with partners like Flunch. This will be a crucial area of growth in the coming years."
LG: How do you see the Chefclub brand evolving in the restaurant space, and why is it a market ripe for licensing?   
We see a trend in the other direction where well-known restaurant chains are doing licensing deals to extend their brand experience at retail. They can capitalize on their legacy with high customer loyalty and brand recognition to close licensing partnerships and amplify their reach outside their restaurant, mostly with food partners. It is also an excellent way for them to attract new customers. At Chefclub, we would like to expand our collaborations in this space; there are many opportunities ahead of us: branded content opportunities, cross-promotion, media campaigns tied in with in-restaurant offerings, Chefclub menus, kid's menus with our Chefclub Kids healthy eating message, food delivery, etc. There is also room to add international partnerships, take the creative initiative in QSR (quick service restaurants) and cafeteria chains, and develop innovative in-store experiences for the whole family. We are a family cooking brand with a transgenerational appeal, a strong proposition for eatery chains. 
Read more about:
Subscribe and receive the latest news from the industry.
Join 62,000+ members. Yes, it's completely free.
You May Also Like
Loading..