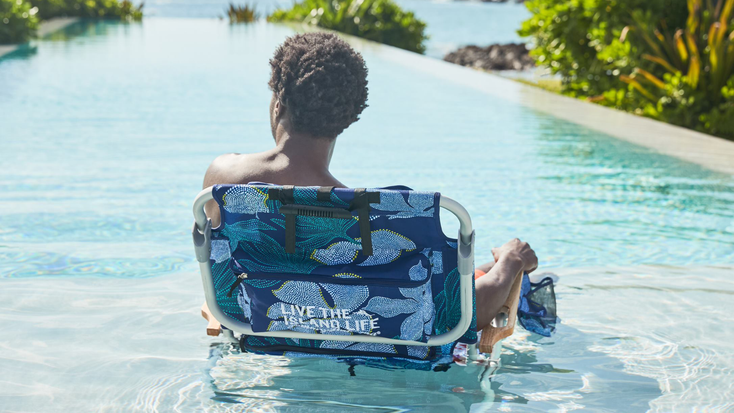 Tommy Bahama beach chair.
Tommy Bahama
At A Glance
The Story of Tommy Bahama.

The First Launch into Licensing.

Tommy Bahama Hospitality.
More than 30 years ago, or so the story goes, two couples found themselves walking on a Florida beach discussing the true essence of relaxation. They called it "
," an island state of mind that, once achieved, would never allow you to leave the beach. Unbeknownst to them, this island mindset would form the vision for one of America's foremost lifestyle brands.
Fast forward to Christmas 2022, the snow is falling hard in London, the trains are canceled and the office is empty. Not exactly conducive for this writer to discuss the island lifestyle. Yet, the man on the other side of the world – sporting a jaunty Santa Claus mug and relaxed, infectious smile – has met the signature cynicism of the uninitiated before. That person is Doug Wood, chief executive officer, Tommy Bahama. One of the key professionals behind the brand's entrance into another stratosphere of success, Wood immediately grabs my imagination by explaining how a straightforward island-inspired ethos built an entire brand experience.
"What
we held on to across the 30-year growth of the brand is this idea of the island lifestyle and that an island is a state of mind," says Wood. "So, that added little twists to the brand and its story. Though it started on a beach in Florida, there's a little sand in everything we do. Even if you're in London, we want to know how we can bring that exhale, that sand, that relaxation that we all need, especially now. So, any time we discuss a product, especially in licensing, we ask, 'Okay, where's the sand in that product? That's the vision."
As it turns out, the ethos of "a little sand in everything we do" has led Tommy Bahama to adapt its business, delivering every aspect of island living through high-quality goods. Moving that signature quality from fashion to consumer products, home décor, food and beverage, hospitality and beyond, Tommy Bahama has built an empire on signature style and authentic brand extensions. The brand even landed a top spot in the License Global Top Global Licensors ranking, with an estimated in excess of $600 million in annual licensing revenue at retail value in 2022.
So how did a brand known for silk shirts become one of the world's leading licensed brands? At its core, the brand's perception of distinctive resortwear is still a point of pride and the foundation for this global success story of high-quality, luxury island living, both inside the home and out.
"The founders were super smart regarding men's apparel," says Wood. "They found a whitespace in the men's market in the United States for these oversized floral shirts, made from 100% heavy silk. At that time – this would have been the early '90s – you could buy a silk shirt for around $10 and put your finger through the silk because it was so thin. The founders went the other way. They leaned into upscale, heavy, beautiful silk shirts for men and hit a market where no one knew there was demand. Immediately they had a business. I started in 2001, so I've been here for almost 22 years. They had brought me on as a chief operating officer. At that point, Tommy Bahama had just gone from being a $100 million company to a $200 million company, which was pretty much on the back of 100% silk products for men. Now, that has become a tiny portion of our total business. But, as I tell my teams in Seattle, 'Everybody wants to be known for something.' We will always be known for this floral silk shirt, and we're always going to have the best silk shirts because that allows the brand to get into all these other businesses."
That signature style was the catalyst for a brand known worldwide and a foundation for a fashion brand with untapped potential in other lines of business. When Wood joined, the women's business of Tommy Bahama was small, the restaurant line fledgling and the licensing side slim. But that was all about to change, with licensing and extension set to bring about a new era for that most unique of visions, the definitive island lifestyle brand for all.
"As a fashion brand, we realized that we couldn't survive on this one fabrication," says Wood. "We had to start expanding. We found that if we had great product that our consumers came to us for, we could start pushing out into other categories. As long as we have great quality and deliver that little bit of sand, everyone will know 'that's Tommy Bahama.'"
The Beach Chair that Started a Brand Licensing Revolution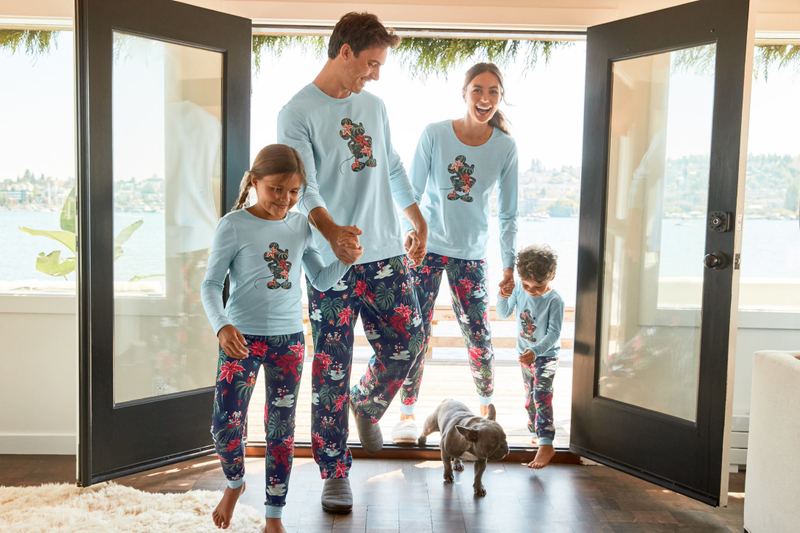 One pivotal story in the 30-year evolution of the Tommy Bahama brand that encapsulates how authenticity in licensing can create a domino of successful collaborations begins with a beach chair.
With a strong standing in fashion, and a long road ahead of them regarding brand growth, Chrisann Furciato, executive vice president, DTG, licensing and home, Tommy Bahama, came to Wood amid the 2008 recession with an idea to take the brand further. To the beach, to be precise.
"[Furciato] said she wanted to do beach chairs," says Wood. "I'm like, 'No, I don't want beach chairs. How does that fit?' I didn't see Tommy Bahama in the sporting goods store. Then she tells me, 'It's a damn good chair.' I hear her out, and it has a cooler in it, it's solid, folds into a backpack, and yeah, it's a damn good beach chair. What's more, we're able to put our prints on it. I had no idea it would blow up the way it did. Now, in North America, we're the No. 1 for beach chairs. It's bonkers that we are, but if you go to the beach in the United States, you're going to see rows of Tommy Bahama beach chairs and beach umbrellas. In 2022 alone, we've sold more than two million, and it's a license that continues to grow."
Working with partner ShelterLogic, Tommy Bahama brought its brand onto the beach and extended that island lifestyle in a significant way for the company. That outdoor living license is now growing to include Excursion, Sling Back, Retro and Gazebo products, with more in the pipeline as the partnership evolves.
Today, the Tommy Bahama brand works with best-in-class licensees such as Lexington Home Brands (indoor and outdoor furniture), Revman (bath and bedding), Parlux (fragrance), Downlite (utility bedding), Randa (belts),
(loungewear, robes and pajamas), PK Lifestyles (fabric and wallpaper), Therapedic (mattresses),
(kids), Airstream (touring coaches), Lunada Bay Tile (indoor and outdoor tiles), Alpan (solar lighting), K9 Wear (dog harnesses and clothing),
and
for officially licensed Tommy Bahama sportswear.
It also collaborates with
on a collection of products that feature custom designed prints by Disney and Tommy Bahama artists. Within those licensees, Tommy Bahama has built a raft of partnerships dedicated to quality and seamlessly extending the brand into new areas, supporting its growth as a multi-channel lifestyle brand. Furciato shared on how brand extension brings consumers, or "guests," the Tommy Bahama experience.
"One of the first initiatives I took with my team was building the home business," says Furciato. "The reason is that it's the one way the guest can truly experience the brand. And home carries several areas. Yes, there's bedding and bath, and there are mattresses and utility bedding, and we have tile and throw pillows and throws and things. We also have the beach in our home department, with beach towels, beach chairs and products of that nature. We wanted to allow guests to experience the brand truly. I've worked with other lifestyle brands in the past, and to me, this is the quintessential lifestyle brand."
With collaborations with brands such as Parlux fragrances – which recently launched a new scent, St. Bart's Seascape, for him and her – or Lexington Home Brands for furniture and PK Lifestyles for fabric and wallpaper, the Tommy Bahama brand is a layered experience for those in search of relaxation anywhere.
"It doesn't matter where you are, whether you're in your backyard grilling, on a boat, sitting at a beach, reading a book, sitting at a lake, it's your opportunity to close your eyes and relax," says Furciato. "And so, it's not just about the clothing. It's about all the extensions of that opportunity to relax. It was creating everything within your home and things on the beach. We have various types of beach chairs: chairs that sit high and chairs that you can sit by a fire pit. We also did cocktails; we have a spirits and ready-to-drink cocktails license. We're all about having fun – let's celebrate. So whatever brand you may be completely loyal to, if you want to relax and unwind, we're the go-to brand, and we've got you covered. And that's how we've branched out."
For Furciato and Tommy Bahama itself, the opportunity for extension isn't just built on the versatility of the brand, but its ongoing approach to working with partners for the long term. After all, licensing is built entirely on partnership, and without licensees who understand your aims and expectations, there is no extension. Luckily, the partners working with Tommy Bahama today are helping the brand enter new markets and are committed to building a solution for every inch of lifestyle available to the Tommy Bahama guest.
"Our licensing business is all the various areas where you can relax and experience a brand," says Furciato. "In licensing, the challenge was to create the opportunity for the guest to experience the brand no matter how they choose to do it or what level of affluence. For the average person, we're your brand. And that's how we've built the licensing categories. Much of that is built on the backs of companies that truly understand a brand and the ability to meet the guest's expectations, like our bedding and bath with Revman. We have a tile range with Lunada Bay, which could be pool tile, bathroom tile, or tile in your kitchen. We have utility bedding, comforters and pillows and products of that nature. We do fabric by the yard and wallpaper featuring some of the most magnificent prints. It allows for the opportunity for guests not only to wear it, but place it on their wall or could upholster a chair or a couch. So, we built the licensing business on relationships and partners with companies that support our brand in maintaining its authenticity."
Experience and Hospitality, Tommy Bahama Style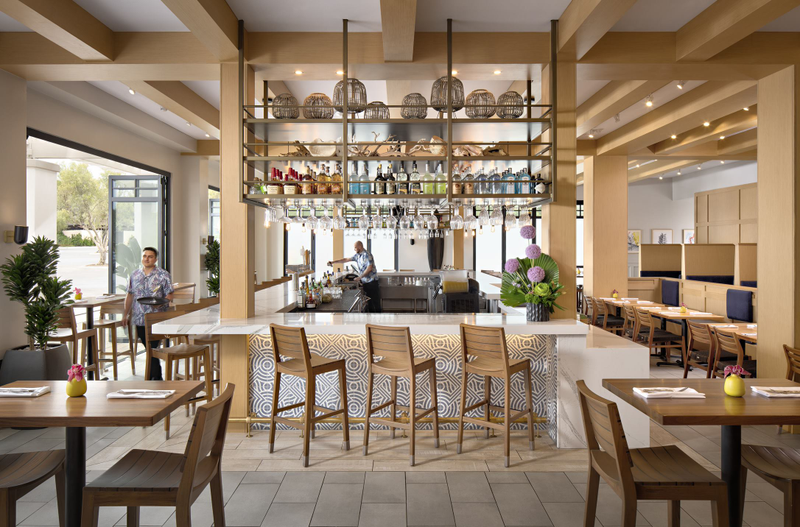 It's not just Tommy Bahama Spirits and Hard Seltzers that give the brand its rise in food and beverage, albeit they are incredibly popular. The Tommy Bahama brand also began a journey into restaurants, bars, pop-ups and resort hospitality some 25 years ago as a business strategy that offers guests across the U.S. a chance to enhance that experience and escape to an island state of mind in true Tommy Bahama fashion.
"When someone shops online, I get them for seven minutes," says Wood. "If somebody goes into a retail store, on average, you get them for somewhere between 12 to 15 minutes. If you're in our restaurant, I've got you for an hour and a half. This is where we changed the way we look at our brand experience. We also internally changed our culture, so now we don't have customers; we have guests. Guests are someone you bring into your home. You try to make them feel comfortable, and you try to make them feel relaxed. The restaurant division allowed us to do that. It also sets the bar for people's expectations when you say 'Tommy Bahama.' It's not just a shirt. It's this whole environment that guests can experience. They can sit on the furniture, envision that lifestyle in their home and it immediately opened opportunities for us."
With 21 Tommy Bahama Restaurants and Marlin Bars across Arizona, Florida, California, Texas, Hawaii, Nevada and New York, the brand has brought guests a unique lifestyle, adding another level to its multi-layered experiences. The secret of success is not just in good partnerships, but expanding what people think of the brand.
"We had tried to sell clothing by asking our serving staff to wear Tommy Bahama items and so forth, but we didn't want this business to be a caricature of the brand," says Wood. "It couldn't be a formula if we wanted a successful restaurant business, we had to simply be a great restaurant. That has the same philosophy as our brand. That's based on how we treat our guests, what our executive chefs come up with, great food, great music and so that's how we got on the right track."
When Wood took over as chief executive officer, the team not only looked at the evolution of the hospitality division, but also the creation of an experiential retail concept that combined the island lifestyle apparel with the food and beverage component the brand was so well known for.
"I'll start with my wife and I," says Wood. "I can't stand going to a restaurant where they seat you, bring you water, bring you a menu. I don't want to be out all night. I want to be out for an hour, and honestly, all I want is a beer when I walk in. It makes me so happy, and a lot of people agree with that. So, we started talking about that at the same time as we discovered, I have to give people a reason to get off the couch, and what we're seeing with e-commerce is that people don't need to leave the house. So, we came up with a new concept which is our Marlin Bar. Take the idea of a food truck and combine it with a retail store and when you walk in, order at the counter, get a beer or cocktail, go sit down and get your food in 10 minutes. So, we started rolling these Marlin Bars out, and I thought it was just going to be an amenity to get people to shop, but it's been incredible for us. But what it's done, is not just build my retail business, but my women's business has exploded. Women love it. We're known for a great bar; we're known for great food and our guests just love it."
The Biggest Licensing Push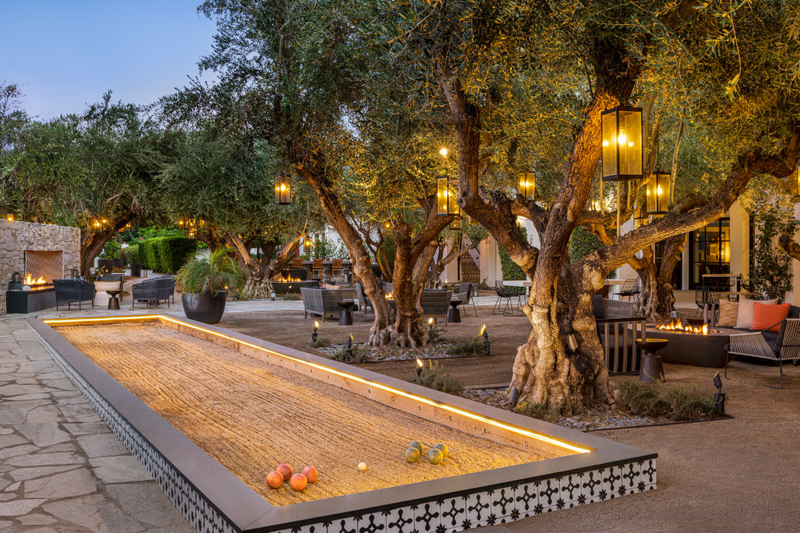 This year, Tommy Bahama will be taking that approach of outstanding guest engagement and transforming it, through licensing, to open its first resort in California. The Tommy Bahama Miramonte Resort & Spa is a 215-room luxury opportunity for the brand to work more closely with its existing raft of licensing partners and carry more products for that firsthand brand experience.
"That's been a real positive for us," says Furciato. "We will be opening our first resort, and with that said there's also an amazing opportunity for licensing. We will be carrying certain licensed products in the resort, such as fabric by the yard, as well as our wallpaper. So, you will enter certain rooms and see these magnificent murals on the wall, which are all the prints our design team has created. We also will be doing furniture. With our licensee, Lexington Home Brands, we've created the world of Tommy Bahama in each of the individual suites. We're super excited about that. Again, guests can truly experience the authenticity of the brand. And if you want to take it home with you, we've got an entire furniture business to serve you. We want to have a solid travel business. When you think of going somewhere, we want to be the brand you go to and say, 'I want to go to Florida.' Guess what? We are opening our second, third, fourth or fifth resort in Florida. There are many travel opportunities around that. We want to be the authority in travel, wherever you want. If you want to experience a wedding or an anniversary again, we will create a world for you to have that experience somewhere. The resort will give us multiple opportunities as well as build upon the existing licensees that we have today, whether it be the bedding, the beach and all those things. We're super excited, and it's one of several to come over time. It's not an easy project, but it's one that we're very excited about."
30 Years of Tommy Bahama ... and More
The future of Tommy Bahama is big, and just as bold and exciting as the silk shirts on which the brand was built. But, as we wind the conversation down, there's something missing. Maybe I just don't want to head out into the snow, but I need to hear more. What about the next 30 years, and where is the business seeing major changes as it heads into a new era?
"In the next 30 years our women's business will be bigger than my men's business," says Wood. "It's one of the fastest growing parts of the brand. We did studies and found out that around 85-90% of women make the purchase decisions in their household. But they shop for everyone, their husband, their kids and their friends. So, learning how to talk to her and bring women into the guest experience more fully is an exciting challenge for us. The other big thing is our resort in the Indian Wells, Palm Springs area. We started this around five years ago and we kept building it with the view of, 'how do we expand what people think of the brand.' We're going from asking people to spend that precious hour and a half in our restaurant to asking guests to give us five to seven days of their life. People are going to commit their vacation, one of the most sacred parts of the year, and that's a lot of responsibility."
The decision to expand into the resort business sounds like a natural progression for the brand, but for the Tommy Bahama team, this is a well-planned and meticulously curated experience based on outstanding service to meet guest expectations of the brand. Asking focus groups around the world what the brand should expand into next, a resort was top of the list each time. Asking groups which branded resort they would stay in led to Tommy Bahama leading the way each time. This is not a knee-jerk reaction, but an ongoing extension of authentic guest experience. The creation of that very vision that founded the company, an island lifestyle.
"It's like our beach chair story," adds Wood. "When you get something right, all boats rise. I expect all businesses to benefit from us continuing to push the brand and resorts is such a great extension of what that could be."
On that note, we concluded our talk and agreed that, should I ever be in the area, there would be Coconut Shrimp and a cold beer with my name on it. But what's more, is that when I finally stepped out into the snow, I took with me an enlightened understanding of island life, and with temperatures nearing zero, I was already on the hunt for a floral silk shirt and a damn good beach chair.
Read more about:
Subscribe and receive the latest news from the industry.
Join 62,000+ members. Yes, it's completely free.
You May Also Like
Loading..