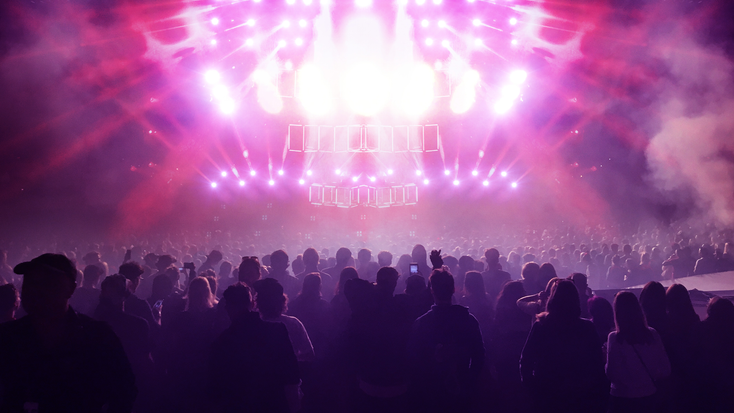 Getty Images/Aaron Foster
Are you going to a concert soon? Then you better start planning your outfit.  
Whether seeing Harry Styles on tour earlier this year or scoring tickets for
and
on their summer tours, concertgoers increasingly dress up for the event, forgoing the graphic-tee-and-jeans uniform for something more fun. Music fans are taking a cue from comic and anime fans with their elaborate concert cosplay. 
Dressing up for a live music event isn't a new concept. If you've been to a festival, you've seen a few people dressed for the atmosphere, not the elements. Some fashion retailers have promoted curated apparel and accessories for "festival season," whether Coachella or Glastonbury. The Beyhive and Swifties have now made the concept mainstream.  
When Beyoncé requested fans to wear silver to her Renaissance shows during Virgo season (and her birthday) on social media, ticketholders went into a frenzy to adhere to Queen Bey's revised dress code. The request caught retailers off-guard as
fans swarmed shops for gilded gear. Online shops, including Amazon Music,
partnered with the iconic performer
for concert merch and struggled to keep up with orders. According to Etsy, there was a 25% increase in searches for silver apparel and an unprecedented request for custom apparel in time for the shows.  
While Swifties waited in line hours before her show to buy licensed merch, they also got crafty with homemade friendship bracelets (inspired by Swift's lyrics) to trade with fans at the Eras tour. The DIY craft turned into a bonding experience for fans and was a boost to art supplies stores. Michaels, a craft chain store in the U.S., reported sales in its jewelry category, including jewelry-making kits, were up more than 40% chainwide since the spring.  
As fans go all out for their show looks, how does this affect merchandise sold at the event? For some perspective, License Global reached out to Jennifer Pirch, senior manager, licensing and brand partnerships,
(official merchandise licensors for Swift).  
"These homemade outfits tend to be over the top, unbranded, costume-like; they are very different from the official tour tees and accessories we are selling at the merch booth," says Pirch. "Often, fans consider these outfits one-time wear, so they look to fast fashion and Amazon for these purchases. We do not want to compete in this business; it isn't the right space for our artists' brands. We want to make long-lasting, treasured mementos of a fan's experience, and fans tend to make those purchases at the show, on an artist's e-commerce or at a pop-up. That said, fans are incredibly creative, and it is inspiring! Every time I attend one of our artist's shows, I get ideas, and of course, those ideas make their way back to merch and brand partnerships."  
Now that fans are dressing up for concerts, Pirch says it's not a trend, but a new avenue that licensors should consider when planning a musician's licensing rollout for tours in 2024 and beyond.  
"
Costumes is a category we are building out," says Pirch. "While some companies can tweak aspects of our artist's looks to step around an official license, when taking an official license, we can offer elevated quality and detailed authenticity, driving casual and hard-core fans toward official costumes. It's the difference between buying a KISS costume and a 'rock star' costume. Fans want to look spot-on and immediately recognizable but have an easy way to pull the look together. Through an officially licensed costume, we can offer that high level of detail and authenticity."     
Those with tickets for Madonna's Celebration tour next year might plan to dress up as the Material Girl,  but there should be plenty of other show looks to choose from. 
Subscribe and receive the latest news from the industry.
Join 62,000+ members. Yes, it's completely free.
You May Also Like
Loading..