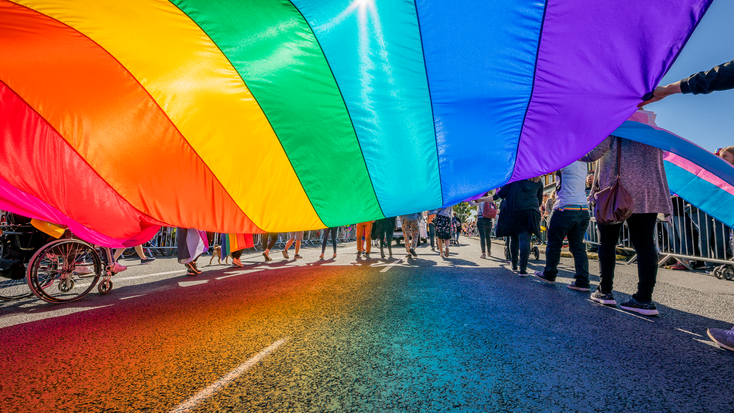 Pride rainbow parachute
Arctic-Images, Getty Images
June is Pride Month, a time when LGBTQ+ people celebrate the love, culture and strength of their community. As Pride Month commences, states across the U.S. are enacting laws that are the antithesis to these values, with bans on books, entertainment and more coming as a result. This breakdown of LGBTQ+ rights in the government has far-reaching implications for freedom of expression and human rights in the U.S. Still, there are also implications in the business world.
Drag Bans
The art of drag, an entertainment style where stylized clothing is used to parody or dramatize gender, was first recorded in reference to actors wearing women's clothing in 1870. However, drag goes back much further. It has been an institution in multiple cultures over the years, with movies, television, music videos and more using drag in the 20th century.
In the 21st century, drag was given a larger spotlight with the premiere of "RuPaul's Drag Race," a reality competition show that brought the art of drag and its connection
to the LGBTQ+ community to the mainstream.
As drag became more and more mainstream, so did drag events. From club nights to library story hours, drag began breaking into popular culture. Some government officials in the U.S. took notice and branded the art form "sexual" and accused drag queens of "grooming children" with their performances. As a result, multiple laws were introduced in states like Tennessee, where drag shows have been banned in public spaces. States like Texas, Oklahoma, West Virginia and more have also introduced laws. As of June 3, a federal judge in the U.S. deemed Tennessee's drag law unconstitutional. However, Tennessee Senate Majority Leader, Jack Johnson, one of the law's main sponsors, has said he hopes for an appeal from the federal government.
These drag bans have implications for human rights but also the entertainment industry and, thus, consumer products. Multiple drag queens have dipped their toes into the licensed consumer product space. RuPaul has had a candy line, a makeup line and even a Chia Pet. Kim Chi has a makeup line and has released licensed collaborations with fellow drag artists, Naomi Smalls, Plastique and Trixie Mattel. Trixie Mattel has an officially licensed doll and her own makeup line, which drag queens like Katya Zamolodchikova, Laganja Estranja and Juno Birch have joined in on for licensed makeup collections. There's even a one-stop shop for licensed drag queen merch for these queens and more, aptly called Drag Queen Merch.
Drag queen merchandise is a growing vertical in the licensed consumer product space, with plenty of room for additional products. If the U.S. banned drag, it would affect the opportunity to grow this vertical.
Book Bans
In addition to drag bans, book bans are also taking effect in the U.S., particularly in school libraries. States like Florida have been working to restrict access to certain literary titles, with
finding that from July to December 2022, 26% of titles banned have LGBTQ+ characters or themes (another 30% of the titles banned are books about race, racism or feature characters of color, and other banned books cover topics such as death and grief and health and wellbeing.)
"During the 2021-22 school year, parent-led groups coordinated to advance book censorship," PEN America says in its findings. "These groups pressured districts to remove books without following their own policies, even in some cases, removing books without reading them. That trend has continued in the 2022-23 school year, but it has also been supercharged by a new source of pressure: state legislation. School districts in many states are reacting to new laws that dictate the types of books that can even be in schools, or what kinds of policies they have to follow to add new books and review their collections."
During the first half of the 2022-23 school year, PEN America's Index of School Book Bans listed 1,477 instances of individual books banned, which affected 874 different titles, an increase of 28% compared to the prior six months.
This school year also saw the effects of new state laws that censor ideas and materials in public schools, an extension of the book-banning movement initiated in 2021 by local citizens and advocacy groups. Broad efforts to label certain books "harmful" and "explicit" are expanding the type of content suppressed in schools.
"A 2022 poll found that over 70% of parents oppose book banning, yet the bans continue," PEN America says. "Many public school districts find themselves in a bind. They face threats and political pressure, along with parental fears and anxieties surrounding the books on their school shelves. School boards, administrators, teachers and librarians are told in some cases to 'err on the side of caution' in the books they make available. Too often, they do just that. These efforts to chill speech are part of the ongoing nationwide 'ed scare' – a campaign to foment anxiety and anger with the goal of suppressing free expression in public education. As book bans escalate, coupled with the proliferation of legislative efforts to restrict teaching about topics such as race, gender, American history and LGBTQ+ identities, the freedom to read, learn and think continues to be undermined for students."
Licensing International says publishing makes up 9% of the licensing industry. These book bans are based in the U.S. However, Licensing International reports that the U.S. and Canada are a 59% share of worldwide consumption of licensed goods and services. With book bans taking place, this infringes on the industry's ability to create a product that resonates with readers in a huge portion of the market. If readers can't resonate with books through reading, then no licensed consumer products programs can result.
Taking Back Support
Political analysts call what is happening in the U.S. a "culture war,"
where members of opposing parties have vastly different values and are fighting to enact laws that reflect those values. As a result, companies showing their support for the rights of the LGBTQ+ community are experiencing backlash, with some opting to remove products from shelves or end partnerships with LGBTQ+ people, resulting in more backlash from consumers.
More than six in 10 consumers under 30 closely consider a company's ethical values and authenticity before buying their products, research from Accenture found.
Bud Light came under fire from some of its consumers for working with transgender influencer, Dylan Mulvaney. As a result, Bud Light decided to backtrack, which angered another chunk of its audience. According to NBC News, the situation resulted in a 28.4% dip year-over-year for its business.
An analysis from the news outlet
concludes that the drop in sales was simply "wrong place, wrong time." Bud Light was a victim of the "culture war," with consumers of multiple value systems feeling slighted by the business decisions.
"We never intended to be part of a discussion that divides people," Brendan Whitworth, chief executive officer, Anheuser-Busch said in a statement. "We are in the business of bringing people together over a beer. My time serving this country taught me the importance of accountability and the values upon which America was founded: freedom, hard work and respect for one another. As CEO of Anheuser-Busch, I am focused on building and protecting our remarkable history and heritage."
Supporting the LGBTQ+ Community in Pride Month and Beyond
The licensing industry thrives on freedom of speech and expression. People buy licensed consumer products to express themselves. With this freedom under threat from this "culture war" and its resulting laws, it gives way to more legislation and restriction, leading to restriction in the licensed consumer product space.
The trend of anti-LGBTQ+ legislation and companies obliging to those against the community is growing. Still, businesses would be smart to stick with the LGBTQ+ community in the U.S. rather than turn their back on it. A PRRI survey found that as of last year, 79% of Americans favor laws protecting LGBTQ+ people against discrimination in jobs, housing and public accommodations. With more than half of the licensing business centered in the U.S. and Canada, going against the LGBTQ+ community could result in revenues plummeting.
Unfortunately, the "culture war" is unavoidable when companies speak out in favor of or against something. There will be backlash from someone, but with six in ten consumers buying from companies that share their values and nearly 80% of Americans valuing the human rights of the LGBTQ+ community, going along with that backlash can have larger consequences. Bans and backtracking are bad for business. Human rights and individual freedoms are a necessity for this industry to continue to profit, and based on this data, this writer's opinion is this: it's our job in the licensing industry to make sure that we aren't perpetuating lines of thought that revoke the freedoms of others, regardless of our initial revenue. There is a cost much higher than the vitality of the licensed consumer product industry.
Read more about:
Subscribe and receive the latest news from the industry.
Join 62,000+ members. Yes, it's completely free.
You May Also Like
Loading..