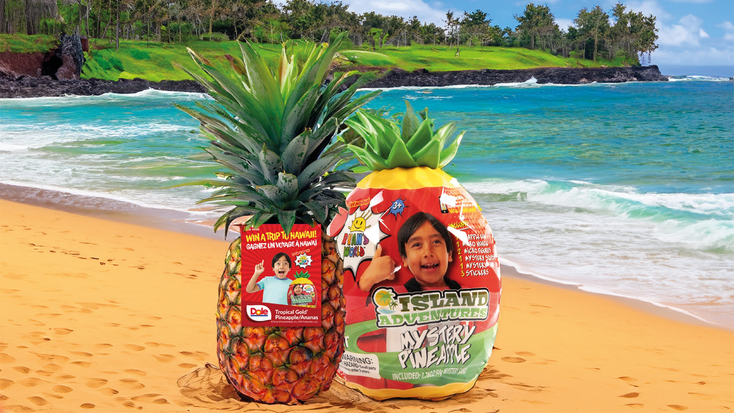 Ryan's World and Dole sweepstakes pineapple and "Ryan's World Island Adventures" Mystery Pineapple toy.
pocket.watch
At A Glance
Transferring audiences to new platforms

Fandoms

Expanding licensed offerings
pocket.watch
is the largest independent kids' and family studio, working with 45 of the top kids' creators in the world to launch global franchises. On YouTube alone, the company's network has over 750 million subscribers and over 500 billion views. Manuel Torres Port, head of global consumer products, pocket.watch, spoke exclusively with License Global, outlining the company's monumental success in the kids' industry and how that's transferred to its consumer products.
"Where we've seen success is being able to transfer these massive audiences to new platforms," says Torres Port. "This unique position has helped to create unprecedented opportunities for these creator brands, from starring in content distributed across 43 platforms in over 80 countries, creating global consumer products businesses, developing mobile games with over 45 million downloads and driving first-of-their-kind partnerships with massive brands that have never considered working with creators before. Kids are discovering products and experiences on YouTube, and we're witnessing firsthand what they love most on the largest kids' channels and partnering with expert licensees to bridge this fandom to strategic real-world launches."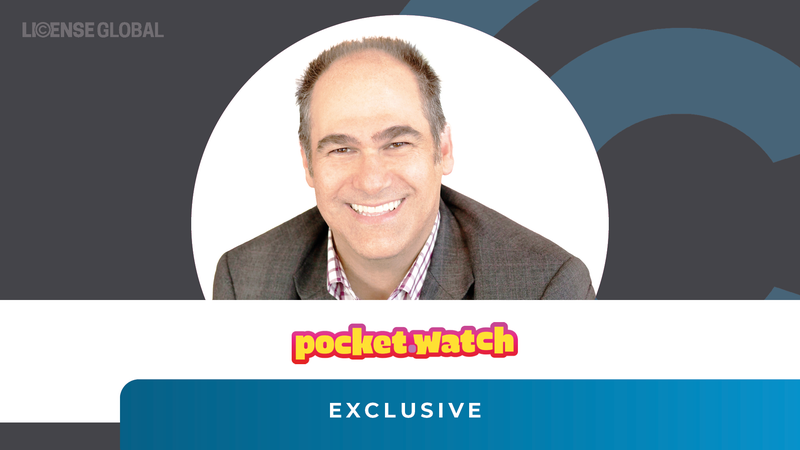 Manuel
Torres Port, pocket.watch
And fandoms they do have. pocket.watch's "most mature brand," as Torres Port calls it, is the series, "Ryan's World." "Ryan's World" started in 2015 and stars Ryan Kaji and his family. Since its inception, it's been popular among young audiences, and as the brand (and Ryan) grows, kids are still flocking to see the latest from the Kaji family online and in-store.
"Franchise thematics are incredibly important for infusing newness into the content that can influence our mobile gaming and retail extensions," says Torres Port. "Right now, 'Ryan's World Ninja Adventures' is taking over every screen with new live-action and animated episodes, including content from Ryan's family trip to Japan, where they studied with and learned alongside real-life Ninjas. This theme is coming to life through a new line of toys that launched at Walmart this month. These surprise toys offer a full-play experience that is inclusive and engages the entire family from explorative toys to role play and personalized digital messages."
pocket.watch partnered with Cameo, known for personalized digital messages, to create a first-of-its-kind licensed product that includes a personalized message from Kaji himself. Well, kind of. Pocket.watch uses AI to give kids the opportunity to interact with Ryan's Red Titan character without putting any additional responsibility on Kaji.
"We look at AI as a fantastic tool for expanding the impact and accessibility of our creators without putting any additional work or burden on them – something that we are always conscious of when working with kid talent," says Torres Port. "Expediting development for AI opportunities has also afforded pocket.watch some amazing first-to-market launches. A few weeks ago, we launched the ­ first-ever dual-language offerings in English and Spanish on Cameo Kids, with the launch of the animated 'Ryan's World' character, Red Titan. For the first time, Cameos are available at Walmart through a
'Ryan's World Ninja Adventures' toy launching this month; inside every Giant Ninja Egg
, parents will get a code to request a personalized message through the newly launched Ninja Ryan."
Another huge brand in the pocket.watch portfolio is Love, Diana, which has made waves in the kids' music space since its launch.
"The Love, Diana brand continues to be a huge powerhouse for us," says Torres Port. "Diana is the most followed kid on YouTube, with 296 million subscribers across her channels and 173 billion lifetime views. She is also the No. 1 made-for-kids music creator on YouTube, where her music videos have garnered billions of views. We're partnering with Universal Music Group (UMG) to bring 'Love, Diana' hits, including 'Play It Be It' and the 'Play It Be It Halloween' theme, which have garnered 200 million views collectively, to new digital streaming platforms so kids can listen to her songs everywhere that music is played. In response to the feverish growth of her brand globally, we are taking a localized approach to expanding a focused portfolio of consumer products in key markets around the world, including the Middle East and LATAM."
Additional properties have propelled pocket.watch to its status, including Toys and Colors, Dan Rhodes and Dollar Toy Squad. New content and products are planned for these properties and more.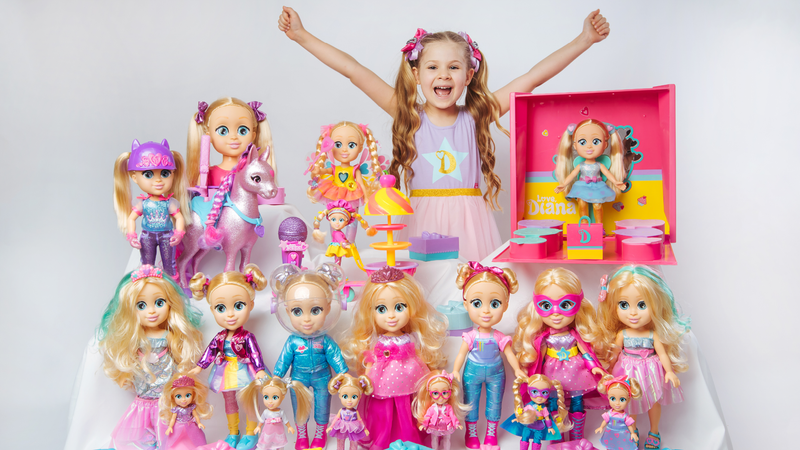 Love, Diana Dolls, pocket.watch
"These brands have excellent examples of licensed content, with obvious product and experience extensions built in," says Torres Port. "Toys and Colors is the most followed kids' ensemble on YouTube, driving over 1.5 billion views a month, and Dan Rhodes is the most viewed magician with over 17 billion lifetime views. Earlier this summer, both brands launched the first season of their respective shows on Hulu, which has been an incredible step in widening their already massive audiences. Later this month, Toys and Colors will be launching a new content special on The Roku Channel – 'Toys and Colors Kaleidoscope City' – an animated and live-action hybrid that transports kids to a technicolor world uniquely built in Unreal Engine that teaches kids how to see the world from new perspectives.
"This and 'Dollar Toy Squad' are incredibly exciting new launches coming to our channel, 'Ryan and Friends Plus,' the largest independent kids' and family SVOD. The platform includes thousands of hours of exclusive premieres and original shows, all 100% commercial-free and carefully curated for maximum learning and fun. 'Dollar Toy Squad,' starring EvanTube and JillianTube with 10.9 million subscribers, is a stop-motion animation series that launched last month. In this hilarious and campy show, Evan and Jillian receive a mysterious box of toys that transports them to One Buck City, where a ragtag team of budget action figures, the Dollar Toy Squad, are battling against the villainous Rust-O-Team. The content is highly toyetic in nature with an overt connection to the value channel – and the team is actively working on bringing it to life through licensing extensions."
With so much happening in the pocket.watch content space, the company is working to innovate its approach to licensed consumer products.
"We have taken a renewed approach to product ideation, partnering with top-tier inventors and brands to identify unique points of differentiation for our creator-brands through a cross-collaborative process," says Torres Port. "'Ryan's World' was the first creator-brand to get placement at major retailers and remains the No. 1 influencer-toy brand today (NPD/Circana 2022), and we're deploying this development strategy to drive that same success for the rising brands within our portfolio."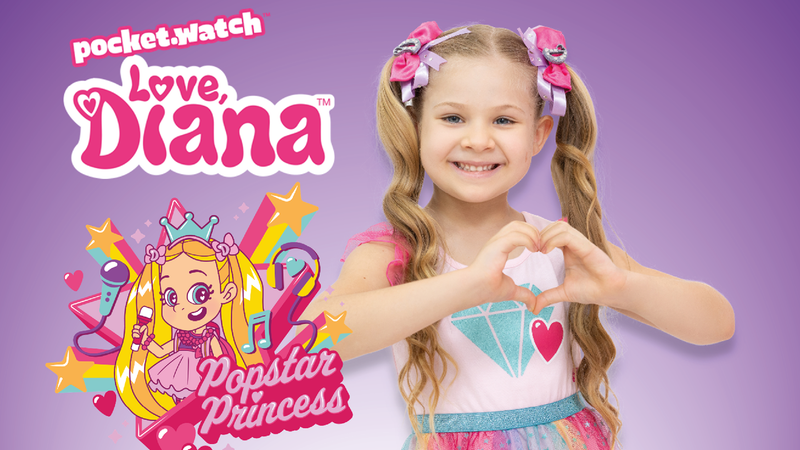 Love, Diana Popstar Princess, pocket.watch
As YouTube content like pocket.watch's grows,
brands are expanding their licensed offerings
. YouTube is still considered new media and pocket.watch's explosive content and product growth prove that this is a trend to continue watching.
"A really exciting element of pocket.watch's franchise growth is partnering with giant brands that have never collaborated with IP born on YouTube before," says Torres Port. "For example, this summer, we partnered with Dole to put 26 million creator-branded pineapples at grocery stores across North America, launched branded kids' meals across 3,800 Carl's Jr. and Hardee's restaurants and in a few months, we will anniversary our position in the Macy's Thanksgiving Day Parade, where we launched the first-ever balloon based on a YouTuber. These partnerships have become important milestones in transitioning this IP from their origins in content into evergreen brands that are part of the social zeitgeist."
As internet culture continues to grow as part of popular culture, pocket.watch is sure to continue to make a splash.
Read more about:
Subscribe and receive the latest news from the industry.
Join 62,000+ members. Yes, it's completely free.
You May Also Like
Loading..