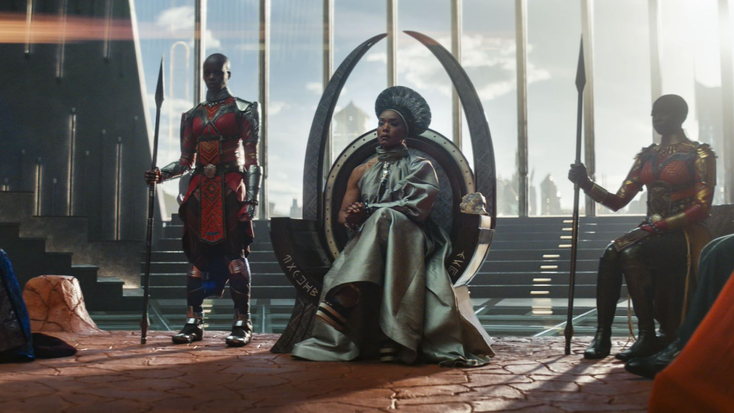 Scene from "Black Panther: Wakanda Forever."
Disney
It's been a long, dry season for
fans in China, which banned the franchise's films back in 2019, without providing any substantial explanation. The last Marvel movies to be screened in China were 2019's "Spider-Man: Far From Home" and "Avengers: Endgame." (Hey, at least they got to see how the Avengers saga played out.) 
suggests the reasons behind the initial ban could be linked to the strict censorship standards in China and the country's limit on the release of foreign films in order to promote domestic ones. But that ban meant that most of Marvel's Phase 4 titles never played in China, including "Black Widow, "Spider-Man: No Way Home," "Eternals," "Shang-Chi and the Legend of the Ten Rings," "Doctor Strange in the Multiverse of Madness" and "Thor: Love and Thunder." That's a heck of a lot of rich fan fodder left unconsumed. And as we've reported in
in the past, the Marvel Cinematic Universe is vast and it's expanding. 
Variety announced last month that China
has decided to lift its ban on Marvel films, starting with "Black Panther: Wakanda Forever," which is slated for a Feb. 7 release. It's good news for Marvel fans, for sure, but also a welcome development for Disney, assuming Marvel's absence has made China's moviegoers' hearts grow fonder.  
Marvel movies have historically done extremely well at the box office in China. Box Office Mojo reports that in 2018, the first "
" movie made $105 million there, while the second "Ant-Man" movie took in $121 million. "Avengers: Endgame" raked in $632 million, making it the most successful foreign film in China ever. Banning the Marvel film franchise did seem to negatively impact China's box office receipts. According to
, the country's box office plummeted 36% in 2022 compared to the previous year.
When "Black Panther: Wakanda Forever" breaks China's Marvel exile, it's safe to assume the film will clean up there just as it has elsewhere. Its box office total stands at $841.3 million and counting. The film just arrived on Disney+ and is still playing in theaters across the U.S.
Marvel film releases just naturally spawn
, from
to
to
. And that's good news for retailers as well as those in the brand licensing sphere. 
The release of "Black Panther: Wakanda Forever" will be followed in quick succession by "Ant-Man and the Wasp: Quantumania," which will hit Chinese screens Feb. 17, the same day it's slated to appear in theaters in both the U.S. and U.K. 
Subscribe and receive the latest news from the industry.
Join 62,000+ members. Yes, it's completely free.
You May Also Like
Loading..