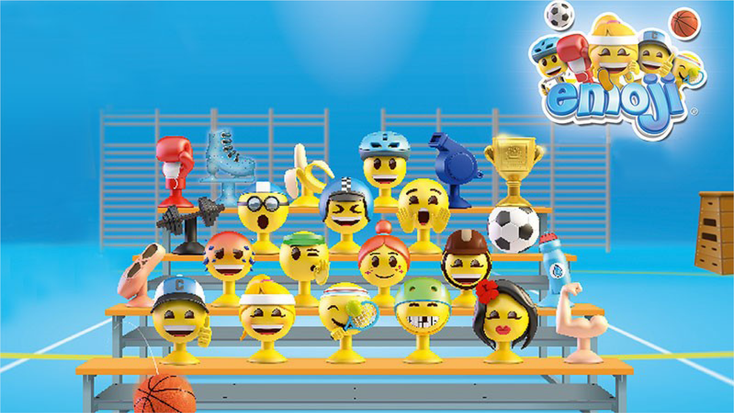 emoji 'Play Sports' Loyalty Program Article
Aldi, emoji
Aldi
has announced it is launching an
brand loyalty program dedicated to sport and exercise. From tennis to dancing and fitness, sporting hobbies take center stage in the new collectible campaign. The emoji brand will be present in all 440 Belgian Aldi stores as well as in the world of "
."
With the start of the new school year, from Aug. 23 through Oct. 4, Aldi customers can collect 24 new emoji stuxx (little figurines with suction cups). This year, the discounter's new emoji brand action figurines are put in a sporty jacket, including Speedoo, Billy Bike and Jockey Joe and even a bouncing football and basketball.
, the emoji brand collection campaign has been a hit. Last year, the emoji brand loyalty program was all about music and Aldi handed out millions of the well-known figurines.
"For them, the new school year also means the return to the gymnasium or sports club," says Isabel Henderick, managing director, marketing and communication, Aldi. "By choosing
sports the emoji brand loyalty program, will encourage both the enthusiasm to collect and to play sports."
At the same time, the promotion is also a reward for customer loyalty. "The start of the school year is accompanied by stress and higher costs for many families," says Henderick. "As a discounter, we make sure September is affordable as well as fun for our customers."
emoji world in "Roblox"
Aldi is also letting the emoji brand come to life in the digital world. The discounter is giving the emoji brand its own universe in the virtual world of "Roblox."
There, players can create obstacle courses with the emoji brand. "Young collectors can get creative and build with the emoji brand characters," says Henderick. "In this way, we also want the emoji brand characters to have all kind of adventures online." 
"We are pleased to announce that Aldi-Belgium is launching the fourth collectible emoji campaign called emoji play sports in partnership with Boost," says Marco Hüsges, chief executive officer, founder, The emoji company. "Thank you ALDI-ALTIJD SLIM for being part of this exciting and innovative loyalty campaign, and for making inroads into the popular 'Roblox' online games. No doubt the whole family will be delighted to continue to grow their collections."
Read more about:
Subscribe and receive the latest news from the industry.
Join 62,000+ members. Yes, it's completely free.
You May Also Like
Loading..