Hershey's: Spreading Goodness
Hershey's: Spreading Goodness
The Hershey Company has built its storied legacy on the world's love affair with chocolate. Now, more than a century on, the company continues to expand its brands to all corners of the globe with multiple indulgent extensions that span everything from food and beverage to beauty products, seasonal items and accessories.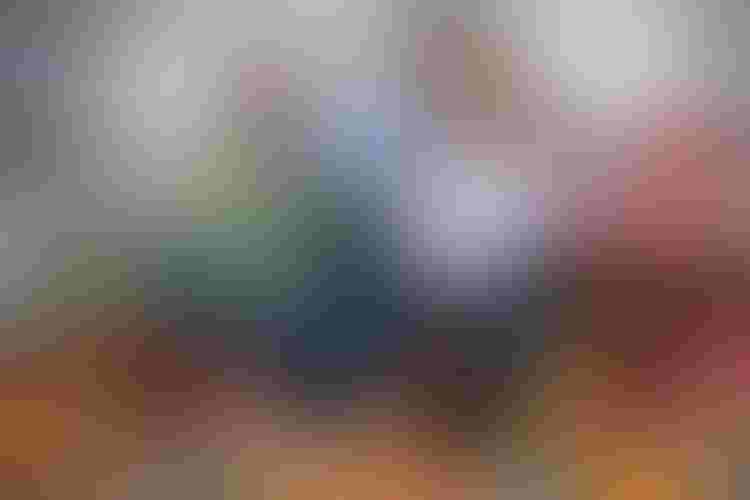 What started 120-plus years ago as a five cent chocolate bar has grown into a confectionery and snacking empire, replete with more than 80 brands and counting among its portfolio. Headquartered in Hershey, Pa., Hershey's is more than just sweet treats; it's for many, a cultural staple that can be found in countless homes around the globe.
Hershey's is also deeply embedded in culture. From its iconic ad campaigns (can you hear the Kisses holiday jingle as you read this?) to family festivities, there's no doubt that where there is merriment, there is a Hershey product.
It's also a revenue powerhouse, driving more than $7.5 billion last year in annual sales. From the consumer product perspective, the company is also strong–The Hershey Company ranked at No. 39 on License Global's annual Top 150 Global Licensors report, reporting $1.5 billion in retail sales of licensed products in 2017. In Asia alone, a growth market for the brand but certainly not its leader, The Hershey Company raked in more than $450 million at retail thanks to the 185 million products sold in 250,000-plus doors.
And licensing has been helping to build the Hershey empire since the mid-'90s. Ernest Savo, director, global licensing and business development, has been with The Hershey Company for much of the journey.
Savo joined Hershey in 2002 to manage the licensing activity around the Hershey portfolio of brands (among other marketing and promotions duties), which at the time was generally very U.S.-centric and sat primarily with one–albeit strong–master partner: General Mills. But as opportunities grew through licensing, Savo increasingly found his attention returning to the extensions side of the business.
"At first, licensing was a side gig, but it just kept getting bigger and bigger and bigger," says Savo. "There came a point in the mid-2000s though when the size and complexity of the portfolio, as well as the quality of deals, made us say, 'Wow, the amount of interest in our brands in these categories is definitely high, and the quality of deals we are doing is great for our brands.' But more importantly, the size of the revenue we were generating became sizable enough to require more dedicated attention."
With a dedicated team on board came a dedicated brand extension strategy–or how The Hershey Company "plays" outside of its core confectionery categories. At the root of this strategy is the consumer, says Savo, and all discussions for potential partners begin with a simple question: what does the consumer want?
"Everything we do as a company always starts with the consumer," he says. "What is the consumer looking for? Where are they going? What is trending? What kinds of opportunities exist? We are looking deep and wide at where our brands are relevant and where they can travel. When the route to market doesn't exist for us–when it's not something we can easily acquire–then that is when we say, 'This is a place where licensing is perfect.'" But Hershey is always mindful and aware of what the core brand is–and more importantly, what it is not. This distinction is crucial in understanding why and how the extensions build, and even more so, how they will find success on shelf.
"Our overarching strategy for licensing as a company is about owning indulgence. We are an indulgent portfolio, and we own indulgent brands," says Savo. "For that reason, we stay away from licensing into areas that aren't about indulgence, but could easily use credentials of chocolate as flavor equity. We don't go into and wouldn't cross into health categories, protein powders or diet bars, for example. They do not allow us to reinforce the notion of owning indulgence and what our brands really stand for in consumers' minds. Ultimately, candy is a treat, and trying to get consumers to think about it in any other way is not where we want to go."
It's this thoughtfulness that is driving Hershey growth through licensing partnerships, and what Savo builds his pillars of success upon. After all, with more than 80 brands at your disposal, it would be quite easy to knock out a t-shirt range through a quick deal with a one-time partner. But that's just not the Hershey way.
"We don't view licensing as transactional," says Savo. "We view it strategically and look to build partnerships for the long term. We believe that if you treat those partners right and if you are innovative with them and stay with them through all the ups and downs, it pays dividends.
"Another way we like to look at it is: how can licensing be your route to market for a particular category? And when you've made that deliberate choice to use licensing, then it is imperative that you find the right partner and nurture that relationship in a way that is going to be there for the long haul," continues Savo.
For Savo and Hershey, licensing is a great way to continue to build brand equity, something the company is rich in, but protecting that equity is equally, if not more so, important to brand longevity.
Also imperative is that Hershey concentrates its licensing initiatives on organic growth for its hero brands–Hershey's and Reese's.
And as Hershey's, Reese's and all of its sub-brands–household names like Hershey's Kisses, Almond Joy, Heath, York and countless others–are food brands, many of the licensed partnerships are for extensions within adjacent food and beverage categories, for which come a host of considerations around ingredients, safety, consistency, distribution and so much more. Because if an item is labeled Hershey, it best meet the company's ultimate standards for quality and flavor.
"Complex" is an accurate way to describe the licensing deals that Savo and his team, including longtime licensing agent CAA-GBG, execute on annually.
"Part of the magic of food licensing is making sure that we're partnered with the right food companies and understand that company's knowledge of the market, what works and what doesn't," says Savo. "Our licensed products need to deliver on Hershey equities, and we do that by ingrediating the product with our brands, whether it be our Hershey chocolate, our cocoa powders–whatever is appropriate–to achieve that Hershey profile." In North America, the major core categories are desserts (frozen and refrigerated), beverages, general food items such as cereal and cookies and baking mixes (both fresh and those intended for shelf). Within the refrigerated desserts segment, Kraft Foods is on board for innovative products, such as a recently launched aerosol whipped topping range, which Savo says has strong early feedback. Refrigerated puddings are also a successful extension that Savo sees going the distance. Conversations are ongoing for deeper penetration into additional product ranges such as indulgent yogurts and more. For beverages, the Hershey portfolio has largely centered around chocolate milk, which Savo says is an anchor within the company's dairy portfolio. Hershey's strength in the category has further allowed licensing to get creative and bring in new opportunities and extensions via additional flavor profiles–think Hershey's Cookies and Cream, Hershey's Special Dark, Whoppers or York.
Coffee creamers are also a successful sub-product category within beverages for Hershey's, with a Reese's and Almond Joy creamer performing nicely for the company in 2017 and 2018, in partnership with WhiteWave Foods (DanonWave).
Other food and beverage partners for Hershey in North America include Friendly's Ice Cream, Gallerie, The Jel Sert Company, The Kellogg Company, Mondelez, Nestle/Dreyer's, Schwan's, Unilever and many more.
Moving forward, Savo says Hershey will target growth categories such as additional frozen dessert extensions including cakes, breakfast and heat-and-eat snacks, which is an emerging category that the company launched with General Mills for a new product, Hershey's Bites. Additional beverage extensions are also a focus, such as ready-to-drink iced coffees and plant-based drinks.
"The cliché of fewer, bigger better certainly reigns true for me in the licensed food category," says Savo. "We are not looking for a portfolio of 100 licensees–we are looking for a right-sized portfolio that has enough growth for both us and the partner."
When it comes to non-food extensions, agent CAA-GBG plays an important role, not only in North America, but around the world.
"Generally, the way that we at CAA-GBG strategize and approach the non-food category is to hone in on the core pillars and vision for Hershey as an overall company," says Laura Kaufmann, senior director, licensing, CAA-GBG. "The two elements that we really focus on are the ideas of connection and delight. Everything we do in non-food really ties back to those two ideas."
For CAA-GBG, the main categories of concentration are seasonal and celebration items, home décor, gifts and collectibles, apparel, accessories and beauty, and the same notion of long-standing relationships begetting mutually beneficial products and revenue continues to hold true for the partnerships that the agency nurtures on behalf of Hershey.
According to Kaufmann, the two strongest programs that CAA-GBG has developed are in the health and beauty and seasonal space.
Centric Beauty has been a licensee of Hershey for more than 10 years, says Kaufmann, and a "tremendous win" for the brand, even so much as calling the partnership the "jewel of our program" with the Hershey's Kisses lip balm. With the Kisses brand in particular, it is important that the iconic shape plays into all aspects of any product extension, and this lip balm is no exception. The lip balm flows seamlessly into the seasonal program that Kaufmann and CAA-GBG oversee as well, and further allows Hershey to capitalize on hot, of-the-moment consumer trends like collectability (it's available in limited-edition colorways and scents) which gets some great influencer engagement. Bath bombs are also in the market now and other products with an additional partner are in the works.
The other category win under CAA-GBG is a partnership with licensee Mr. Bar-B-Q for a s'mores grilling accessories program.
"The s'mores program launched in a single retailer with a fun assortment of product that has been successful because it ties back to core consumption of Hershey product," says Kaufmann. "We're responding to consumer need and usage behavior–we've created products that directly correspond to how people are using Hershey when they are camping or entertaining at home. S'mores are synonymous with Hershey–you can't make it without a Hershey bar."
Further additions to the range include everything from mess-free grilling trays to glow-in-the-dark extending forks (perfect for a camp fire!), a caddie, cast iron grilling pans and more that are sold across mass, outdoor, online and club stores.
Savo sees the s'mores program in particular as really emphasizing what licensing can do for the Hershey's brand.
"These types of partnerships enable us to build a consumer solution and a strong consumer story," says Savo. "For years, we have partnered with Honey Maid graham crackers, a Mondelez product, and Jet-Puffed marshmallows, a Kraft product, and have forged a relationship. This line of accessories allows us to continue to expand on that selling solution and merchandise these products together to create one solution for the consumer and tell the complete s'mores story to both the consumer and the retailer."
Another big win for Hershey via CAA-GBG was a direct-to-retail deal with accessory brand LeSportsac.
"The LeSportsac program led as a collaboration, but behaved as a DTR, and it was a tremendous success for the brand in terms of highlighting visibility and engaging with the consumer," says Kaufmann. "By focusing on a specific distribution location, we created incredible opportunities to deepen engagement and incorporate even stronger support for the program."
Other big category pushes for Hershey/CAA-GBG include for home and home accessories and a crafting program with partner FloraCraft for DIY Kisses projects that launched this holiday season.
CAA-GBG is also instrumental as Hershey looks to license and extend beyond North America into varied territories such as Asia and Latin America, both big growth regions for the company.
"In markets like Japan, Korea, Southeast Asia, Brazil and Mexico, where I don't have feet on the street, I turn to an agency to make those intros and drive that business development," says Savo. "CAA-GBG are a growth strategy in those markets and have functioned for me in that way, in terms of building up the portfolio, building the number of partners and building the opportunities."
Hershey has been in Asia with licensed extensions since the late '90s, says Savo, and has several long-standing partners that have carved a niche in the market. For instance, did you realize that Hershey's chocolate milk was the No. 1 chocolate milk in South Korea, eclipsing even the core chocolate in brand recognition? It's true, and it's a partnership with Maeil Dairies. (In fact, in almost all areas of the world that carry Hershey's chocolate milk, it's a licensed partnership, with the exception of Mexico.)
Lotte is another strong partner for Hershey in the region, as well as in Japan, for ice cream, and a similar brand recognition scenario is playing out there too for the licensed extension.
"We've always used licensing as a way into a marketplace and as a way to build brand impressions and affinity for Hershey's," says Savo. "The company's international growth strategy is much different today, and now we are much more focused on our confectionery program than we've ever been. There's some amazing activity happening in the Asia markets in terms of growth."
Other strong partnerships, both for food and non-food, including Kellogg's for cereal (South Korea, Taiwan and Hong Kong), Unilever for ice cream tubs (Malaysia, Brunei and Philippines), OuKai for bedding (China), Sanrio for gift assortments (Japan) and Mitsubishi Shokuhin for instant cocoa, baked cakes and donuts (Japan), among many others.
A Latin America push is also kicking off now, with the Hershey hero brand and Hershey's Kisses sub-brand leading the charge for similar rest-of-world food extension categories such as ice cream, frozen desserts, cookies and baked goods, dairy and other beverages. Several deals are in the late stages of finalization in key categories for Mexico, as well as cookies and flavored dairy for Brazil.
Looking ahead, Savo says the future is threefold and will focus on further integrating licensing into the wider Hershey marketing strategy, employing licensing to continue to make emotional connections with the Hershey brands and looking for ways for the company to play with experiences.
Hershey, Pa., is a sight to behold–the company is very much embedded into the fabric of the town. Everything from the Kisses-shaped streetlights to the multitude of chocolate-inspired experiences and excursions that are already in place. Future opportunities very much will stem from opportunities already existing at ground zero.
"It's pretty exciting to think about all the places our brands can go and the deep affinity consumers have thanks to the strength and equity our brands hold," says Savo. "Our brand is beloved and we're excited about where our brands can take us."
Subscribe and receive the latest news from the industry Article
Join 62,000+ members. Yes, it's completely free.
You May Also Like
---