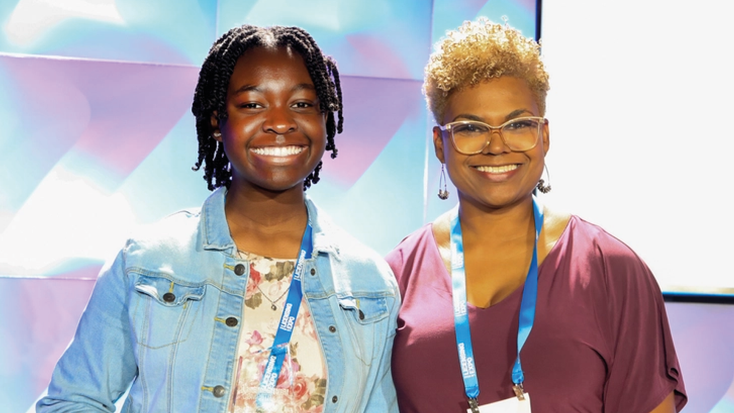 Gabby Goodwin (l), chief executive officer and Rozalynn Goodwin (r), founder, GaBBY Bows, License This! 2023 winners.
License Global/Tom Hinkley
The License This! Competition is a way for up-and-coming brands to gain some exposure and learn about the licensing industry. For example, the 2021 winner of the competition, Sophie Jonas-Hill is
, and has a line of
. 
License Global:
What have you gained or learned since winning the competition?  
At Licensing Expo, that was our first exposure to licensing – the idea to license our intellectual property really just came to us through some conversations. We started looking into what licensing was, whether this would be a good fit to grow and extend our brand and get these barrettes in the hands of more girls all over the world. I was talking to a business coach, and he said, "Have you ever considered going to Licensing Expo?" So, I looked into the expo and found
Licensing International and realized it was a whole world industry that we just were not aware of. 
What are you looking forward to at Licensing Expo 2024?
Being able to navigate [Expo] better. Having more of a game plan in terms of actually reaching out to businesses and fostering conversations.  
What would you say to someone who's on the fence about entering the License This competition?
The process was very simple. This is a way for people to know who you are. We saw this as an opportunity for people to recognize who we were at such a large expo, we realized that even if we did not place or when we recognize that there were at least people who were on the committee that would be reviewing those who entered the competition who would know who we were in licensing. Even if it was five people on the committee, five people know about what goes on now. 
What have you learned from the experience?
I really do want to encourage people to learn more about the industry. I feel very confident after participating at Expo and getting involved in Licensing International that this is definitely a way that will be able to not only get our problem-solving products to people all over the world at a faster pace, but also a way that Gabby can do what she intended. We''re just getting started and we'd love for other people to get on the journey with us.
The deadline to submit entries is 5 p.m. BST on Sept. 4. Register for Brand Licensing Europe
.
Read more about:
Subscribe and receive the latest news from the industry.
Join 62,000+ members. Yes, it's completely free.
You May Also Like
Loading..