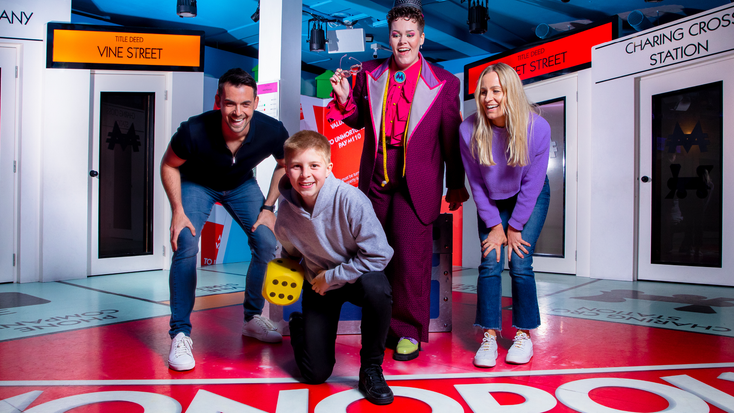 "Monopoly: Lifesized."
The Path Entertainment
Brand Licensing Europe
(BLE) will host a new location-based experience (LBE) trail at this year's event, which takes place Oct. 4-6 at ExCeL, London. Including the "Peppa Pig Afternoon Bus Tour," in collaboration with Brigit's Bakery, and the "Tiger Shark"
Monster Truck, visitors will be able to get fully immersed in interactive features across the show floor. 
The LBE trail will include the following:  
"Peppa Pig Afternoon Bus Tour," in collaboration with Brigit's Bakery, located at stand D205
In collaboration with
/Entertainment One's "
," Brigit's Bakery is creating the "Peppa Pig Afternoon Tea Bus Tour" using the iconic 1960 Routemaster Bus. Visitors can visit the actual bus and talk to the Brigit's Bakery team about exactly what was involved in bringing this experience to life.   
The "Terminator" Skynet bar, at stand C141
Step into a dystopian future where machines rule the world, and humans fight for survival at the ultimate "
" Skynet Bar experience.
Located in the heart of BLE's show floor, visitors can immerse themselves straight into the post-apocalyptic universe of the "The Terminator" and "Terminator 2: Judgment Day."
"Tiger Shark" Hot Wheels Monster Truck, at stand E140 
Coming in at almost three meters high, this is a rare opportunity to see the truck up close and personal as it prepares to take part in the recently announced
Hot Wheels Monster Trucks Live Glow Party
taking place around the world in 2024 and organized by Family Entertainment Live and
. 
Peppa's Party Café, at stand B211
Come and celebrate in Peppa's Party Café open throughout all three days of the show. Eat, drink and experience the world of Peppa and friends – there are plenty of opportunities for selfies.    
The Arcade, at stand E160 
Step into a world of pixelated nostalgia at The Arcade, a retro arcade zone on the show floor. Visitors will be able to immerse themselves in the spirit of the golden age of gaming as they venture through rows of classic arcade games. Unleash your inner child and rediscover the joy of simple yet exhilarating gameplay.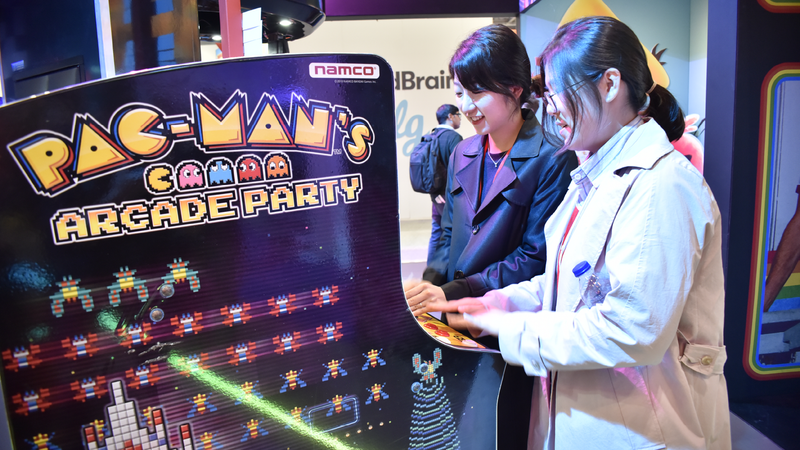 Pac-Man Arcade at Licensing Expo.
Color-In-Nature with The Natural History Museum, at stand B272
With an abundance of incredible species from the natural world just waiting to be brought to life, visitors can retreat from the event hustle and bustle and pick up a pen and get creative with the
coloring-in wall. 
The VR Lab, at stand D244
Where reality blurs and imagination reigns supreme. It's not just an experience; it's a virtual adventure waiting to be explored. Attendees can immerse themselves in the future of technology and try their hand at VR games and challenges.    
Other activations include:
See a McLaren 720S (stand B274) 
Grab a drink at the Sports Bar (stand E235)  

Enjoy in-hall food trucks offering delicious hot meals and snacks in the Food Court (stand E225)  

Make some time for a bit of R&R in the Relaxation Lounge (stand E134)  

Rest easy at The Lounge Bar (stand C260)   

Check out the Brands Untapped Footwear Showcase (stand E174) showcasing some of the coolest footwear collabs, including Transformers x Irregular Choice –

a first look preview opportunity

plus The Met x Dr Martens,

,

, Playboy x KOI and Playboy x Duke & Dextor, and championing the creatives behind the launches.  
"LBE is a huge and growing trend and one that has the potential to affect everyone in the most positive ways," says Ella Haynes, event director, BLE. "It's also a category that embraces brands, designers, manufacturers and retailers – the entire brand licensing ecosphere. That's why we wanted to create experiences at BLE that would let people enjoy LBE first-hand and be inspired by the people who have experienced success." 
"We have a trail of activations on the show floor, our keynote from Hasbro and The Path Entertainment Group, our trend sessions and masterclass and much more. I know everyone's BLE calendars are bursting with meetings, but I encourage you to carve out a little time to learn about the opportunities in LBE and how they can positively impact your business."  
Speaker sessions on LBE include: 
Hasbro and
will explore the creative pursuit, potential and problem-solving required to turn
into one of the most talked-about activations on the experience market today.    
David Hutchinson, chief executive officer, The Path Entertainment Group    

Matt Proulx, vice president, LBE, Hasbro    
2-2:30 p.m. – Location-Based Experience Trends  
LBE is a $3.29 billion market expected to grow 30% by 2030. The experience economy is increasingly important to licensors and brand owners to create creative experiences for fans and customers to engage with their brands in new and exciting ways. Find out the key trends impacting LBE in this session from a brand perspective:   
Ella Baskerville, business development director, Blooloop    

Ngaio Harding-Hill, head, attractions and live experiences, Aardman    
Danielle Tanton, head, licensing, The Path Entertainment Group, and vice president, Themed Entertainment Association Europe & Middle East Division   
2-2:45 p.m. - LBE: How to Master the Experience Economy  
Location-based experience has created a new layer of engagement for fans and families worldwide, but how can brands navigate the market, find the right format to maintain authenticity and work with best-in-class partners? License Global will speak with experts from across the market to show how shared experiences can become lifelong memories.    
Alex Sanson, senior brand manager, Magic Light Pictures    

Matt Wild, director, Wild Creations    

Gary Pope, chief executive officer, co-founder, Kids Industries    
Brian Hook, chief commercial officer, The Everywhere Group   

Moderator: Ben Roberts, EMEA content director, License Global  
The
is now complete with speakers and participants. All sessions are free to attend and focus on the trends defining brand licensing, extensions and collaborations with sector-specific sessions covering gaming, location-based experiences, fashion, food and beverage, anime and animation. Seating is allocated on a first-come, first-served basis, so arrive early to avoid disappointment.  
Read more about:
Subscribe and receive the latest news from the industry.
Join 62,000+ members. Yes, it's completely free.
You May Also Like
Loading..