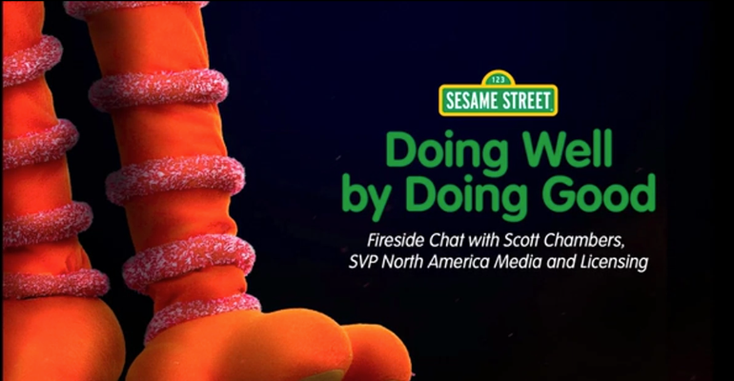 Since 1969, "Sesame Street" has found sustained success as a value-driven property that aims to not only entertain but also educate. Classic characters such as Elmo and Cookie Monster have helped guide families during challenging times for more than 50 years. Now, in a time of unprecedented uncertainty, "Sesame Street" feels more vital than ever. The values and mission of the brand are being brought to life to help children understand the world in 2020.
During a fireside chat at Licensing Week Virtual, Scott Chambers, senior vice president and general manager, Sesame Workshop, highlighted how, while the mission of "Sesame" hasn't changed, the work "Sesame" continues to do is still significant and just as successful.
"Our model really hasn't changed, and we have always worked the same," says Chambers. "It starts with developing, or with identifying what kids need most. It then goes to developing curriculum that addresses and supports those needs, and then we produce content around that curriculum.
Then, we leverage the latest media technology to get that content in there, in their hands and in their homes."
Helping Guide Families During the COVID-19 Pandemic
Over the last few months, Sesame Workshop has brought the brand's ethos to the world by bringing a voice to the most prominent issues today. "Sesame Street" has brought its compassion and understanding to problems that are at the forefront of families' minds. 
While working from home, performers and staffers for "Sesame" have been creating content and partnerships that highlight the company's mission. Initiatives, such as Caring for Each Other, were developed from people's home offices to share information on key topics children are coping with, such as COVID-19.
"We quickly developed Caring for Each Other, which was really our response to the pandemic, and it's an initiative that develops and distributes content to parents, kids and teachers that critically focuses not only on hygiene, which is an obvious need, but also on key topics that quarantine families needed help with the most," adds Chambers.
Educating Children on the Biggest Issues Today
Today, as people around the globe protest the injustices of systemic racial inequality, "Sesame" is also working to be an active participant in the conversation. "Sesame Street" developed the "Coming Together: Standing Up to Racism" CNN townhall for kids and families. 
"Obviously it's something that 'Sesame' has been doing for 50 years, but even we are now galvanizing around that topic and trying to figure out exactly what more we can do to help, and I think that many people are going to do the same, and, hopefully, maybe even join 'Sesame' in those efforts," reports Chambers.
Finding the Right Partners to Help
"Sesame Street" hasn't gone their mission alone either. As the company has expanded through the years, it has worked to find partners who abide by its mission and are looking to help spread "Sesame Street's" message. Over the last few years, partners such as Farmers Insurance, Champion and Squarespace have worked with "Sesame" to bring beloved characters to their initiatives. For Chambers, these partnerships were not taken lightly and required a lot of thought.
"I would say, over the last five or six years, we've really focused on partnerships and rethinking how that could help us," says Chambers. "It has taken a lot of thought, and it's a painstaking process, quite frankly, that requires a lot of soul searching to not just identify the partners that we think would be a good partner with 'Sesame,' but also that [align with our] messaging and timing."
Read more about:
Subscribe and receive the latest news from the industry.
Join 62,000+ members. Yes, it's completely free.
You May Also Like
Loading..