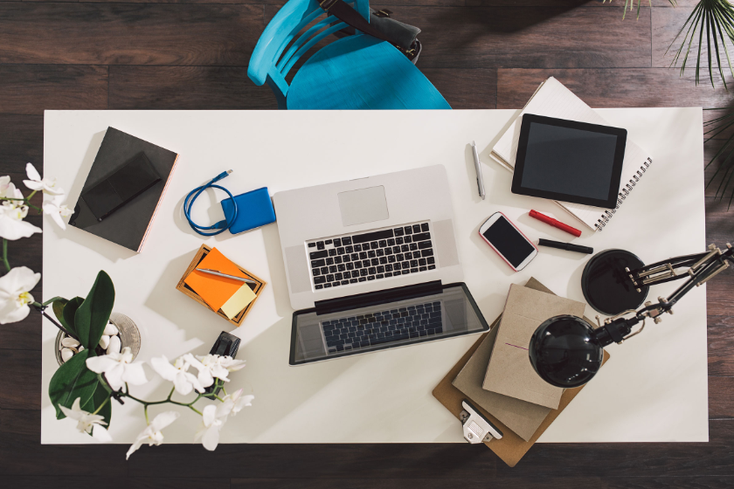 If you're trying to read your way into becoming a better and more knowledgeable licensing professional, there is a good chance that you have a list of books you've been meaning to check out. However, compiling a list of titles that answer all of your questions about brand licensing can be a challenge. Especially when your colleagues, business partners, and social media contacts continuously promise that their latest reads rank above the rest.
Don't worry. Licensing leaders don't need to become bookworms to start blazing a trail. You can start with a short list of easily accessible books that offer unique, yet proven insight into today's licensing industry. Look for information that fits your business goals and apply it as needed to your licensing strategy. To help you get started, Flowhaven has come up with a list of its top five titles.
1. The Licensing Business Handbook - Karen Raugust
Raugust's book offers a comprehensive guide to the licensing business for IP holders, manufacturers, and their agents. Informed by her experiences as the
editor of The Licensing Letter, an authoritative voice in licensing published from 1990 to 1996, she presents a body of well-organized text that many see as an unofficial primer for brand licensing.
In addition to offering a highly accessible, text-book-like reader on IP management and profit, Raugust also addresses the need to make calculated and (sometimes) conservative decisions when investing in new projects. Inside the book, you can find explanations about the value chain for licensed characters, teams, logos, trademarks, celebrities, events, fashion labels, likenesses, and designs. The handy risk management assessment tool remains relevant, as licensing professionals find themselves in the middle of a content frenzy that often makes ROI hard to calculate.
2. Expand, Grow, Thrive - Pete Canalichio
 This winner of the 2018 Book Excellence in Marketing Award offers a narrative-driven guide to the brand licensing business. Canalichio, who has more than 25 years of experience in brand expansion and licensing strategy, leverages his resume to help readers sort through the weighty business of growing a licensing program.
Canalichio's unique access to high-level executives and retellings of his experiences at Coca-Cola, NASCAR, and Rubbermaid help to place the reader in the driver's seat of a high-stake licensing program. Canalichio leaves readers with an earworm of an acronym, the LASSO Model (Lateral, Addictive, Storied, Scalable, Own-able). But to learn what it is, and how it can help you increase your licensing revenue, you'll have to get the book.
3. Basics of Licensing: How to Extend Brand and Entertainment Properties for Profit - Gregory J. Battersby and Danny Simon
Gregory J. Battersby is a senior partner at the law firm of Grimes & Battersby who has 40 years of experience in intellectual and licensing property law and who has written over 25 books. Danny Simon has over 30 years of experience including key roles in developing the licensing divisions at Lorimar Pictures, Carolco Pictures, and 20th Century Fox.
This LIMA-approved book is the brainchild of the licensing industry pioneers and leverages their 60 plus years of combined experience, to help guide licensing professionals in all stages of their career with a concise reference that can be read in one comfortable sitting or pulled out when needed.
The book's best assets are the administrative templates offered at the start of each chapter as well as the licensing form agreements modelled after real contracts. It even provides a history of the licensing industry and definitions of the industry's most used terms.
4. Secrets of Success in Brand Licensing - Andrew Levy and Judy Bartkowiak
First published in 2011, this book focuses on the true nature of brand licensing and posits it as a key element of any marketing strategy. While Levy and Bartkowiak spend time reminding the audience how thrilling it can be to expand a celebrity, sport or entertainment brand, they also emphasize the importance of getting your brand expansion right. To do so, the pair highlight the key stages and players in the brand licensing business, as well as important marketing tools and select legal matters.
In addition, the authors provide helpful case studies about successfully licensed brands including Hello Kittty, Thomas, Arsenal FC and Royal Navy. The book also does a wonderful job of discussing the role retail plays in the ultimate success of your product.
Flowhaven's very first e-book
includes insights into the inner-workings of the brand licensing business. Informed by the acumen of the company's trailblazing CEO, Kalle Törmä, the book explores the best methods for creating, refining and scaling a licensing program, with an interest in simplifying your licensing operations.
Highlights include learning how you can leverage your contacts to expand into new territories; improving interactions with customers; creating products that satisfy both wants and needs and; streamlining internal operations to save time and drive revenue.
There are endless amounts of books that seek to help you improve as a licensing professional. And while we can't name them all, we hope that this list is enough to get you started.
Download the e-book 
here.
Subscribe and receive the latest news from the industry.
Join 62,000+ members. Yes, it's completely free.
You May Also Like
Loading..