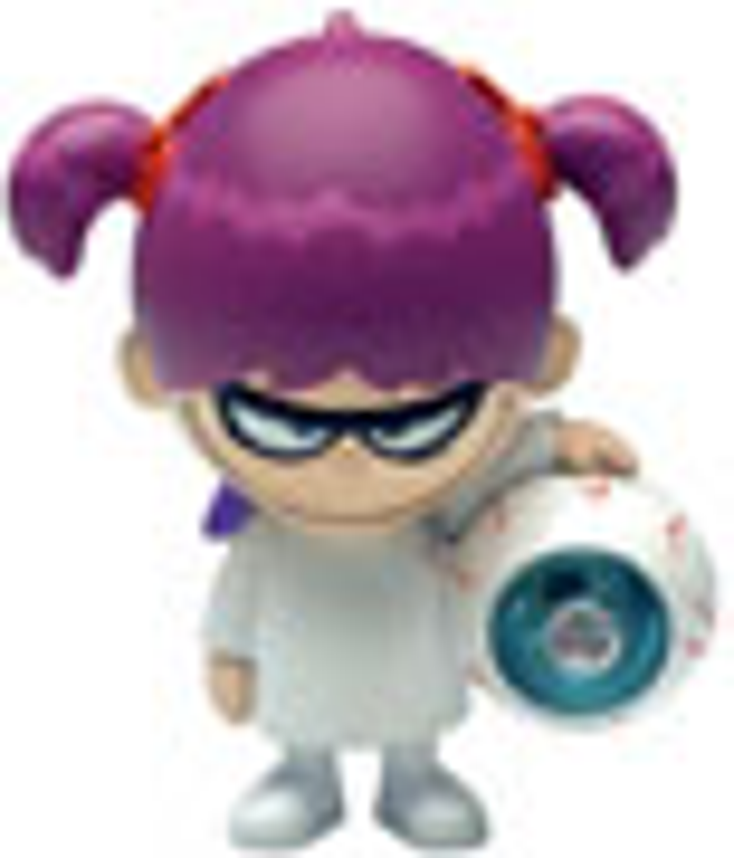 ]>Mergers, consolidation, and decreasing license fees continue to change the landscape of the children's broadcast market.
Next month, broadcasters, licensors, licensees, and retailers alike will be tuned into MIPCOM and MIPCOM Junior in Cannes, France, looking to catch a glimpse of the latest breakthrough properties. Here, industry insiders reveal their take on the kids' TV licensing market and discuss strategies going forward.
In a $20 million deal, UK-based Entertainment Rights recently acquired classic global animation library Filmation from Hallmark Entertainment, including properties such as
He-Man, She-Ra,
and
Fat Albert
. (In the U.S.,
Fat Albert
is being represented for licensing by Lisa Marks & Associates.) While opening up myriad opportunities and providing a gateway into the U.S. marketplace, the acquisition also creates certain hurdles.
Basil Brush
, for instance, was a classic British property that was retired for a period of time. "We had to decide how we were going to present
Basil
to a contemporary audience," explains Entertainment Rights CEO Mike Heap. "This was done in consultation with the BBC, and the end result is that
Basil
now gets a 42 percent audience share; thus, we would handle
He-Man, She-Ra,
and others in the same manner. What I would never do is make 52 half hours of
She-Ra
and present it to a broadcaster. There are many more platforms to consider." He continues, "It's not like the old days; brand management is about taking the various, disparate parts and getting focused on how you can get it firmly in front of the public." Countering Consolidation In light of continued market consolidation, companies are expanding their focus well beyond television. London-based Entara Limited, the intellectual property owner and executive producer of 3-D, CGI-animated
Jakers! The Adventures of Piggley Winks,
provides customized on-air promos and Websites, co-op advertising, and publicity support, to name a few. Entara COO Louisa Stretton notes, "Because airtime is a precious commodity these days, we know we must not only provide a quality show, but also the marketing machine behind it." Similarly,
Hi-5
invites children to take advantage of the many benefits of the series with offerings that extend beyond the TV screen, such as the
Hi-5
audio CD from Koch Entertainment, which released September 7 nationwide. Retailer support, says Kids Like Us CEO and
Hi-5
producer and creator Helena Harris, also can help build awareness for a program among kids and families beyond the screen.
In today's environment, there is a tremendous amount of pressure from licensees and retailers for immediate success at the mass level. "With real-time information, retailers have little tolerance for product that doesn't perform," says Sid Kaufman, executive vice president, worldwide merchandising, Nelvana. "It's up to the licensor to deliver this TV engine and coordinate the launch of licensed product on the retail calendar." This is no easy feat when dealing with up to 150 markets around the world. According to Ragdoll Ltd. Senior Vice President of Global Licensing and Marketing Andrew Kerr, and Nick Kirkpatrick, head of international sales, retailers have become more cautious, and being on-air is no longer a guarantee that consumer products based upon broadcast content will succeed. FremantleMedia Licensing Worldwide CEO Simon Spalding agrees, "I think we have to marketing our brands--in partnership with licensees and retailers. We all have had the luxury of using the TV program itself as the only marketing tool for so long, and often average programs have developed a limited off-screen success simply by being exposed on TV." Now the challenge, he says, "is not only to develop standout programs, but also to use other platforms (interactive, publishing, live events) to create innovative marketing campaigns that benefit our partners and build brand awareness." Fremantle recently partnered with Imagineire to represent the ancillary rights worldwide for 'tween brand Mysti, a departure from representing its own brands. In addition, says Spalding, "We are exploring ways of creating content that can be launched using a non-TV-based route to market."become more sophisticated at
Expose Yourself
With lower license fees viewed as "the norm," the need to maximize property exposure is key. "Broadcasters have to understand that lower license fees have to lead to more flexibility with the licensors so we can generate additional license fees and also generate additional exposure for the property," says Ken Faier, vice president, production and distribution, children's television, Alliance Atlantis Communications Inc. "As the international market experiences further fragmentation, property awareness comes from having meaningful relationships with key licensing partners in your territories, explain Ragdoll's Kerr and Kirkpatrick. "Broadcasters increasingly are looking for revenue shares, and if negotiated well, these deals can be invaluable to the brand."
Sesame Workshop employs a two-pronged approach, explains Maura Regan, vice president, international licensing and new business development. "The first is localization (including the development of entire co-productions of
Sesame Street,
and producing local live-action segments with local puppets), which brings our brand closer to viewers' daily lives. The second is brand extension programming such as
Elmo's World
. These programs take a more global content point of view and can either work with an existing
Sesame
series on the same territory network or play on other networks--giving the brand greater reach and frequency." In addition, says FUNimation Productions Ltd. President Gen Fukunaga, "We see an increase in the scope and depth of marketing budgets and an increase in the amount of broadcast exposure being sought in negotiations." Ultimately, notes Daniel Marks, vice president, international licensing and sales, ShoPro Entertainment, it is very difficult to build awareness for properties in a market saturated with kids' channels. "Each country differs, but in many countries traditional methods still work, such as key toy and trading card partners." Also, he contends, "New platforms, such as mobile phones, digital entertainment, and video games are key."
HIT Entertainment Senior Vice President of Brand Business in the U.S. Jamie Cygielman finds that kids are gravitating toward electronics. Several of HIT's partners are doing junior versions of platform-based programs, and, she confides, "We are in the works on two important platform- based deals, one video handheld and one gaming." The big news for HIT is the all-new
Thomas & Friends
half-hour TV series produced in partnership with Connecticut Public Television. The series premiered on PBS KIDS the weekend of September 4 and will run weekly. Also this month, Target will launch a new line of
Thomas & Friends
toys from RC2.
In other news, in its first children's TV distribution deal, Celador International partnered with Blue Sky Motion Pictures Ltd. for the distribution and licensing of
Tales Of The Riverbank
. Celador will seek to build the brand in categories such as apparel, DVDs and video, toys, and interactive media.
Subscribe and receive the latest news from the industry.
Join 62,000+ members. Yes, it's completely free.
You May Also Like
Loading..