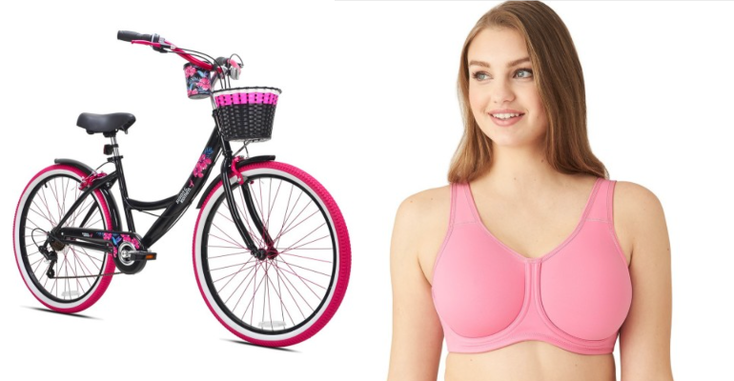 Breast Cancer Awareness Month, the international health campaign lasting the month of October, is intended to increase global awareness of breast cancer. In the U.S., the month-long campaign is known as National Breast Cancer Awareness Month.
Spoiler alert: the color for breast cancer awareness is pink. It started with the pink ribbon, but ­– surprising fact – back in 1979, the original ribbon was 
. The Susan G. Komen Foundation began handing out 
 at its first Race for the Cure in October 1991; the pink ribbon became even more popular after Self magazine featured it on the cover of their 1992 Breast Cancer Awareness Month issue and partnered with businesswoman and philanthropist Evelyn Lauder, to hand out 1.5 million pink ribbons at Estée Lauder makeup counters. Eventually, the association with the cause spread beyond the ribbon to the pink color itself.
Perhaps you want to sport some pink because you know someone who's been affected – as of January 2021, there are
more than 3.8 million women with a history of breast cancer in the U.S. This includes women currently being treated and women who have finished treatment. (And don't forget the menfolk: About 
 from breast cancer this year.) Or perhaps because you're a breast cancer patient or survivor yourself. About 1 in 8 U.S. women (about 13%) will develop invasive breast cancer throughout her lifetime (Source: 
). Or maybe you really like pink. Buying branded merchandise that donates some or all profits to charities is a feel-good choice. 
Nonprofit branding is nothing new, and several nonprofits have made it onto License Global's 
 through the years, including Sesame Workshop, National Geographic, the National Trust for Historic Preservation and the ASPCA, to name a few.
But few have done nonprofit branding as well as Susan G. Komen with its ubiquitous pink products. One of the world's leading nonprofit breast cancer organizations, working to save lives and end breast cancer forever, 
 "is to save lives by meeting the most critical needs in our communities and investing in breakthrough research to prevent and cure breast cancer."
In any given year, you can buy hoodies, scarves, nail polish or other beauty products that support SGK. NFL players sport pink shoes. In my town of Wausau, Wis., streetlight globes on downtown bridges are swathed in pink cloth all month long and you can still spot the occasional pink garbage bins from a fundraiser a few years back. Those who really want to put their money where their mouths are can order SGK checks from Checks Unlimited or get a Pink Ribbon Banking Credit Card from Bank of America.
Komen has an extensive online store that carries a wide selection of branded material (with 100% of the proceeds going to the charity) and corporate partners with branded merchandise you can buy elsewhere (percentages donated differ). Each October, SGK presents its annual "
" program, showcasing many of its corporate partners and available products that raise funds for Komen. The program conveniently identifies products and services that support Komen's advocacy, research and patient care services for those looking to make a difference with their shopping during National Breast Cancer Awareness Month.
Komen has partnered with more than 25 companies as part of this year's "Live Pink" program. All brands in the "Live Pink" portfolio help fund research and care services that support people through their diagnosis, treatment and beyond. This year, products and services available for purchase include specially designed clothing, skincare products, and foods and beverages. Throw on a BJ's Wholesale Earth Yoga Eco Curve Hoodie and ride your Kent 26" Women's Floral Cruiser Bike over to Panera Bread for a Pink Ribbon Bagel. When you get home, you can hydrate with a Hint water from the Pink Ribbon Variety Pack. Plain to see, SGK is adept at corporate partnerships. In 2006, TIME 
 that Komen's partnerships with pink promoters raked in $30 million a year. In 2010, 
 SKG raised $55 million a year through cause marketing. 
Although the charity has received criticism over the years, one of the biggest charity watchdogs, 
, still rates the charity 3 stars, indicating it's a charity you can give to with confidence. 
However, SGK is not the only breast cancer charity and all that is pink is not SGK. In other words, in this pink-hued month, plenty of companies and charities support breast cancer education and research. Since Evelyn Lauder founded 
The Estée Lauder Companies' Breast Cancer Campaign
 (The Campaign) in 1992, it has raised more than $99 million to support global research, education and medical services, with more than $80 million funding 321 medical research grants through the Breast Cancer Research Foundation (BCRF). The campaign now supports more than 60 organizations around the globe. This year, 19 of The Estée Lauder Companies' brands will support The Campaign's mission: AERIN, Aveda, Bobbi Brown, Bumble and bumble, Clinique, Darphin, DKNY, Donna Karan, Dr. Jart+, Estée Lauder, GLAMGLOW, Jo Malone London, La Mer, Lab Series, Michael Kors, Origins, Smashbox, TOM FORD BEAUTY and Too Faced. Each will sell Pink Ribbon Products or make donations to BCRF and/or other charitable organizations worldwide.
A few other companies have announced promotions or products supporting breast cancer this month:
Nylabone is partnering with National Breast Cancer Foundation (NBCF) to offer dogs a custom-made, pink-hued chew toy. For each chew toy sold, Nylabone will donate $1 to NBCF;

Lids has created a limited-edition collection of three new embroidery options for headwear to increase awareness with funds benefitting the BCRF; 

RevitaLash Cosmetics is donating $2 to breast cancer charities worldwide, up to a maximum of $140,000 for every RevitaLash Advanced and RevitaBrow Advanced purchased during the Pink Sleeve Event;

In support of Breast Cancer Awareness Month, Igloo will donate 100% of the sales from its 2022 Playmate Calendar sold on Igloocoolers.com to the American Cancer Society; and

Hard Rock International is offering a PINKTOBER-themed Hard Rock T-shirt and a newly designed PINKTOBER pin with a percentage of all proceeds going to charities that help raise awareness and funds for breast cancer research. 
Bear in mind that no one owns the rights to the pink ribbon; companies that offer merchandise featuring a pink ribbon might not be supporting breast cancer research or education at all. The bottom line is if you're going to buy pink, make sure you're doing it for the right cause.
Subscribe and receive the latest news from the industry.
Join 62,000+ members. Yes, it's completely free.
You May Also Like
Loading..