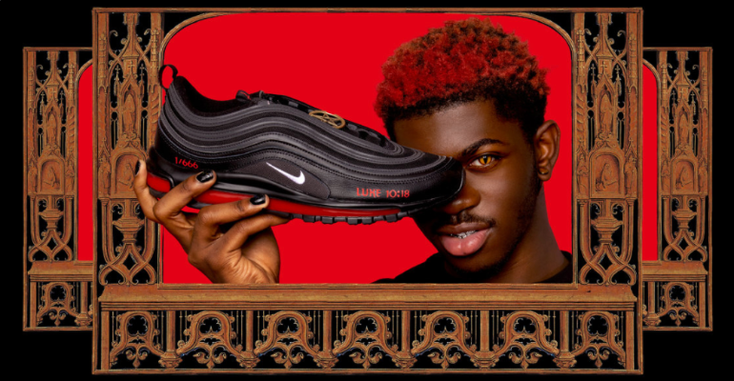 I'm sure you've seen it – a suitably creepy image of entertainer Lil Nas X (of "Old Town Road" fame, the song you could not escape in 2019) posed just so with a pair of Nike Air Max 97s.
The $1,018 "Satan Shoes" are a collab with art collective MSCHF and are replete with imagery that backs the name – an inverted cross, a pentagram, a reference to Bible passage Luke 10:18 ("I saw Satan fall like lightning from heaven.") and are said to contain a drop of human blood. The 666 pairs available sold out in less than a minute.
All of this, of course, is a clever and clearly headline-grabbing promotional push for Lil Nas X's new record, "Montero (Call Me by your Name)," which is a demon-themed music video that, if you ask this editor, is campy at best and entertaining at least.
And more to the point (also of course), Nike hates it. They're suing MSCHF for trademark infringement.
Said the shoe giant in a statement to USA Today: "Nike filed a trademark infringement and dilution complaint against MSCHF
today related to the Satan Shoes. We don't have any further details to share on pending legal matters. However, we can tell you we do not have a relationship with Lil Nas X or MSCHF."
And according to the AP, MSCHF has no "involvement whatsoever" with Nike.
So, what happened here? How can a brand infringe on another brand so publicly?
"Nike's swoosh is probably one of the most recognizable non-word trademarks in the world. You see it and you automatically think of Nike as the source of the good on which it appears. This is how trademarks are supposed to operate, as a source identifier. Nike's case here is pretty simple to understand:  MSCHF is selling Nike Air Max 97's that have been modified in a way in which Nike does not approve. People see these 'Satan Shoes' and think they come from Nike, and some people don't like that. Nike therefore claims that the release of these 'Santa Shoes' is harming its valuable brand," says Fara Sunderji, partner, Dorsey & Whitney. (Sunderji has extensive expertise in all stages of trademark, copyright, clearance, prosecution, maintenance, enforcement and litigation.)
According to Sunderji, MSCHF may have very well have grounds to proceed with sales and be protected from the shoe giant... But, also, maybe not. 
"MSCHF will likely argue that they are protected under a theory called the First Sale Doctrine, which allows third-parties to resell trademarked goods that have already entered the marketplace. But the doctrine is limited to the sale of genuine goods. The doctrine is based on the premise that consumers are not being deceived because they are receiving what they have bargained for, the trademarked good. Under Second Circuit case law, goods are not genuine if they do not conform to the brand owner's quality control standards, and it is easy to guess Nike's take on this issue – 'Just don't do it,'" Sunderji says.
MSCHF has done this before with less fanfare – their 2019 "Jesus Shoes" also sold out, but there was notably no lawsuit either from Nike.
The shoes and video are out there, and whether Nike likes it or not, it's proving a successful marketing campaign by any standards – the video has been viewed nearly 50 million times and climbing on YouTube since March 25.  
Read more about:
Subscribe and receive the latest news from the industry.
Join 62,000+ members. Yes, it's completely free.
You May Also Like
Loading..