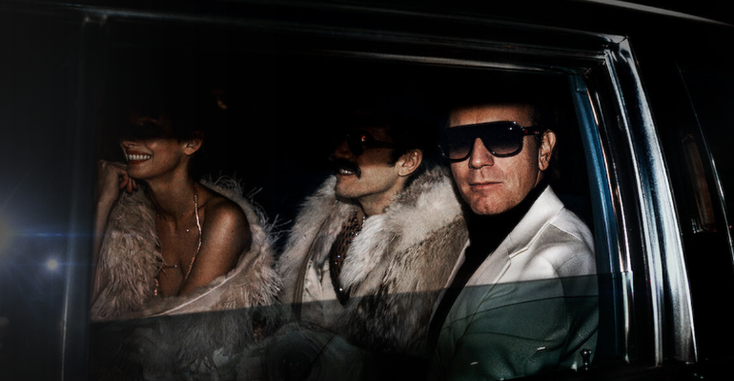 Based on the 1991
written by Steven Gaines, "
," a limited series starring Ewan McGregor, premiered on the streaming platform last weekend, profiling American designer Roy Halston's life. The series showcases the luxurious fashion and the decadence surrounding Halston's career, but one factor was crucial to the designer's success: Licensing. 
Note: Show spoilers ahead. However, Halston's biography also covered the following, so it's also not exactly a spoiler.
In the second episode, businessman David Mahoney (played by Bill Pullman) is wooing Halston to acquire his business by financially backing his fashion show in Paris. Mahoney gently pressures Halston into signing a contract with corporate giant Norton Simon on the flight to Paris. "Remind me to talk to you about licensing," he mentioned off-hand. Once Halston signs with Norton Simon, the viewer sees Halston transform from designer to brand, a one-name tastemaker. Halston had licensing deals in a number of categories, from luggage to carpets, socks to fragrance.  
According
to the series, it was licensing that made Halston a titan in fashion and launched him into the pop-culture stratosphere by working with Norton Simon. In retrospect, Halston was a prototype of the modern-day influencer. No longer just a name in the fashion world, Halston became shorthand for luxury or #goals. Thanks to licensing, anyone can get closer to his style by purchasing an item with the Halston brand on it. 
There were a lot of categories for consumers to choose from. At one point, the designer had 35 licenses via Norton Simon and was very hands-on with the process. But, as shown in the series, Halston's instincts weren't always spot-on. 
While Norton Simon maintained his licensing brand, Halston had competition. Calvin Klein made a splash in retail in the late '70s with the advent of designer jeans (and later, licensing). Soon, most fashion label had a designer jean line – except for Halston. Despite the Norton Simon team pleading with him to create a designer jeans line, Halston resisted. When he did come around to it months later, it was too late. The category was saturated. In the series, this was the signal of Halston's decline not just in fashion, but in licensing as well. 
In the '80s, Norton Simon was acquired by Esmark, a subsidiary of International Playtex. In the series, Esmark was more about the bottom line and didn't entertain Halston's artistic approach. What the
was, according to the
, Halston later sold his trademark and 
 some of his fashion business in 1984. Esmark itself was
by Beatrice Foods, which launched Halston Enterprises, then bought by Revlon in 1986. What a tangled web licensing weaves.
Halston died in 1990, but his legacy carries on through licensing. The brand was revived in 2007 when actor Sarah Jessica Parker 
 as the brand's creative designer ahead of the
Sex and the City
film release. Halston became Halston Heritage which Hilco Consumer Capital now owns, while Xcel now owns its spinoffs H by Halston and H Halston.
According to the series, Halston never acquired the rights back to his name. McGregor as Halston revealed in one scene his one regret in retrospect: "I'd spend twice that amount to get it back." But as we learn with licensing, a person's brand is forever. 
Subscribe and receive the latest news from the industry.
Join 62,000+ members. Yes, it's completely free.
You May Also Like
Loading..