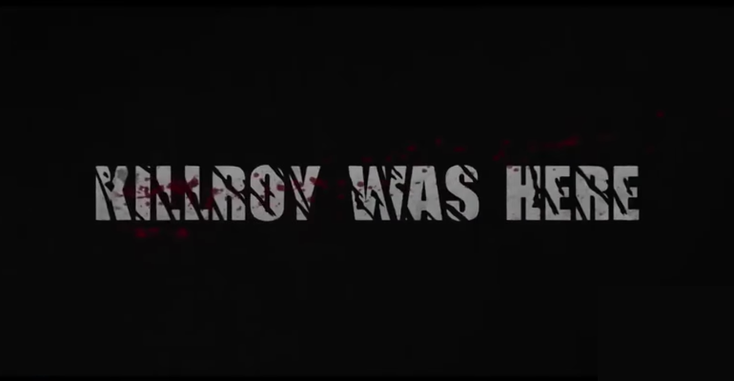 According to
Deadline
, actor and creative Kevin Smith is auctioning off his latest horror feature anthology "Killroy Was Here" as an NFT (non-fungible token). Through the purchase, "the owner of the NFT will secure the rights to exhibit, distribute and stream the work, making it a means for whoever owns the movie to earn money outside of the blockchain."
"As an indie artist, I'm always looking for a new platform through which to tell a story," says Smith to 
. "And crypto has the potential to provide that, while also intersecting with our almost 25 years of experience selling real-world collectibles online and at the brick-and-mortar Jay and Silent Bob's Secret Stash. Back in 1994, we took 
Clerks
 up to Sundance and sold it. Selling 'Killroy' as an NFT feels very similar: whoever buys it could choose to monetize it traditionally or own a film that nobody ever sees but them. We're not trying to raise financing by selling NFTs for a 'Killroy' movie; the completed 'Killroy' movie IS the NFT. And If this works, we suddenly have a new stage on which I and other better artists than me can tell our stories."
Additionally,
Smith has opened Jay and Silent Bob's Crypto Studio, a NFT gallery that will showcase and sell art featuring the movie characters. The studio will be a boutique crypto gallery with its .crypto address, curated by Smith and his staff. Drops will be built around what Smith calls Smokin' Tokens, featuring 3D art commemorating a different "Jay and Silent Bob" movie every month. The three Platinum Token packs come with all four available colors of the Smokin' Tokens, along with an exclusive Platinum Token that grants the bearer a Crypto Cameo in Smith's next film, "Clerks III."
The first drop is a "Killroy" teaser NFT, which showcases a 3D comic book and actual footage for the first movie ever sold as an NFT, to occur in drop No. 2. Smith is teaming with Semkhor, a media and technology company, for the drops.
Rounding out the first drop are fan art pieces in Jay and Silent Bob's Crypto Studio. According to
Deadline
, this part of the gallery will showcase emerging or established artists who want to create and sell NFTs that features Jay, Silent Bob, Mooby, Buddy Christ or The Secret Stash. 
Read more about:
Subscribe and receive the latest news from the industry.
Join 62,000+ members. Yes, it's completely free.
You May Also Like
Loading..