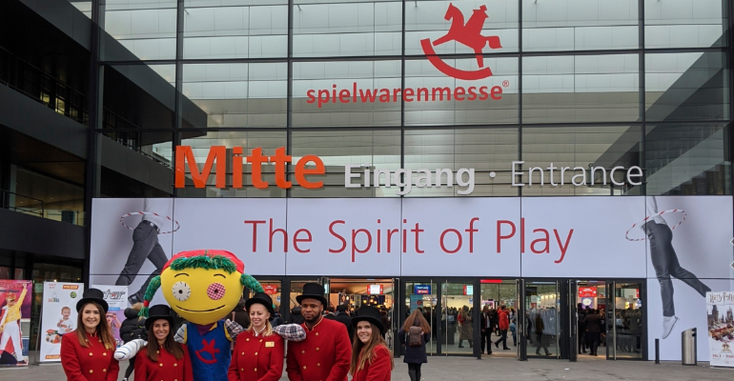 The cold snap of Germany in January did little to dissuade the global toy, licensing and content communities from descending on Spielwarenmesse for the latest insights into the changing world of toys and play. So, what is next for the world of toys, what did Nuremberg's own trend committee think – and what are the contributing factors for change this year?
The Digitally Driven Toy Box
In our exclusive rundown of emerging trends in 2020, provided in part by Kids Industries,
License Global
discovered how AR/VR needs to integrate real play patterns to reach its full potential, rather than just offering the experience of circling a screen around a static product. Kids aren't always stuck to screens but will engage with digital products more (think LEGO's Hidden World line or the first augmented, algorithm puzzle, Smartcube); products that use digitalization to enhance toy-driven play.
What's more, this trend also works well in reverse. The rise of video games has also created the
opportunity for digital games to enhance physical play. Steven Ekstract – brand director, Global Licensing Group and committee member, TrendGallery, Nuremberg – hosted a panel to discuss "digital going physical," where attendees learned how games are taking over the entertainment market and becoming an extension, or a source, of a wide variety of physical consumer experiences.
Ravensburger celebrated the 10th anniversary of "Minecraft" by producing physical board games, such as "Minecraft: Builders and Biomes," to engage kids off-screen and promote joint physical play. "Fortnite" has produced countless collectibles, plushes and figures – including the toy fair's popular Cloudstrike Glider Drone, on display at the show – with Jazwares, which promotes the brand and the game by increasing engagement outside of screen time. Losing screen time isn't the worry anymore; in fact, digital brands are now promoting it.
Sustainability Through 'Circular' Toys
No matter what industry you're in, the vital demand for sustainability is, without doubt, top of the list in terms of futureproofing brands and business. The circular industry licensing is now adopting revolves around the recyclable nature or reusable elements of certain products. Biobuddi was one such product that showcased the potential behind circular materials, with itd patented range of more than 50 learning toys that use recyclable, plant-based compounds that absorb CO2.
The waves being felt in the circular industry involve major toy companies such as Mattel, which introduced its own MEGA Biobloks at the show with the aim of reaching its 100 percent recycled materials goal by 2030.
"Environmental sustainability is a corporate priority, and we are proud to announce Mega's first product made from bio-based materials," says Richard Dickson, president, chief operating officer, Mattel. "Our Mega team is deeply committed to bringing the best products to their loyal consumers, and they are driving innovation to do this in the most sustainable way."
Aurora – the brand behind kids' TV and plush hit "Yoohoo," among other hits, also explained to
License Global
that the manufacturing company has now turned its industrial production in the east – which produces tens of thousands of plush products a month – into a process that produces recycled and recyclable products for its eco range in 18 months, as just the start of its plans to achieve eco-neutral or eco-friendly production.
Other products in the highlighted range by Nuremberg's own trend-spotting committee were educational products that taught children about the planet (Playa Playa) or the introduction of eco-friendly methods with beauty products such as Bio-Kosmetik. While companies trial new products, work to remove plastic packaging and wrestle with the price-point of eco-friendly toy products, which, anecdotally, seem to be marked at a 20-percent increase across the professionals at the show, the efforts underway across the industry are bringing about a new era of circular toys. Topics raised by Hasbro and Green Toys during the sustainability conference at the toy fair showed how moving further into R&D for these products has brought up interesting questions. Are biodegradable materials safe for toddlers who might put toys in their mouth? What is the life span of these products? How can we safely and strategically reach goals while maintaining an industry standard? Each were a burning topic widely discussed at the show, but nonetheless, also denote the future trajectory of the licensing, toy and consumer product industry as a whole.
Trends from the Show Floor
Inclusivity Makes an Impact
The society in which we live is changing all the time, and to promote an open and welcoming generation of children, the inclusivity products on display were not only innovative, but thoughtful and incredibly varied. From the Sense&Focus toys that promote attention and focus in children diagnosed with ADHD or autism, to the products that defy social barriers, such as My Little Muslim Friends, Fog of Love or Feel and Race – an inclusive version of the popular Ludo board game – the range on display at Nuremberg Toy Fair points to a genuinely promising future for a generation of open-minded individuals and myriad new ranges that bring children who have disabilities back into the mainstream audience.
Don't Tamper with a Classic
Established brands in the toy market are all openly celebrating anniversaries of games, toys and innovations that hundreds of thousands of childhood memories were built on. "Rummikub's" 70th, "Monopoly's" 85th and, most directly celebrated at the show, the 40th anniversary of the invention of the "Rubik's Cube." This pop-culture classic has never left the public eye, and its inventor, Erno Rubik, was on hand to discuss how building something that works on a direct level with the consumer can't be overlooked.
"The Rubik's Cube became an icon of creativity and intelligence because of its complexity as well as simplicity," says Rubik. "This combination – this tension – makes it come to life. The other thing is, it reminds you of the importance of your mind and your hands."
"100% Wolf," Ryan's World, "Monchichi" and "Yoohoo" are a few varied examples that enforce the vital importance of content. Whether it's YouTube shorts, a Netflix series or 56 episodes on RAI YOYO, the living, breathing touchpoint of content allows companies to slowly build a loyal following and cement a trusted halo brand which can lead to producing toys. With a genuine focus on putting content first, the brands at the show proudly introduced new lines based on content. Speaking with Studio 100,
License Global
learned how the company's careful approach to content is driving a raft of new deals in time for the show.
"'100% Wolf' as a film and as a series is a unique action-adventure comedy format which takes up the trend theme 'mystical creatures' in a very funny way," says Gerd Russwurm, head, licensing, Studio 100 Media. "It presents original, lovable and cool characters – and at the same time, conveys a socially important message: heroes come in many forms! That's why we are especially pleased to have gained further strong partners like SkyBrands, Spreadshirt and Joy Toy, who have joined our other partners from the outset, such as Blue Ocean Entertainment and Ravensburger Verlag."
The Call for 'Screen Light'
As one of the key trends highlighted by Kids Industries for
License Global
ahead of the Nuremberg Toy Fair, we saw how screen free and screen light technology is a trend to watch for 2020, especially for products aimed at kids ages 4-8.
"
It's almost too easy to assume that tech toys need a screen, but of course, that's not the case," says Jelena Stosic, director, strategy, Kids Industries. "Some of the most wonderful benefits of technology – the interactivity, the feedback loops – can be delivered in other ways, too. Think light, sound or voice, movements, haptic feedback and more. The improvements in technology that we now enjoy allow us to use a variety of techniques to deliver a tech experience and its benefits, without necessarily leading with a screen experience. From play mats to connected blocks, robots and sensor-based objects, we are experiencing a rise in toys, which bring in the innovation but leave the screens out."
Think Tonies audio boxes or the "Baby Shark" audio puzzles.
With a new evolution taking over retail, new digital advancements changing both production and product as well as major societal changes, the floor of Nuremberg Toy Fair was less about new launches, and more about the buzz of trend-driven progressive conversation.
Subscribe and receive the latest news from the industry.
Join 62,000+ members. Yes, it's completely free.
You May Also Like
Loading..