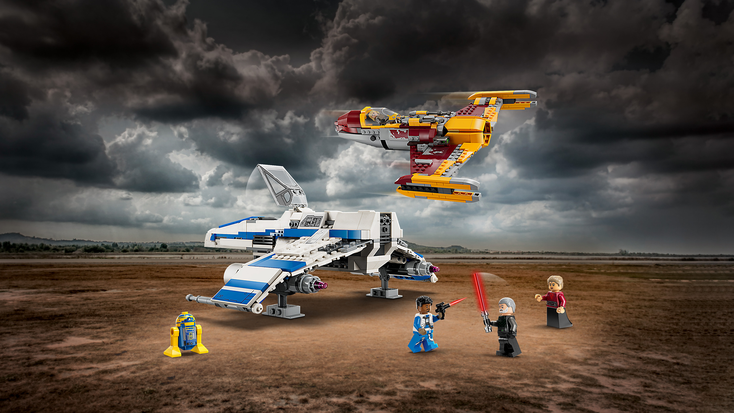 New Republic E-Wing vs. Shin Hati's Starfighter building set.
LEGO
At
, the LEGO Group announced three additions to the
 "Star Wars" building set range. Two sets were connected to the upcoming
series, "Star Wars: Ahsoka"
– Ahsoka Tano's T-6 Jedi Shuttle and New Republic E-Wing vs. Shin Hati's Starfighter – plus a brick-built display model of Chewbacca, was revealed. 
The two "Star Wars: Ahsoka" sets were announced in the lead-up to the launch of the "Star Wars:
Ahsoka" series, streaming on
from Aug. 23. Set after the fall of the Empire, "Star Wars: Ahsoka" follows former Jedi, Ahsoka Tano (Rosario Dawson), as she investigates an emerging threat to a vulnerable galaxy. The new LEGO brick-built starship sets invite fans to join Ahsoka – warrior, outcast and rebel – on her adventures around the galaxy. 
Ahsoka Tano's T-6 Jedi Shuttle building set
A brick-building set recreation of Ahsoka Tano's T-6 Jedi Shuttle features an opening LEGO minifigure cockpit, landing gear that's retractable for flight mode, two stud shooters
and two storage compartments for tools and weapons. 
The set also includes new-for-September Ahsoka Tano, Sabine Wren, Professor Huyang and Marrok LEGO minifigures with accessories, such as LIGHTSABER and blaster. 
New Republic E-Wing vs. Shin Hati's Starfighter building set
This building set for ages 9 and up features two authentically detailed brick-building models of starships from "Star Wars: Ahsoka," four LEGO minifigures of popular characters and a New Republic astromech droid minifigure. 
Each starship building set has an opening minifigure cockpit, two stud shooters and space to store weapons. The E-wing starfighter also features a space behind the cockpit, plus retractable landing gear. 
The two products join the Ghost & Phantom II, which was revealed on July 9. The building sets are also packaged with minifigures based on the characters, General Hera Syndulla, Lt. Beyta, First Officer Hawkins, Jacen Syndulla and Chopper. 
Chewbacca building set
In addition to the "Star Wars: Ahsoka" sets, a brick-building set version of Chewbacca marks the 40th anniversary of "Star Wars: Return of the Jedi." 
This highly detailed display model, comprising over 2,000 pieces, captures Chewbacca's distinctive features and arms him with a giant bowcaster. There's also a Chewbacca minifigure included alongside an information plaque. The figure stands 18 inches tall. 
"We're so excited to bring these three notable products to the LEGO "Star Wars"
range," says Jens Kronvold Frederiksen, design lead, LEGO "Star Wars." "The new 'Star Wars: Ahsoka' series is a major development within the Star Wars franchise, and we absolutely loved bringing these exciting vessels to life in LEGO brick form. We can't wait for fans to begin on their latest adventure by building these fantastic sets, immersing themselves in the latest epic story from the galaxy far, far away." 
"Designing the Chewbacca building set was one of my favorite projects so far – it was a great challenge to capture the character's full body of hair in brick-form," says César Carvalhosa Soares, senior designer, LEGO Group. 
All of the new products can be paired with the LEGO Builder app, with tools for builders to zoom in and rotate a 3D digital version of the real-life construction model as they build, save sets and track their progress. 
The Ahsoka Tano's T-6 Jedi Shuttle, New Republic E-Wing vs. Shin Hati's Starfighter and Chewbacca building sets are now available for pre-order and will be available to purchase from Sept. 1 via LEGO stores,
Lego.com/Star-Wars
and from select leading retailers worldwide. 
Subscribe and receive the latest news from the industry.
Join 62,000+ members. Yes, it's completely free.
You May Also Like
Loading..