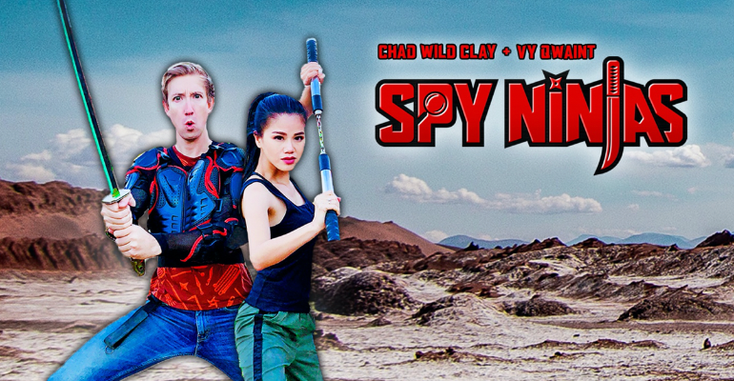 Surge Licensing has announced that it has signed Playmates Toys as the global master toy licensee for "Spy Ninjas," a top-rated YouTube story-driven media franchise.
"It's such a thrill to be working with Surge again, the visionaries who brought the 'Teenage Mutant Ninja Turtles' to Playmates Toys a generation ago," says Karl Aaronian, senior vice president, marketing, Playmates. "With Chad and Vy's 'Spy Ninjas,' we've finally found a worthy follow-up that goes far beyond the typical YouTube influencer experience. Featuring serialized narrative-based adventures that are truly engaging, a cool combination of spy adventures, problem solving and ninja action – a natural for amazing Playmates role play toys."
The episodes consist of Chad Wild Clay, Vy Qwaint and their team who set out to spoil the plans of the hacking group Project Zorgo,
through detective work and martial arts.
"Spy Ninjas" generates more than 400 million monthly views and more than 29 million subscribers on YouTube, but with
true appointment viewing, generates more than 1 million views within the first hour of uploading every episode. 
"The partnership between Playmates and the unique licensors in Chad and Vy allow us to execute an innovative strategy in brand building and brand merchandising," says Elan Freedman, vice president, Surge Licensing. "With daily episodes being uploaded, a collaborative relationship between the content creators and toy partner and an engaged massive YouTube audience, we've created a delivery and feedback loop to offer fans product directly from the series as it unfolds."
Playmates Toys will launch its "Spy Ninjas" line beginning in October, with its first wave of spy gadgets that will include secret spy ninja gear, decoders, ninja weapons, a new Project Zorgo mask and other spy kits from the series. The second wave will include a deeper assortment of spy gadgets, action figures and accessories. 
As a major component of the master toy program, Chad Wild Clay and Vy Qwaint are working with Playmates to design the in-show spy gadgets, gear and non-lethal weaponry, which all have dual purposes. Fans will be able to role play as their favorite heroes or villains using the exact same gear, directly seen in the series.
Additionally, Surge has signed a number of content licenses that will bring "Spy Ninjas" episodes to Amazon, Apple TV, Roku and Comcasts Xfinity, launching immediately.
Read more about:
Subscribe and receive the latest news from the industry.
Join 62,000+ members. Yes, it's completely free.
You May Also Like
Loading..