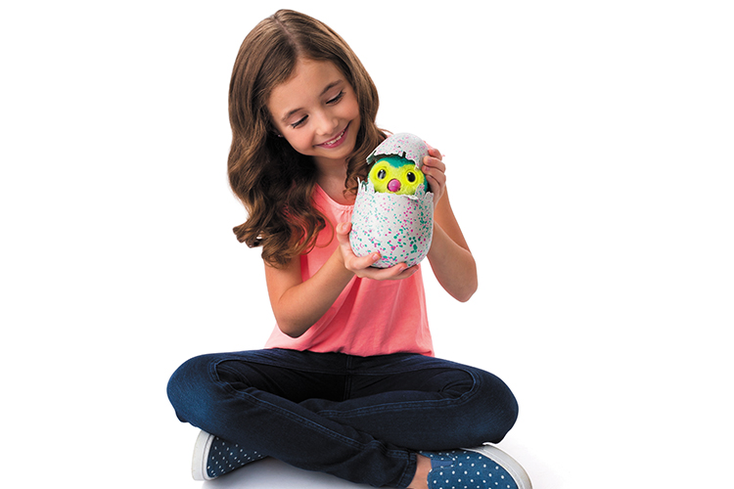 Spin Master has been having a good few years.
With a huge success in its "Paw Patrol" preschool series (a partnership with Nickelodeon) and retailers around the world clamoring to keep its Hatchimals product in stock, Spin Master is positioned to storm into Licensing Expo, taking place May 22-24 in Las Vegas, Nev., with some serious momentum behind it.
What started as a pure-play toy outfit has now grown into a fully encompassing children's entertainment company, and the fruits of those labors are primed for further extension.
"To talk about where Spin Master is going, you have to look at where we came from," says Adam Beder, executive vice president, global licensing and business affairs, Spin Master. "We're 1,000 percent rooted as a fully-diversified promotional toy company, meaning that we have never played in just one category or one aisle."
The company has always been hungry though, and eager to grow, so naturally and organically it began looking to licensing and merchandising as a model
to bolster its mission.
"But what we realized is that it was hard to find that perfect brand or perfect opportunity, and we started to contemplate an idea… what if we did it all ourselves?" says Beder.
That spark of an idea can be seen in the pivot the company has made in recent years, and can certainly be attributed to its major scaling up. Well, that and "Paw Patrol."
"When you ask what has catapulted Spin Master into the stratosphere for growth in terms of licensing, it's 'Paw Patrol.' It had a massive hand in that," says Beder.
"Paw Patrol" is an animated series airing on partner Nick Jr. that centers on 10-year-old Ryder and five plucky pups that each have a real-world job such as construction worker. The show helps preschoolers learn bravery and heroism, as well as teach lessons about caring for animals.
Currently in its fifth season, "Paw Patrol" airs in 160 countries and is the No. 1-rated series for children, ages 2- to 5-years-old, according to Nielson.
"Through a partnership with Nickelodeon, and what incredible partners they have been, we have built an incredible franchise together," says Beder. "It's one of those franchises that comes along once a decade, let alone for any one company. It's a very special property."
Nickelodeon has global rights for "Paw Patrol" TV distribution and merchandise, which is found on shelves around the world at mass market retailers in almost all categories.
"Through 'Paw Patrol' we've grown as an organization and realized more so than ever the importance of building IP, owning an intellectual property and commercializing it through more avenues than just toys," says Beder. "Where we are today is looking at what we do from a toy standpoint and an entertainment standpoint, and we will look at partnerships through a strategic lens."
Enter Hatchimals, a product range that capitalizes on the of-the-moment trend of surprise and unboxing, combined with a cute character and engaging backstory.
Launched in 2016, the Hatchimals brand has continued to take markets by storm, consistently making all best-of lists since its debut. This August, Hatchimals will kick off its fourth batch, Hatchimals Mystery, which lets kids discover four new and unique characters. Hatchimals will further expand Oct. 5 with another product launch set to announce at the third annual Hatchimals Day celebration.
The Hatchimals world was never meant to be contained to just the core toy, either, says Beder.
"Hatchimals is not just a toy of wonder that amazes children through its play pattern, but also a whole world complete with narrative, character development and a build-out of a story, available not only via webisodes, but also through publishing with our partner Penguin," says Beder.
An early partner, Penguin Young Readers publishes readers and activity books based on the Hatchimals brand, expanding the character world even further and elaborating on the characters in the Hatchimals universe.
"Penguin came in early before we even sold one piece to help build the Hatchimals world," says Beder. "It's created a whole platform for the CP business, and now we have many partners globally and have created a successful program that sets the stage for Licensing Expo and makes a statement that is multi-branded, driving business through a direct licensing and merchandising business model."
Currently, the brand has more than 30 licensees on board in North America, and agents tapped in Europe (CPLG), Latin America (Tycoon) and Australia (Haven). More agents are expected to come on board in Asia territories, as well.
Soft lines including bedding and apparel, in addition to the core toy and its lower price collectible spin-offs, are also a strong category for the brand, which is further supported by web-based content.
Spin Master has new IP on deck for Licensing Expo, as well.
Fuggler is a strange monster doll that has a signature toothy grin.
Fuggler originally debuted as an independent brand in the U.K. and was sold via maker website Etsy. Spin Master acquired the brand in full, and has launched a 40 character strong plush range this month at specialty retailers, which will then expand to Target in August. Core toys will set the tone for the brand and follow with licensed apparel via licensees such as Bioworld.
"Great toys have happened for 100 years, and there have always been toys of the year or toys of the decade that capture an enormous amount of mindshare," says Beder. "But the way that these new brands and the way in which they break out is a new marketplace dynamic across all the categories. It has to do with how the kids love the toy or character, but they also must have a compelling story or character that allows children to play in that toy's world.
"Spin Master is uniquely and well-positioned to leverage an incredible amount of know-how, and I don't say that lightly," continues Beder. "There are very few companies that have the expertise and the engineering capacity to deliver the magic in a toy at the right price. There's so much knowledge and experience now in this company, and it allows us to bring a new way of thinking about bringing characters to life."
Read more about:
Subscribe and receive the latest news from the industry.
Join 62,000+ members. Yes, it's completely free.
You May Also Like
Loading..