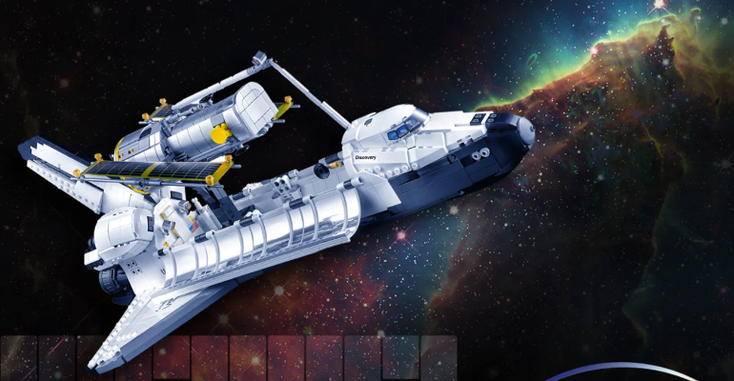 The LEGO Group has teamed with NASA for the LEGO NASA Space Shuttle Discovery set. The set was officially revealed by former astronaut Dr. Kathy Sullivan, who was part of the original NASA STS-31 mission that launched the Hubble Telescope.
The new LEGO NASA Space Shuttle Discovery, which was developed in collaboration with NASA, is a 2,354-piece build that marks the 40th anniversary since the first Space Shuttle flight on April 12, 1981. The set, aimed at adults, features the Discovery orbiter with functional landing gear, payload bay doors, elevons and rudder. It also includes the Hubble Space Telescope, which can either be folded and contained within the payload bay or expanded with solar array and displayed separately. Both also come with a display plaque that features data from the mission.
"I was thrilled to see the space shuttle in LEGO form, and was very impressed by the amount of intricate detail they have managed to recreate from the module where we used to sleep and eat through
to what we called the 'milk stalls' on the telescope," says Dr. Kathy Sullivan, former NASA astronaut. "Looking at the model, it was great to reminisce about my experiences in space, launching the telescope for the first time. Hubble is definitely the highlight of my career. This LEGO model is a great way for LEGO builders and space fans alike to get excited about space travel and learn more about the famous mission in a fun and engaging way."
As part of the wider LEGO Go Beyond campaign that kicked off with this product launch, consumers can head to lego.com/gobeyond to watch an interview with Sullivan and find out more about the original mission. They can also discover more about the LEGO NASA Space Shuttle Discovery set and access online space learning tools from LEGO Education.
In addition, for 1,800 VIP Points, LEGO VIPs will be able to purchase an exclusive item, a Ulysses Space Probe, which the Space Shuttle Discovery launched in 1990 on a mission to scan the Sun. Limited stock is available.
LEGO NASA Space Shuttle Discovery is on sale now on LEGO.com and LEGO Retail stores.
Subscribe and receive the latest news from the industry.
Join 62,000+ members. Yes, it's completely free.
You May Also Like
Loading..