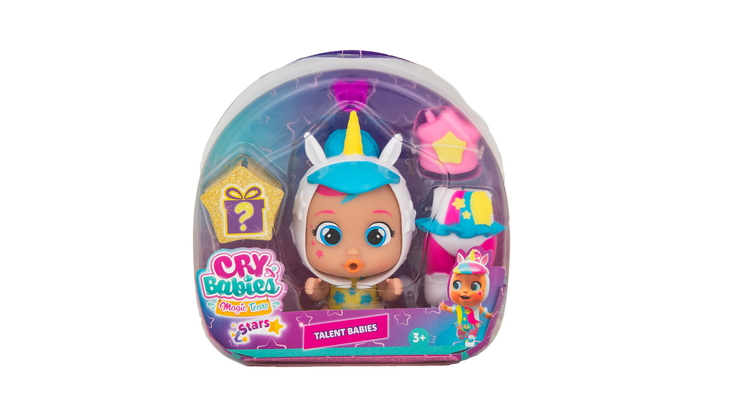 Cry Babies Magic Tears Stars Talent Babies
IMC
IMC Toys
has announced its latest lineup of Cry Babies nurturing and interactive toys for kids. While IMC Toys has a strong foothold in the special-feature nurturing dolls (SFND) and playset dolls and collectibles (PD&C) categories, it intends to expand its market presence by introducing new products that venture outside of the doll category.
"Part of IMC Toys' mission is to grow with the kids and provide toys that speak to their developing interests and preferred play patterns," says Crystal Ganir, vice president, global and North America head, marketing, IMC Toys. "Our new fall lineup delivers on that goal with new innovative themes and activations. We are truly developing a product portfolio that has something for everyone."
New toys in the IMC Toys Cry Babies range
Cry Babies Newborn
– Allows children to become parents to their doll, learning to care for and nurture their newborn as if it is a real baby with the six included surprises and accessories. Children can wear the interactive bracelet, and the doll will recognize the
child as their parent, which calms her down when she's crying and makes her laugh and blush. Coney and Molly cry real tears, and when it's time for bed, her eyes close and she falls asleep.
Cry Babies Crawling Jenna and Miley
– Jenna and Miley crawl across the floor and giggle when the button on their back is pressed. They make 30 realistic baby sounds, cry real tears, and babble and move their arms to shake the rattle when sitting.
Classic Cry Babies and Cry Babies Magic Tears
– Returning with a new theme, Cry Babies Stars are based on the new Kitoons content series where the Cry Babies travel to Planet Tear hoping to turn the stars back on. There are three dolls in the lineup, Coney, Ayla and Lilly. Each comes dressed in a shimmery iridescent outfit. Not only do they cry real tears when their pacifier is taken away, but their eyes also light up with stars. The dolls make over 10 realistic baby sounds to communicate emotions, like happy, sad, playful and more. Putting the pacifier back in their mouths stops the crying.
Cry Babies Magic Tears Stars Talent Babies
– Each of the eight dolls has a new appearance that includes a more articulated body, cheerful expressions and the ability to cry real tears. Each character comes with more than six surprises and is dressed in an interchangeable silicone outfit that represents their unique talent as depicted in the series. The more kids collect, the more they can mix and match. With new transparent packaging, kids can pick which doll to bring home and follow the series with their favorite character by their side or imagine new adventures.
Subscribe and receive the latest news from the industry.
Join 62,000+ members. Yes, it's completely free.
You May Also Like
Loading..