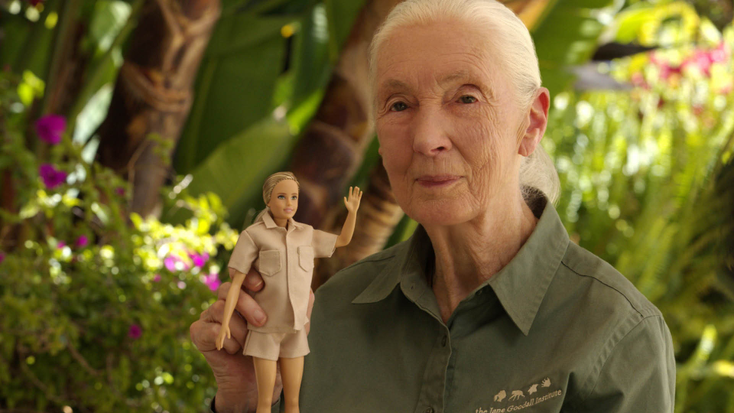 Jane Goodall and her Barbie.
Goodall Institute
Barbie, in partnership with the Jane Goodall Institute, is introducing a Dr. Jane Goodall doll. The doll is part of its Inspiring Women series, and 2022
Career of The Year Eco-Leadership Team, which includes a chief sustainability officer, conservation scientist, renewable energy engineer and environmental advocate. The Inspiring Women doll and career doll set are certified carbon neutral, made from recycled ocean-bound plastic and are available now at retailers.  
Announced ahead of World Chimpanzee Day on July 14, the Jane Goodall Inspiring Women doll comes with a chimp accessory modeled on David Greybeard, the chimpanzee studied by Goodall in her research about emotion and communication in animals. The launch also coincides with the 62nd anniversary of Goodall's first journey to the forest of Gombe National Park in Tanzania.  
"My entire career, I've wanted to help inspire kids to be curious and explore the world around them –just like I did when I first traveled to Tanzania 62
years ago," says Goodall. "I'm thrilled to partner with Barbie and encourage young children to learn from their environment and feel a sense that they can make a difference. Through this partnership, I hope to inspire the next generation of eco-leaders to join me in protecting our planet and remind them they can be anything, anywhere – on the field, in the lab and at the table."  
Barbie is proud to celebrate Goodall's research and heroic achievements as a humanitarian, scientist, activist and founder of the Jane Goodall Institute and a United Nations Messenger of Peace.  
"Kids need more role models like Dr. Jane Goodall, because imagining they can be anything is just the beginning – seeing it makes all the difference," says Lisa McKnight, executive vice president and global head, Barbie and Dolls,
. "We hope that this collection and homage to a groundbreaking pioneer for women in science and conservation inspires kids to learn more about green careers, how they can protect the planet and act out sustainable stories through doll play. We know that sustainability is a top concern for future generations, and we are proud to unveil our first sustainable Barbie Inspiring Women and Career of the Year Eco-Leadership team dolls."  
As part of the collaboration between Barbie and the Jane Goodall Institute the brand is also working with JGI's global youth Roots & Shoots program to teach kids of all ages about their social and environmental impact. With JGI's Roots & Shoots, Barbie is issuing a global challenge #NaturallyCuriousJane encouraging kids to discover the little steps they can take to create big changes, including creating a nature observation journal, community mapping and increasing local green spaces. Barbie is also highlighting Dr. Jane Goodall through an episode of the "Barbie You Can Be Anything" series on the brand's YouTube channel.  
Subscribe and receive the latest news from the industry.
Join 62,000+ members. Yes, it's completely free.
You May Also Like
Loading..