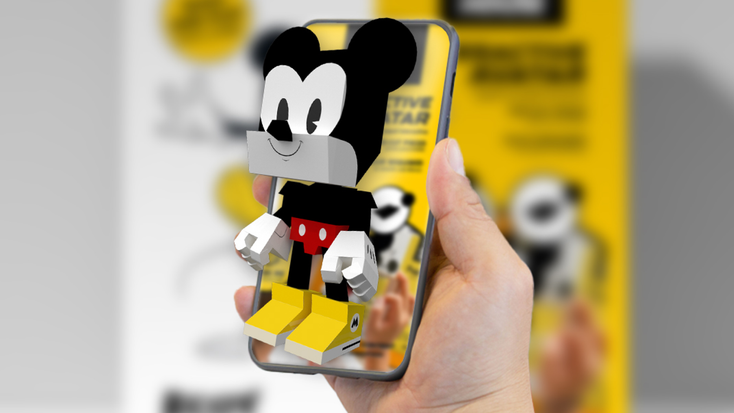 Mickey Mouse Ecoy Universe toy.
Ecoy Universe
License Global: What can you tell me about the history of the IP and how it came about?
Ricardo Chicaiza:
Are you looking for an eco-friendly toy company that cares about the environment and your child's development? Let me introduce you to a one-of-a-kind toy company that uses paper to create interactive toys that reduce plastic waste, ensuring our planet enjoys a sustainable future.
Our toys are interactive, allowing children to play and learn simultaneously. It's an opportunity for children to grow and learn through fun and engaging activities.
Ecoy is a toy company that creates an interactive and dynamic multiverse 3D avatar, bringing an innovative approach that goes beyond the limits of traditional toys.
Ecoy's multiverse 3D avatar is a truly unique and interactive experience, allowing users to enter a world of imagination, creativity and adventure. The avatar is a customizable, fully articulated paper toy that can be adapted to suit the needs and preferences of each user. Whether you
are a fan of Disney, Marvel, Pixar, Universal, Lucasfilm, Dreamworks or Jurassic World, there is an Ecoy avatar that is perfect for you.
Ecoy has distinguished itself as a brand that puts creativity, sustainability and innovation at the forefront of every product it creates. And with their development of the metaverse, it's no wonder it has become a go-to brand for interactive toy lovers worldwide.
What does the next 12-24 months look like for the IP? Anything you can share with us?
Currently, Ecoy is developing a metaverse, which will take the 3D avatar experience to a whole new level. The metaverse will allow users to interact with each other in real time and to explore a virtual world that is limited only by their imagination. Ecoy is committed to making the metaverse an inclusive and accessible experience for everyone, regardless of age, gender, race or nationality.
Ecoy's multiverse enables children to explore the limits of their imagination and creativity while at the same time gaining knowledge about sustainable practices. The company's products promote critical thinking, fostering a sense of wonder and fun through building multidimensional and interactive paper toys. Ecoy's approach to interactive paper toys is highly engaging, making it an ideal tool for learning and play.
A metaverse is a virtual world created by converging augmented and virtual reality, whereby the digital world interacts with the real-world environment. For Ecoy, this presents a unique opportunity to extend its influence into a dynamic and highly innovative space with enormous potential. By embracing this technology, Ecoy is taking its interactivity and creativity to a whole new level, further strengthening its brand as a company always looking to challenge the status quo.
Why is the IP so appealing, and what resonates best about it with audiences?
It's no surprise that the largest entertainment companies in the world have taken notice of Ecoy's innovative approach and its commitment to sustainability. Ecoy has successfully secured Disney, Marvel, Pixar, Universal, Lucasfilm, Dreamworks and Jurassic World licenses, drawing the attention of parents, educators and the entertainment industry as a whole.
Papertoys are three-dimensional models made from paper that can be cut, folded and glued together without the need for scissors, and they come in various shapes, sizes and designs.
Ecoy's interactive paper toys combine the traditional art of paper folding with technology and interactivity to create a fun and engaging experience for users of all ages.            
In conclusion, Ecoy is a dynamic and innovative company committed to saving the planet through sustainable manufacturing and environmentally responsible practices. Its multiverse 3D avatar and developing metaverse offer a unique and exciting experience for users, and the company's licensing agreements with major entertainment companies make it a powerful player in the world of interactive toys.
So, if you're looking for an eco-friendly toy company that prioritizes child development, promotes sustainable practices, and aims to create a world of limitless imagination, look no further. This company is the perfect fit for your child and the planet. Come, be a part of this green revolution.
What are you most excited about during Licensing Expo?
Meet all the people, learn and work together, and show the whole world The Ecoyuniverse.
Read more about:
Subscribe and receive the latest news from the industry.
Join 62,000+ members. Yes, it's completely free.
You May Also Like
Loading..