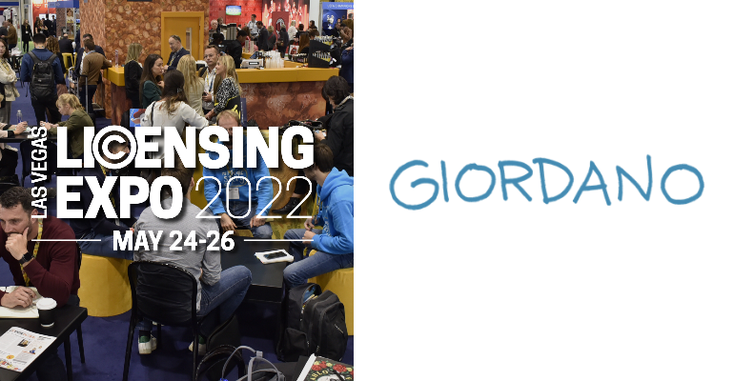 What do you hope to achieve at Licensing Expo? 
After we were unable to attend trade shows because of COVID, we're really looking forward to reconnecting with our fellow Licensors, and the acquaintances we have made throughout our over 25 years of exhibiting at past Licensing Shows. We're also eager to reconnect with our existing Licensees and partners to discuss the ways in which we could further develop our relationship with one another. We really look forward to this opportunity to work with them to broaden and grow our existing product lines, as well as discuss future opportunities between our companies.  
Perhaps the most exciting aspect of attending the Licensing Expo is the potential to meet new manufacturers who would benefit from a partnership with our company.  
The Licensing Expo also provides a great opportunity to see what's new in the industry, and a chance to see what other Licensors and manufacturers have been working on. 
How has Giordano Studios adapted to the last few years
in the industry, especially with all of the challenges we were presented with? 
As was the case with every industry, we faced our share of challenges, however we were lucky because we have a lot of products in the categories that thrived during the pandemic (jigsaw puzzles, cross-stitch patterns, diamond painting and paint-by-number kits).  
In order to capitalize on the opportunities that were presented to us as a result of the changes in the industry, we made some internal adjustments. "I was able to hire my first Licensing Manager", explains Greg Giordano of Greg & Company, LLC. "With the addition of Jessica Fritsche, I've been able to work more creatively, and focus more on creating new artwork, while her focus has been on the 'business' side of things. Jessica has handled everything from writing up contracts, to regular communication with our Licensees, to working with our attorney to tackle the ever-growing issue of copyright infringements and has also spent time seeking out new partnerships". We also developed new ways to stay in front of our existing and potential partnerships, whether that was meeting with our Licensees on Zoom, creating a quarterly newsletter, or even introducing a more defined schedule to present new artwork and designs to current and possible Licensees.  
During the pandemic, we focused on expanding our product lines with existing licensees and took advantage of the virtual opportunities that were presented by participating in the Festival of Licensing in 2020 and the Virtual Licensing Expo in 2021. 
What do you look for in a licensing partner? 
As with any successful licensing partnership, the product needs to make sense with regards to the artwork and designs. When we look for a licensing partner or manufacturer, we're focusing on how our artwork would apply to the products they offer, and how the consumer would respond to those products. For example, our artwork is very traditional, so we look for manufacturers with products that would benefit from our traditional style and designs.  
It is also important to connect personally with the Licensee, and develop a strong relationship with them. Some of our most successful licensing partnerships have started off very small, with only a few designs, but because there was a connection, we were able to grow mutually, and those relationships have been some of the most successful for both parties.  
What's next for Giordano Studios that you can talk about? 
We are always working to develop new artwork and designs for our current Licensees, as well as create new concepts for potential partnerships.  
We are excited to represent the artwork of Rob Francis, and his newly created wildlife and aviation collections. We are also continuing to represent the artwork of one of our popular artists, J. Charles, and we have some exciting things in store for Charles' Farmall collection. Farmall is a globally known and historically respected farm tractor brand, and Charles' designs capture the essence of this iconic line. His artwork has been adapted for a variety of high-quality products, which are set to hit the market over the next six months. 
"Giordano Studios is now in its forty-first year of art licensing, and we're continuing to strengthen our licensing program with core partners in key product categories", shares Bob Giordano, Managing Partner of Giordano Studios.  "We're happy developing images for them, illustrating our timeless themes that have been selling since day one. A Q4 holiday puzzle exclusive with a major retailer will wrap up 2022 on a high note. We're also in development of a card game based on one of our family pets that we'll be previewing at Toy Fair in NYC this upcoming Fall to potential customers and partners". 
What advice would you give someone trying to break into the licensing industry? 
An artist or designer that is trying to break into the licensing industry has to ask themselves a few tough questions: Is my art unique and different enough than what is currently in the market? Will manufacturers respond to my artwork/design, and does it translate commercially? Artists and designers are sometimes too attached to what they create, where instead, they should be willing to adapt their artwork, style and subject matter to benefit the manufacturer's needs. Their creations need to be applicable to products that will in sell in a competitive industry.  
If someone is new to the industry, we would advise them to find a strong and reputable licensing agent or company to represent them. An art licensing company will look at their art and see what categories and product lines it can fit into. 
Read more about:
Subscribe and receive the latest news from the industry.
Join 62,000+ members. Yes, it's completely free.
You May Also Like
Loading..