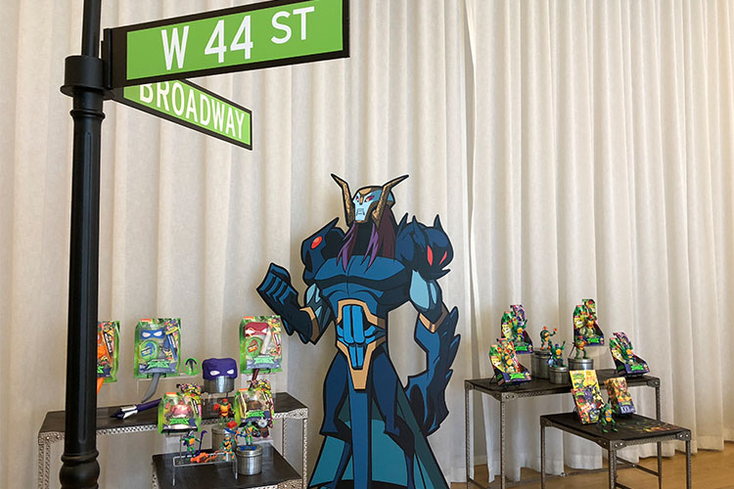 Viacom Consumer Products and Playmates Toys unveiled an extensive roster of consumer products for Nickelodeon's new animated series "Rise of the Teenage Mutant Ninja Turtles" at an exclusive event in New York City on Thursday.
An action figure assortment, including detailed 3.25" to 5" models of Raphael "The Leader," Leonardo "The Trickster," Donatello "The Tech Wiz," Michelangelo "The Wild Card," Splinter "The Chill Master," April "Street Smart Best Friend," Origami Ninja "Confetti Commandos," Meat Sweats "The Tenderizer" and Baron Draxum "The Maker of Mutants." The assortment of action figures comes complete with accessories;

A deluxe Ninja action figure assortment including 5.5" figures of Raphael, Leonardo, Donatello and Michelangelo with unique flipping action and signature sound effects;

A giant figure assortment including 10.25" and 11" models with 13 points of articulation and weapons including Raphael with Tonfas and throwing stars, Leonardo with Odachi sword and throwing stars, Donatello with side kick drone, Shelldon, tech-bo staff and throwing stars, and Michelangelo with kusari-fundo and throwing stars.
A Shell Hog vehicle with figure assortment that includes the Turtles' signature Shell Hog motorcycles with spring-loaded projectiles, seat adjustability, the ability to connect and compatibility with action figures;

A 2-in-1 Turtle Tank that can transform from vehicle mode to mobile ops unit with towering lab
A 43" Epic Sewer Lair Playset that brings Splinter and the Turtles' habitat to life with more than 20 features, four levels of play, seven training rooms including Splinter's Dojo, Raphael's weight training room, Leonardo's rotating weapon storage wall, Michelangelo's arcade, the catapult basketball hoop, hidden projectile launchers, a rotating skateboard ramp, collapsing balcony and more;
A role play assortment consisting of modeled training weapons, such as Raphael's tonfas with signature turtle mask and throwing star, Leonardo's odachi sword with mask and throwing star, Donatello's tech-bo staff with mask and throwing star, Michelangelo's kusari-fundo with mask and throwing star.
Playmates Toys has also announced a Pizza Points Loyalty program, which allows fans to collect pizza points for special rewards, using codes provided on each "Rise of the Ninja Turtles" toy package.
"Rise of the Ninja Turtles" reimagines the classic franchise with the group of brothers discovering new powers and venturing into a new world they didn't know existed beneath the streets of New York City.
The Rise of the Ninja Turtles toy line is set to roll out in October.
Read more about:
Subscribe and receive the latest news from the industry.
Join 62,000+ members. Yes, it's completely free.
You May Also Like
Loading..