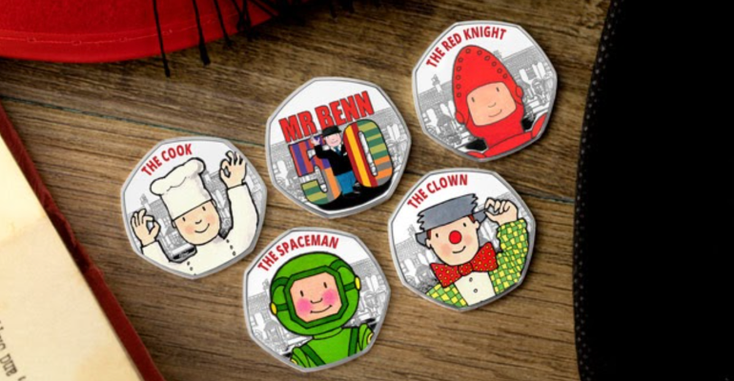 A brand-new collection of 50ps have just been issued, the 50th anniversary of "Mr Benn," 50p coin collection.
Each coin features an illustration of "Mr Benn'"s adventures; The Red Knight, The Cook, The Clown and The Spaceman alongside the official "Mr Benn" '50' 50p.
Available in a range of finishes exclusively from The Westminster Collection, the coins include a single-base metal "Mr Benn" anniversary logo design 50p and a set of five designs featuring "Mr Benn" in an array of costumes including The Spaceman, The Clown, The Red Knight and The Cook. There is also a silver 50p coin version available with colored enamel and a silver set of five 50p coins.
The 50ps start at £6.25 for a "mint condition" brilliant uncirculated finish coin and the limited- edition silver proof coin set.
"'Mr Benn' endures because people like the idea of being able to escape to another life, and at their heart they're old-fashioned stories which last – the elements that make up the films, the voice, the music, the
story, all simple elements that endure," says David McKee, creator and illustrator, 'Mr Benn.' "I often say your characters are like your children, you potty train them and look after them and point them in a good direction, but they go off do things you don't expect – 'Mr Benn' is living his own life and I'm excited to see what people make of the new products that are coming – and hope a new generation of children enjoy them as much as me."
Subscribe and receive the latest news from the industry.
Join 62,000+ members. Yes, it's completely free.
You May Also Like
Loading..