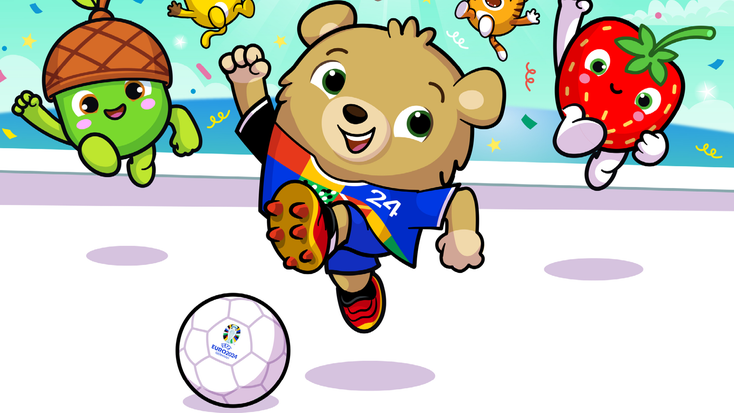 The as yet unnamed EURO 2024 Mascot
Toikido, UEFA
The life-size teddy bear pays homage to the popular children's toy which is said to have originated from Germany in the early 20th century. Toikido and UEFA have created a simple mascot for young fans to have fun in their real and virtual worlds.
Over the next two weeks, Children in UEFA's Football in Schools program will also contribute to a poll to decide the mascot's name with fans also able to have their say on UEFA.com. All stemming from the German word for bear, "Bär," children and adults alike will be asked to pick their favorite from the names: Albärt, Bärnardo, Bärnheart, Bärtram, and Herzi von Bär.
During the build-up to the tournament, the mascot will encourage Generation Alphas (those born from 2010 to 2023) to be more active and health-conscious through its #MakeMoves campaign.
Using new technologies, the mascot
will start its #MakeMoves journey in schools across Europe, asking pupils to submit their most creative football moves and celebrations. The best moves will be transformed into mascot-themed animations using cutting-edge motion capture technology and shared across Europe for other schools to try.
The campaign will also take the mascot's be active message to key digital platforms that children use daily – YouTube and "
." The mascot will feature in a collaboration with Toikido's "Pinata Smashlings" world. The UEFA EURO 2024 Football Island will be filled with challenges, quests and host city stadiums all created to reinforce the key message of getting active.
The mascot will also lead an educational YouTube series alongside key European influencers, addressing crucial topics such as training, nutrition, and mental health. Resources will be provided to schools, fostering cross-curricular teaching using the UEFA EURO 2024 story.
"We're delighted with the opportunity to have the UEFA EURO 2024 inspire kids by unleashing their creativity and passion for football, while also providing a unique and innovative way to play with friends online via our very own UEFA EURO 2024 football island via our game, 'Piñata Smashlings 'on 'Roblox,'" says Darran Garnham, chief executive officer, Toikido. "The island will include a host of interactive mini-games and challenges which focus on the importance of physical activity and well-being."
"I've seen how sports can change lives," says Phillip Lahm, ambassador UEFA EURO 2024 and former German international soccer player. "This mascot is introducing a great initiative to inspire 5 to 12-year-olds to embrace physical activity through exciting real-world and digital experiences. Digital platforms like 'Roblox' are where children now spend a lot of time, and we want to reach and engage them where they are – while still encouraging them to move and be active. It's about finding the perfect balance."
"We want to see more children stay and be active and this mascot is going to carry that a powerful message and let children be creative and use their movement to power the mascot in the digital world," says Steffi Jones, ambassador UEFA EURO 2024 and former German international soccer player. "It's great to see UEFA innovating and understanding how to captivate the interest of 5 to 12-year-olds using digital technology to create interactive activities and educational resources, encouraging them to embrace physical activity and prioritize their wellbeing."
The mascot, along with its initiatives and partnerships, aims to inspire the next generation, encouraging them to embrace an active lifestyle and develop a love for football and its values.
Subscribe and receive the latest news from the industry.
Join 62,000+ members. Yes, it's completely free.
You May Also Like
Loading..