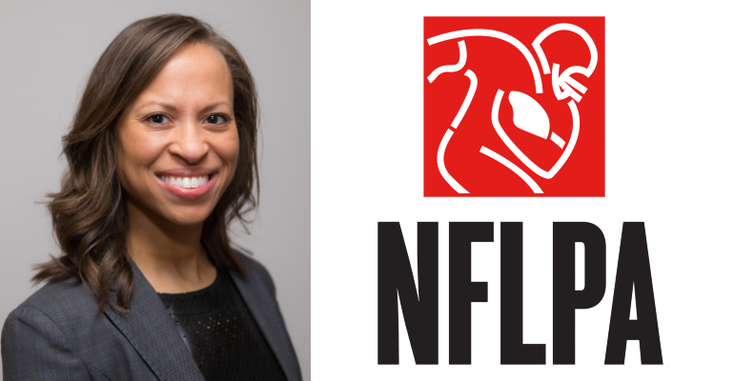 Social media and fantasy football have fundamentally changed how fans interact with sports. From fans knowing the people under the helmet to them rooting for players that don't even play for their favorite team, the rise of online platforms has fundamentally changed fans' relationship with the NFL.
According to a 2019 report from the 
, 79 percent of NFL fans root for a player who doesn't play on their favorite team. The study also found that about 47 percent of Gen Z respondents are likely to purchase a product endorsed by their favorite player.
That connection with players instead of just teams can provide a valuable opportunity for licensees and retailers. To examine the rise of the athlete influencer and highlight strategies for taking advantage of player fandom, Terése Whitehead, senior manager, sponsorships and operations, Player Services, NFLPA, will be speaking at
, a part of the upcoming 
's Licensing Leadership
Summit.
License Global 
caught up with Whitehead ahead of her upcoming session to understand the athlete influencer difference, how the industry has changed over the last five years and the advice she would give herself if she could go back in time.
Note: this stor previously ran on February 13, 2020 and has been slightly updated.
License Global
: What are you hoping people will get out of your Licensing Leadership Summit session?
Whitehead: I've seen the evolution of sports marketing and licensing through the rise of social media during my 20 years in the business. The combination of athletes and social media has created a new field for competition. Professional athletes are more than just "players" – they are content creators, influencers and collaborators.
While brands have become more knowledgeable and sophisticated in working with players, I'm looking forward to providing additional insight on how they should cultivate and view these relationships with athletes as powerful social media influencers. More than other influencers, athletes can help brands turn up the volume and provide a direct gateway to consumers with unmatched sincerity and credibility. The more companies partner with the right mix of athletes, the more targeted and authentic the reach and influence becomes, delivering instant and often sustainable results.
What has been the biggest change you've seen in the licensing business over the last five years?
There is substantial growth and innovation across digital. I'm anxious to see how this unfolds from new products to unique forms of athlete marketing. Advancements in technology have also created ingenious ways for brands to connect with consumers. For example, the NFLPA's exclusive trading card licensee, Panini America, uses blockchain as a way to authenticate virtual trading cards, and they are also using virtual/augmented reality to create fun and memorable digital experiences for collectors. 
What is the biggest trend or industry disruption that you see on the horizon that not enough people are talking about?
The licensing of athlete biometric data is a disruption that I've kept my eye on over the past few years. Data analysis from performance, sleep, recovery and nutrition is now a commodity and could revolutionize how we play and consume sports.
It is truly amazing how data aggregation has extended beyond wearables to things like beds, apparel, helmets and even video games. Once players become more familiar with market value for this information, I anticipate that the endorsement and licensing landscape will be redefined.
What advice would you give yourself if you could go back to the beginning of your career?
Write everything down! Life moves so fast. Don't forget to record the memories and funny stories that stay with you; the volumes of wisdom you receive and interesting people you will meet; and most important, the problems you will encounter and how you solve them –  and what you learn from them if you aren't successful.
As a manager, you'll want to share these moments to let others know that life is less about how hard you work; it's more about what you learn along the way and the resilience you build through adversity and how you triumph because of it.
How has social media impacted sports licensing?
Paid social media advertising, whitelisting and shoppable posts are a few key drivers that have increased brand discovery and the ability for licensees to attract new fans and convert them into customers. In the era of "see it, like it, buy it," the ability to purchase direct through social platforms has resulted in immediate sales opportunities, almost eliminating the need to drive traffic to websites and outside the social ecosystem.
Social has allowed licensees to better target and reach a community of fans and engage with different demographics. Brands can also gauge how receptive consumers are to types of messaging through immediate metrics like shares and likes, and it gives them a platform to capitalize on hot moments through the virality of a story, play or post. 
 is a virtual global conference that brings together C-level executives from the world's largest players across manufacturing, retail and brands to discuss, debate and collaborate on the future of brand licensing. The conference will take place on Oct. 28-29.
 The conference is a part of 
, a month-long large-scale digital gathering that unites the global licensing industry to connect, learn, strike deals and do business on an international stage. The event takes place Oct. 6-29. 
Read more about:
Subscribe and receive the latest news from the industry.
Join 62,000+ members. Yes, it's completely free.
You May Also Like
Loading..