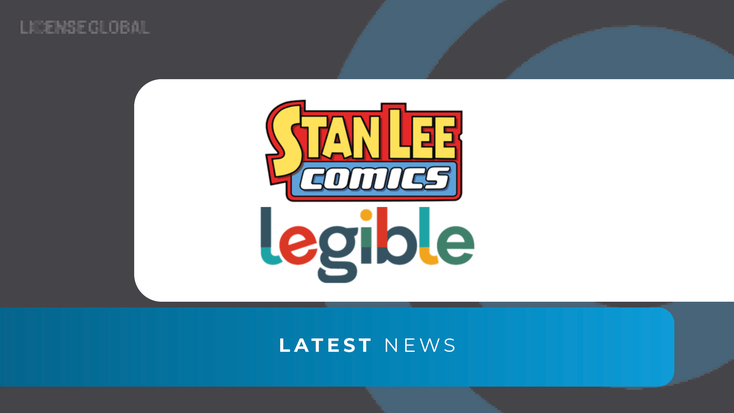 Stan Lee Comics and Legible logos.
Kartoon Studios
Kartoon Studios
, the controlling partner of
, announced plans to launch Stan Lee Comics, a line of digital and print comic books based on never-before-released stories and characters created by Stan Lee. The company is partnering with online book streaming platform and multimedia publisher Legible to develop and distribute approximately 12 original comic book series, based on Stan Lee's creations, across Legible's broad publishing and reading platform, making them accessible to a global market. 
"We are celebrating Stan Lee's 100th birthday this year, and what better way to honor this true legend than to launch Stan Lee Comics, with a logo envisioned by Stan himself, and bring his never-before-seen creations to life through this series of new digital and print comic books," says Jon Ollwerther, executive vice president, business development, Kartoon Studios. "We are also excited to expand our relationship with Legible, who we believe is the ideal partner to help us bring
these exciting Stan Lee creations to his legions of True Believer fans throughout the universe. With the never-before-seen comics, Stan also left us his unique editorial page as well, Yakkin' with Stan, which will highlight each comic. Not unlike Stan's Soapbox, which graced every Marvel Comic, Yakkin' with Stan will speak to all the 'True Believers,' leaving Stan's unique take on everything from superheroes to world affairs, and of course ending in his signature, 'EXCELSIOR!'" 
The news follows a recent announcement that Legible secured print and digital print rights to bring a selection of Kartoon Studios' IP to life through multimedia-enriched eBooks featuring audio, video, animations and print comic books. 
"Legible is honored to be selected by Kartoon Studios as the partner to bring Stan Lee Comics and Stan Lee's heretofore unseen incredible stories and characters to the public for the first time," says Kaleeg Hainsworth, founder and chief executive officer, Legible. "We know that this is only the beginning for these properties and the brands they will give rise to, and we're thrilled to bring these new worlds, fantastic characters, powerful stories and visionary themes to Stan Lee's fans and to a global audience as never before in digital and print. Legible is bringing publishing and reading into the twenty-first century, and there is just no better way to do so than with Stan Lee, who was always ahead of his time." 
Read more about:
Subscribe and receive the latest news from the industry.
Join 62,000+ members. Yes, it's completely free.
You May Also Like
Loading..