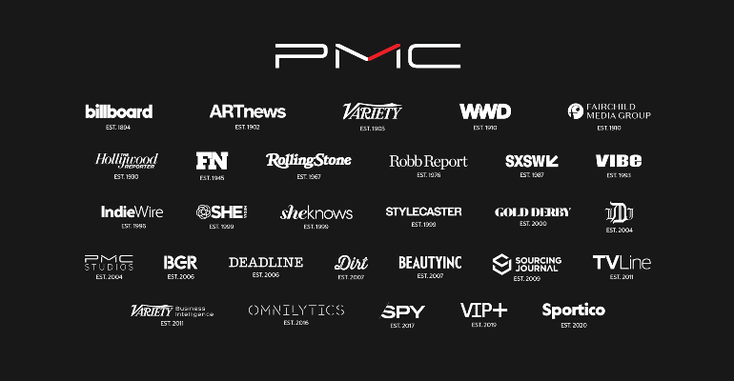 Could you tell us about Penske Media Corporation (PMC) and the brands you own?
Penske Media Corporation (PMC) is a leading independent global media and information services company committed to being the most powerful force in culture with award-winning content that attracts a passionate monthly audience of more than 310 million.  Since its founding in 2004, PMC has acquired, launched, and partnered with some of the most iconic, brands, creating one of the world's largest media companies when measured in reach, influence, and ambition. PMC's ever-growing constellation of iconic brands includes Deadline, Variety, Rolling Stone, The Hollywood Reporter, Billboard, WWD, SHE Media, SXSW, Robb Report, Sportico, BGR, ARTnews, Art in America, Fairchild Media, Spy.com, among many others.  
With entry points in media, live events and information services, engaged audiences around the globe turn to the powerful brands of Penske Media for best-in-class coverage of entertainment, music, sports, fashion,
luxury, art and women's lifestyle.  
Why are you excited about being part of the show this year and what do you hope to achieve?
First, let me say that being able to attend the show this year representing the most powerful, iconic, influential, and well-respected brands in music, entertainment, luxury and fashion is an incredible feeling. There's tremendous opportunity to introduce new audiences to our portfolio through interesting products and partnerships worthy of our best-in-class brands, and I look forward to participating in the digital format and experience.
This week, we are excited to meet with potential licensees and partners to make new meaningful connections and discuss ways to leverage PMC's prestigious portfolio of brands to create new products and branded experiences.
As a leading global media and information service company, are there any news stories or brands you will be looking to showcase at the show?
Music and entertainment, for one. This past year, with the establishment of our PMRC joint venture, as well as our long-term partnership with SXSW, we now represent the most influential brands in music and entertainment, including Billboard, The Hollywood Reporter, Rolling Stone, Variety, and Vibe, bringing together the brightest creators of our time. Brands with this much authority in their space allow us to launch strategic partnerships like our recent Rolling Stone by Select cannabis product line with Curaleaf Holdings, Inc., a leading international provider of consumer products in 
. It's exciting time with tremendous opportunities for us.
Separately, Robb Report's licensing program has really taken off this year with several new partnerships and continues to expand. As the leading voice in the global luxury market, we are excited about the opportunity to leverage this discerning audience and their appreciation and desire for quality, exclusivity, heritage, taste, and fine design.
And in the fashion space, WWD, the leading source of news and insights for the fashion, retail and beauty industries, had its first licensing program launch this year. We teamed up with the Parsons School of Design and the education platform Yellowbrick to produce 
 Business Essentials — an online course digging deep into the trends shaping the industry today. (PMC and Yellowbrick have several partnerships in place, across Rolling Stone, IndieWire, Billboard and WWD, all of which have been hyper successful during the pandemic).
With the event being virtual this year, do you foresee advantages for PMC as specialists in digital media?
Absolutely. being a digital-first media company gives us an incredible foundation for this year's digital-only format. We are emerging from this pandemic as highly successful digital event creators, with record-breaking traffic numbers on our digital platforms, a growing focus on e-commerce and a new, proprietary first-party data strategy, PMC Atlas Data Studio, which delivers content specifically tailored to audiences' interests and engagement. Through this platform, we're also able to provide unparalleled insights to our brand partners and licensees and as a result, are apt to offer the best content and one-of-a-kind experiences that inform, inspire, and define modern culture. 
Subscribe and receive the latest news from the industry.
Join 62,000+ members. Yes, it's completely free.
You May Also Like
Loading..