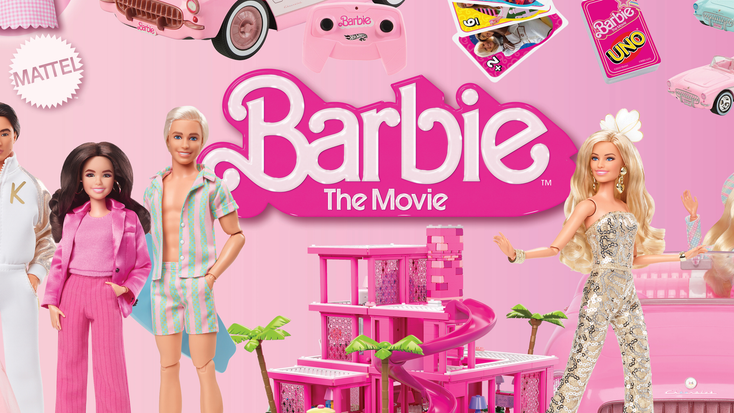 License Global first announced Mattel's plans for a
in 2019 (aka pre-pandemic). Thanks to COVID-19, production was delayed until 2022. Even then, as the first publicity shots leaked out and
became the rage, it was clear the film would make more waves than Malibu Barbie. 
In our world of licensing, Ben Roberts' article,
Barbie Licensing: Brand Collaborations to Celebrate an Icon
, outlined the astounding number of licensing deals and collaborations the movie generated. The hype was so hot that people began to talk about Barbie burnout; some opined the film would crash and burn.  
Well, they were wrong. Friday might not have been the best day ever, but Warner Bros. Pictures' "Barbie" arrived at a record-shattering $337 million worldwide, taking in $155 million domestically and $182 million in international markets. That, according to an announcement by Jeff Goldstein, president, domestic distribution, and Andrew Cripps, president, international distribution,
Warner Bros. Pictures. 
Domestically, "Barbie" now holds the record for the largest opening weekend, and in international theaters, it took the No. 1 spot in 55 markets. The film is now the biggest industry opening in 2023 in 18 of those markets, including Australia, Brazil and the U.K., and set the record for the biggest Warner Bros. Pictures opening of all time in 16 markets, including Australia, New Zealand, Argentina, Brazil, Colombia and Mexico. Globally, the film marks the largest opening for Greta Gerwig as a director and for Margot Robbie, Ryan Gosling and nearly every actor in the film, as well as the biggest opening for a movie based on a toy. "The massive, overwhelming response we've seen out there proves what we've known from the beginning: that 'Barbie' is not only an incredibly special film but clearly the theatrical event of the summer, if not the year," says Goldstein. "Greta, Margot, Ryan and the entire 'Barbie' team have delivered exactly the kind of fun, transporting theatrical experience that audiences everywhere have been craving, as they continue to demonstrate in numbers we haven't seen since before the pandemic." 
 "The incredible results we've seen across every releasing market is a testament to not only Greta's singular vision but the cross-generational impact of Mattel's iconic creation all over the world," says Cripps. "Everything about this film
– from its cotton candy-pink wit to the warm-hearted optimism at its core – is engaging with people of all ages in a powerful way, as the long lines at theaters and massive excitement on social media continue to attest. Greta Gerwig and her remarkable cast and crew have delivered
absolutely the right film at the right time, and with word-of-mouth and repeat business this strong, that momentum is likely to continue well into the year." 
"Barbie" led the pack, but Christopher Nolan's "Oppenheimer" bolstered the record-breaking weekend for theaters nationwide. The openings of the two films drove Cinemark, one of the world's largest movie theater companies, to a record-breaking summer box office weekend. 
The company announced the weekend of July 21 is tracking to be one of the highest-grossing box office weekends in the company's history. Driven by the immense buzz surrounding "Barbie"
and "Oppenheimer," as well as carry-over from other films, including "Mission: Impossible – Dead Reckoning Part One" and "Sound of Freedom,"
consumers underscored their excitement to experience the year's most compelling films in the shared, immersive environment of a movie theater.  
"People love coming together to experience great storytelling in a movie theater, as proven yet again by the sheer volume of consumers who visited our locations to see 'Barbie' and 'Oppenheimer'
during opening weekend," says Wanda Gierhart Fearing, chief marketing and content officer, Cinemark. "It appears 'Barbie' actually is everything, and Christopher Nolan fans turned out in droves to see his newest masterpiece in the larger-than-life theatrical format that he intended." 
AMC Theatres, another of the largest theatrical exhibitors in the U.S. and the world, announced it also set multiple post-reopening records, with more than 7.8 million moviegoers at an AMC in the U.S. or ODEON Cinemas location internationally from Thursday to Sunday. This marks the most attendance and admissions revenue in a single weekend since 2019, which means the most since theaters reopened in 2020.
, which License Global's McKenna Morgan wrote about last week, was in evidence: Through Sunday evening, more than 87,000 AMC Stubs members booked tickets to see "Barbie" and "Oppenheimer" on the same day. 
Guests showed up hungry to U.S. AMC locations on Saturday; AMC recorded its second-highest food and beverage revenue day in its 103-year history, finishing behind only the opening Saturday of "Avengers: Endgame" in May 2019. The Barbie pink Corvette popcorn vessel was a huge hit, and supplies sold out by Sunday. 
AMC set post-reopening single-day attendance records on Friday, Saturday and Sunday in the U.S. Saturday also marked AMC's fifth-highest single-day admissions ticket revenues recorded in the U.S. 
"What a fabulous weekend for moviegoers at AMC's movie theatres in the U.S. and abroad," says Adam Aron, chairman, chief executive officer, AMC. "AMC sends an enormous thank you and congratulations to Greta Gerwig, Margot Robbie, Ryan Gosling and the entire team at Warner Bros., and to Christopher Nolan and the team at Universal Pictures. They've demonstrated that well-made, well-marketed films that captivate audiences can open on the same weekend and both enjoy great success. That success extends beyond just those two films. AMC would not have set its post-reopening attendance record without the ongoing solid performances of 'Mission: Impossible – Dead Reckoning Part One' and the 'Sound of Freedom.'" 
Read more about:
Subscribe and receive the latest news from the industry.
Join 62,000+ members. Yes, it's completely free.
You May Also Like
Loading..