Pulling Out All the Stops
Pulling Out All the Stops
Brand Licensing Europe hits new heights as the largest industry event in Europe. With more than 2,000 characters, brands, images, and designs on display at Brand Licensing Europe in London in October, it was no wonder tha

Brand Licensing Europe hits new heights as the largest industry event in Europe.

With more than 2,000 characters, brands, images, and designs on display at Brand Licensing Europe in London in October, it was no wonder that the only pan-European show was buzzing.
Visitors and exhibitors found the show to be full of new ideas and development possibilities.
Martin Buckley, Harrods marketing manager for storewide promotions, was at the show looking at concepts. "A storewide promotion is more credible when the product is credible—it's all about connecting the product to the promotion. It's about fresh ideas and new stuff," he says.
At the other end of the market, Teresa Osgood, kids' nightwear and underwear buyer at Primark, says, "The Screening Suite was very well organized. It's great to preview the films we are going to back for the season and understand how high-profile they will be, and get a feel for the licenses coming through. We were particularly impressed with the quality and amount of individuals' artwork and illustrations at the show, new stands that definitely were not here last year."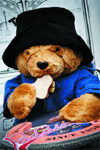 Among first-time exhibitors, Roger Wade at Brands Incorporated says that in his sector of fashion brands the market was strong and that for retailers, "it is easy to see how brands can be used in other categories. With a fashion brand, product extensions are instantly recognizable."
Ian Downes, director of Start Licensing, says, "I think the show was a great success—we are busily closing on deals now including an AWP/SWP machine deal with Bell-Fruit, which was concluded for 'Are You Smarter Than a Ten Year Old?' A deal with Creatively Different for Dennis the Menace for digitally printed roller blinds was also finalized."
Alicom signed its agreement for Korean teenage animation Mashimoro, showing as part of the Korean Kocca stand. Alicom's executive brand manager Martin Aberg said the aim was to build a strong brand in the Nordic countries, and that there was huge potential for the character online. "This is the first agreement in Europe and the Nordic countries for the character," he says. "We will find the right platform and get the property out there."


V&A Enterprises used its stand to focus on its fashion properties—particularly as the museum currently has an exhibition of 50 years of couture. Lauren Sizeland, head of business development and licensing, says, "This year we promoted apparel and accessories and it's certainly working—we saw potential partners and licensees in those sectors."
At Carte Blanche, commercial director Richard Edmondson said its Me To You art property was the fastest-growing part of the business, and that the show proved to be a good platform for it. "Me to You has a simple design style that is non-media specific," he says, "therefore, it attracts a broad consumer and has international appeal."
It's all about catchphrases at Plain Lazy, where BLE was once hailed as "a really worthwhile show," according to Glen Stevens. The brand has signed five licenses in the past year and is now looking to move into the U.S. and Australian markets, maintaining its surfer/skater credentials along the way.
Julia Posen, sales director of BBC Worldwide, described the show as "outstanding," adding that "we've seen people from the U.S., which is really nice, and had international customers, and we've seen a lot of retailers—so, all in all, it's been well worth it."
At Copyrights Brands, director Gill Thomas said that vintage Ladybird books, aimed at adults, were taking off with new licenses for greetings cards, homewares, and gifting following the publication of the book Boys & Girls. At the same time, the Peter Rabbit Naturally Better program is developing, with infant and baby toiletries from Cosmogenics among the latest deals.
Entertainment Roundup
At Chorion, the launch of "The Mr. Men Show" was the primary focus, but the business is also gearing up for Noddy's 60th birthday in 2009. In addition, Famous Five-On the Case is a new animated series, co-produced by Marathon and Disney, that launches on the Disney Channel in spring 2008.
Preschool kids' show "Hana's Helpline" offered 52 episodes (series one and two) for UK and international licensing through Start Licensing. Overall distribution rights are held by S4C International, which is a joint venture between Parthenon Entertainment and Welsh facilities company Barcud Derwen. Golden Bear has signed as the master toy licensee for the UK, Europe, Australia, and New Zealand; Random House Children's Books has signed up as the global publishing partner while 2Entertain is handling UK DVD.
TV-Loonland saw a big interest in the digital and short-form possibilities for its properties "Pat & Stan" and "The Owl" as the industry picks up on the importance of social networking channels for teens and adults
HIT Entertainment unveiled a sizzler for the "Rainbow Magic" animated series, likely to debut late in 2009, as it launched its global consumer products program. A new logo and style guide is set to reflect the upcoming television series. Thomas and Friends' global live tour starts in the UK in February 2008 and the first European Thomas Land is set to open in March 2008. HIT is planning celebrations in 2008 for Barney's 20-year anniversary.
Aardman Animations—at the show for the first time—launched several new formats, including its first new half hour "Wallace & Gromit" program in 20 years, called "Trouble at Mill," and "Timmy," its preschool offshoot from "Shaun the Sheep." The animation firm also launched new style guides for "Wallace & Gromit" and "Shaun the Sheep."
At Entertainment Rights, there was a "dual ghoul strategy" for its Casper property, which now exists as a global franchise in both its classic and updated forms, targeting adults for whom it is a rusted brand as well as children with the new look.
4Kids Entertainment showcased new brands Chaotic, Jim Henson Designs, Pajanimals, Viva Piñata, and Dinosaur King. Chaotic is a new multi-platform property with online and trading card play.
Apart from The Simpsons, 20th Century Fox showcased its live-action drama offerings, particularly "24" and "Prison Break." For "24," for example, an energy drink has just been launched. In films, the next installment of Ice Age is imminent and the animated adventure film Space Chimps is due for release in summer 2008. Later releases are City of Ember and The Tortoise & the Hippo, which are planned for late 2008/2009.
BBC Worldwide launched its new CGI comedy adventure series "Animalia," based on the best-selling picture book by Graeme Base, for the first time to the licensing community. It also showed its Robin Hood toys for the first time. DVD box sets of the series are out this autumn, coinciding with the showing of series two, together with audiobooks, toys, and the launch of the fortnightly magazine this autumn.
Entara launched "The Magic Roundabout" to the licensing community, coinciding with its return to television 40 years after it was first shown. The new CGI animated series debuted online and on television on Oct. 22 on Nick Jr. and Nick Jr. 2, and online on Nick Jr. Video accessible through Nick Jr.'s Web site.
Jetix Consumer Products launched two new properties at BLE. "Iggy Arbuckle" is an animated adventure comedy set in a National Park, for children aged 6 to 11, while the adventures of two racoons in "Urban Vermin" has a slightly longer age stretch. In addition, JCP and Alphanim have just signed a deal with 505 Games to launch Galactik Football video games in Europe.
Subscribe and receive the latest news from the industry Article
Join 62,000+ members. Yes, it's completely free.
You May Also Like
---