Globetrotting: Sweden
Globetrotting: Sweden
]> Boasting a well-educated, trend-sensitive, and global population, Sweden is the new hot spot for European big-box retailers. "Without a doubt,"

]>Boasting a well-educated, trend-sensitive, and global population, Sweden is the new hot spot for European big-box retailers. "Without a doubt," says Magnus Ohlsson, managing director of Sweden's Retail Trade Institute, "the key trend recently has been the arrival of globalization." Ohlsson is talking about the invasion of Sweden's retail market by big-box chains from Europe's larger markets. "Frankly," Ohlsson opines, "we should have seen this coming, but with a small population (9,039,143 at the end of September 2005, according to government statistics), too many Swedish retailers hoped the world would just continue to ignore our market." That the world has not done so, believes Ohlsson, is explained by several factors. "The big-box retailers have reached saturation in Europe's key markets. The cost of distribution is falling. And Sweden's population is well educated, trend sensitive, rich, and globally minded, making it an attractive, albeit small, market." According to Dr. Frederick Bergstrom, CEO of The Swedish Research Institute of Trade, big-box retailers from other European countries have "put downward pressure on prices and upward pressure on the range of goods available." The result, he says, "is a significant increase in sales volumes over the last eight or nine years."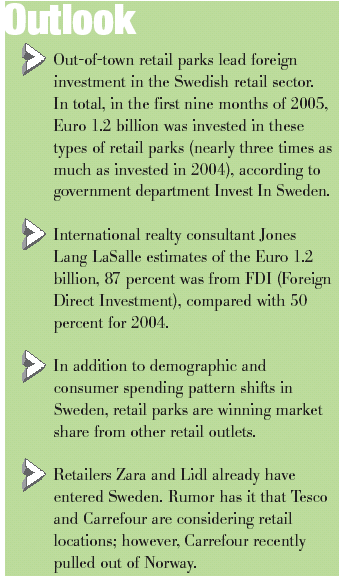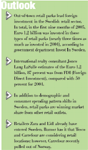 These increases, however, are not evenly distributed between product categories. According to government statistics, in second quarter 2005, total household consumption was 319,002 million Swedish Kronor, (U.S. $40,608 million), an increase of 3.8 percent from 307,334 million Swedish Kronor (U.S. $39,123 million) in second quarter 2004. This contrasts with an annual spending rise over the same period of 8.5 percent in clothing and footwear, 5.9 percent in recreation and culture, and just 1.7 percent in food and non-alcoholic beverages. Although Dr. Bergstrom describes the Swedish retail legislation as "liberal," the country does ban advertising to children under age 12. However, Jan Nyberg, sales director, BR Toys Sweden and Finland, points out that this regulation only applies to SVT (the state broadcaster) and commercial rival TV4, both of which broadcast in Sweden. It does not apply to Cartoon Network, TV3, or TV5, all of which are available in Sweden but broadcast from the UK, and are subject to British legislation. But age 12 may be an outdated limit to childhood. Nyberg, whose company is the local franchisee for Toys "R" Us, believes "kids are getting older younger." This year's hot seller, according to Nyberg, is VTech's kids' computer and games console, V.Smile. BR recently began retailing MP3 players and portable DVD players in an attempt to win back a teenage market that has deserted the chain "over the last five years." That said, admits Nyberg, "one of last autumn's big sellers was collectible cards based on popular TV characters."
Subscribe and receive the latest news from the industry Article
Join 62,000+ members. Yes, it's completely free.
You May Also Like
---