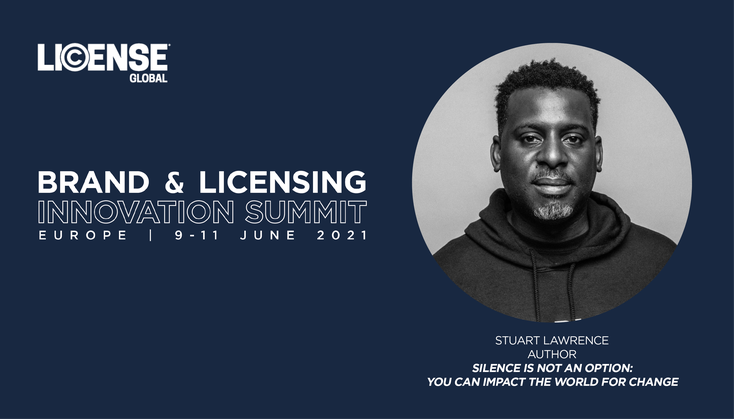 Stuart Lawrence – 
Silence is Not an Option: You Can Impact the World for Change
 author and brother of murdered schoolboy Stephen Lawrence – will participate in a diversity and inclusion workshop led by Products of Change co-founder Helena Mansell-Stopher at
Brand & Licensing Innovation Summit
. 
This workshop is one of the final sessions to be announced for the three-day online event, which takes place June 9-11, designed to provide management, business leaders and owners navigate the changing retail, content and consumer landscape. 
Marco Hüsges, chief executive officer, emoji company, is also confirmed to be joining Maarten Weck, executive vice president, managing director, Wildbrain CPLG and Rachel Taylor, commercial director, WildBrain Spark, for an in-depth discussion into how the emoji brand has built a robust European retail presence, global consumer products offering and new digital-first series emojitown. This session, named emojitown: The Power of Building Brands with Digital-First
Strategies, will explore the potential of AVOD and best-in-class strategies to drive successful licensing campaigns to build long-term brand success. 
Studiocanal, WarnerMedia and Moonbug will bring senior leaders, broadcast experts and brand licensing directors to the panel New Streams of Consumerism: How Entertainment is Evolving, which brings Valérie Rolandez-Barrios (Studiocanal), Rachel Wakely (WarnerMedia) and Adam Steel (Moonbug) together to discuss how brands can create equivalent awareness and maintain visibility on streaming platforms, tackle shorter marketing windows and chart the rapidly changing landscape of content engagement.  
Kornit Digital and Epik are also confirmed to present sponsored workshops on direct-to-retail (DTR) and non-fungible tokens (NFT) respectively. How the Licensing Industry is Evolving with Direct-to-Retail will look at the challenges on each side presented by DTR on the opening day of B&LIS, and the crypto-driven conversation The NFT Playbook will take a deep-dive into everything NFT on the final day. 
at £224 for Licensing International members, and free of charge for qualified retailers, each of the three days of B&LIS will focus on a different theme, present exclusive keynotes and host packed days of insights and in-depth discussions.   
Day 1 - Trends and Retail.
Keynote: Innovate, Adapt, Disrupt: In Conversation with Lars-Johan Jarnheimer, IKEA Group chairman 
Day 2: CSR and Sustainability 
Keynote: Why the Future will be Blue - How to Become an Agent of Change
Smurfs' Philippe Glorieux and Caroline Petit of the United Nations Regional Information Center. 
Day 3: Content & Digital Transformations
Keynote: The Wayfair Boost: Leveraging Ecomm Ads for Product Programmes
Ankit Mangal, director, Wayfair 
"Covering everything from sustainability to diversity and inclusion, sport, streaming, toys, gaming, NFTs, DTR, bricks n mortar and ecommerce, and the changing consumer trends among younger generations, B&LIS will draw out trends and insight from within and outside the brand and licensing industries to really help delegates drive the future direction of their brands, businesses and stores," says Anna Knight, vice president, licensing, Informa Markets. "This agenda will challenge you to take stock, open your mind and think differently, so be prepared for an inspirational three days." 
Delegates from the following companies have already signed up to attend: Aldi, Aykroyd & Sons, Amazon, Asda, Blue's Clothing, Character World, Chupa Chups, DC Thomson Media, Dreamtex, EMP Merchandising, General Mills, Hachette, HTI Toys, Jaz Toys, Popgear, Primark, Simba Dickie, Tesco, Walt Disney Company, Beanstalk, The Entertainer, Unilever, ViacomCBS and Schwager & Steinlein Verlag. 
Confirmed speakers include: 
Rikesh Desai, licensing director, merchandise, partnerships and interactive, UK & EMEA consumer products, BBC Studios 
John Friend, head, Halo and Xbox consumer products, Microsoft 
Stephanie Freeman, senior global licensing manager, outbound licensing, The LEGO Group 
Gabrielle Sims, head, licensing, FatFace 
Dan Avener, chief executive officer, MDR Brand Management 
Karen Hewitt, co-founder, Character.com 
Susan Bolsover, director, global licensing and consumer products, Penguin Ventures, Penguin Random House UK 
June Kirkwood, sustainable licensing consultant, Nutmeg Licensing & Sustaineers Consultants 
Simon Gresswell, managing director, SGLP 
Gary Pope, co-founder, Kids Industries 
Graham Saltmarsh, managing director, Licensing International - UK 
Ben Roberts, senior content editor, License Global 
Claire McClelland, client executive, entertainment, Kantar 
Dorian Bloch, senior client director, Market Intelligence, GfK 
Helena Mansell-Stopher, founder, Products of Change 
Ian Shepherd, founder, chief executive officer, The Social Store 
Emily Aldridge, head, global Licensing, Abysse Corp 
Charlotte Delobelle, european brand ambassador, Fashion Snoops 
Kate French, senior category manager, softlines (footwear, accessories, home & gifting), Hasbro 
Steven Plackett, managing director, Vista Stationery & Print (Carousel Calendars) 
Dan Grant, licensing director, Danilo 
Leonora Aixas, co-founder, DNA Brands 
Steve Cox, UK sales director, Keel Toys 
Sue Stanley, licensing director, Brans In Limited 
Mark Bezodis, licensing managing director, Perry Ellis International 
Scott Macrae, brands, license, new business and partnerships mission lead, George at Asda 
Dan Amos, head, gaming and esports, Difuzed 
Marie-Laure Marchand, senior vice president, global consumer products and business development, Chefclub 
Valérie Rolandez-Barrios, vice president, IP licensing & partnerships, Studiocanal 
Jade Snart, sustainability and technical compliance expert, George at Asda 
Alex Balzaretti, senior manager, Commonwealth Games Federation Partnership (CGFP) 
Kate Gibson, managing director, Gibsons Games 
Gary Jacobson, brand licensing manager, Tottenham Hotspur 
Lisa Hey, head, product Development, Character World 
Claire Bradbury, global account director, PowerStation Studio 
Philippe Glorieux, head, marketing, communications & family entertainment, IMPS - The Smurfs 
Caroline Petit, deputy director, United Nations Regional Information Center (UNRIC) 
Maxine Lister, head, licensing, Natural History Museum 
Rachel Wakley, general manager UK, WarnerMedia 
Paul Hepworth, vice president, licensing, Liverpool Football Club 
Sabine Hulsman, chief executive officer, The Cookie Company Group 
Pamela Stathaki, global head, sustainability, The Marketing Store, Europe 
Jeremy Goldsmith, Managing Director, Event Merchandising Ltd 
Lars-Johan Jarnheimer, chairman, Ingka Holding, IKEA Group 
Adam Steel, licensing, franchise, Moonbug 
Gary Ma, chief operating officer, Epik 
Winston King, vice president, partnerships, Epik 
Daniel Ruben, workflow solutions director, Kornit Digital 
Alistair Mylchreest, segment head, licensors, Kornit Digital 
Frédérique Tutt, Global Toys Industry Advisor, NPD 
Stuart Lawrence, author, 
Silence Is Not an Option: You Can Impact the World for Change
Maarten Weck, executive vice president, managing director, WildBrain CPLG 
Rachel Taylor, commercial director, WildBrain Spark 
Marco Hüsges, founder, chief executive officer, emoji Company 
Ankit Mangal, director, Wayfair 
Gary Grant, founder, executive chairman, The Entertainer 
John Baulch, publisher, managing director, Toy World Magazine 
Anita Majhu, senior licensing and global sustainability manager, BBC Studios 
Gianni Romano, company director, Lyfcycle 
Read more about:
Subscribe and receive the latest news from the industry.
Join 62,000+ members. Yes, it's completely free.
You May Also Like
Loading..