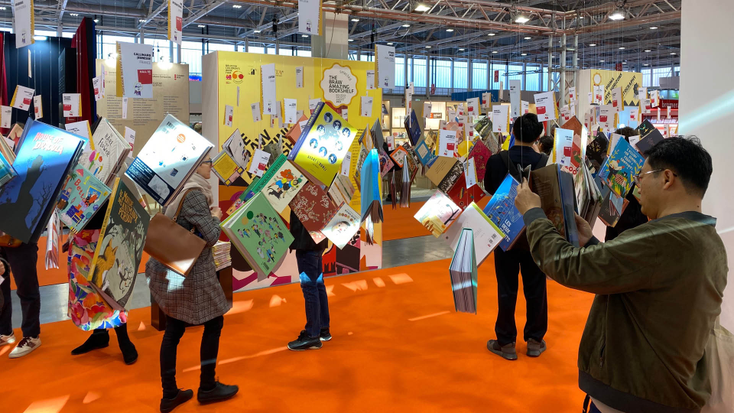 Bologna Licensing Trade Fair 2023
License Global
At Bologna's central exhibition, businesses, publishers, brands, artists, authors and intellectual property owners drive the celebration behind the Bologna Children's Book Fair's 60th anniversary.
Stands filled with paperbacks, hardbacks, comics, board books, interactive books, audiobooks and story boxes cover the two giant halls of Bologna. License Global has uncovered some exciting opportunities for brands worldwide by sifting through Day One of the giant event.
Watch: License Global's Vlog from Day one at Bologna Children's Book Fair 2023
New Intellectual Properties
Publishing has provided narrative inspiration since the first "movie-based-on-a-book" (that's 1899's "Cinderella" by Georges Méliès, if you were wondering) and brands looking for the next big thing are reveling in the sheer quantity of new intellectual property at the show.
Not only is this a space for authors and illustrators to bring their
characters, stories and universes to a wider market, but the spotlight also falls on underserved markets and the raft of talent they harbor. Whether it's Slovenia, Africa, Hong Kong, Brazil or Poland, nations converged in a concentrated effort to showcase the national stories, authors, illustrators and storytelling power they possess.
Brand Extension Opportunities
A long time ago, licensing in publishing was a linear journey, moving from book to movie to toy. This is a market of toys-to-books, books-to-series, books-to-toys, games-to-books and movies-to-books in an ongoing infinity loop of transformational adaptation. The major intellectual property brands at the show, from
to
, placed their characters, properties, toys and IP in front of the publishing world to extend into new markets, audiences and demographics.
The Bologna Licensing Trade Fair Kids 2023 awards highlighted a handful of standout products this year and provided accolades to well-deserved campaigns showcasing the creativity of brand collaboration. You can find a full list of the winners below:
Best Preschool Licensing Project
Lerner Publishing Group, in partnership with Sesame Workshop, with their SEL Publishing Program project with "Sesame Street"
Best Kids Licensing Project
Creata with
and "
" project in collaboration with Schleich
Best Teen Licensing Project
The Pokémon Company International with the retail project "Pokémon" x La Rinascente with La Rinascente retail group
BarbaLouvre project in collaboration with the Louvre Museum
Best Licensed Publishing Project
The Ludattica x
project by
Best Licensing Toy Project
FABA "Le più belle storie della Nuvola Olga" written by Nicoletta Costa
Best Promotion / Loyalty Campaign
Jakala "'Minions' Market Mania! Sound Collection" in collaboration with
Best Licensed Kiosk Product
WildBrain CPLG Hachette Bundles for
Best Sustainable Licensing Project
Sanrio for the Ecover x Mr. Men, Little Miss collaboration 
BBC's "Bluey," represented in Italy by Maurizio Distefano Licensing
The Art & Design Market is Alive and Well
Art and design were in the spotlight this week, with open talks from prominent illustrators, shelves of stunning covers, "drink and draws," and drop-in art clinics from major publishers. But outside the context of publishing, the graphic design and art community in licensing is small but mighty. According to
, the Art & Design category represents 1% of the overall market share in licensed consumer goods yet still generates an impressive $3.4B globally.
This category comprises raw and underserved talent across hundreds of thousands of creators, and while Bologna showed us how artists and creatives worked within the context of publishing, we witnessed a stark reminder of the untapped storytelling, character and brand potential within Art & Design.
Subscribe and receive the latest news from the industry.
Join 62,000+ members. Yes, it's completely free.
You May Also Like
Loading..