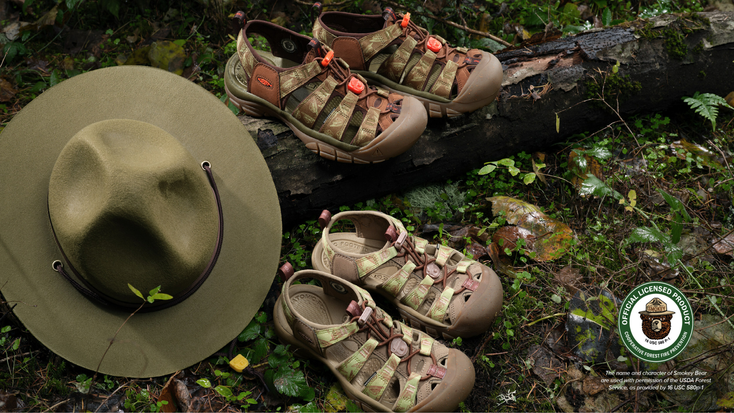 The KEEN Newport sandal featuring Smokey the Bear.
KEEN
KEEN, a global footwear brand, has partnered with the USDA Forest Service for Smokey Bear, the voice of wildfire prevention nationwide, to introduce a new collection of sandals featuring Smokey Bear's image. The partnership aims to support Smokey Bear's mission by helping educate people about how to prevent human-caused wildfires.  
Smokey Bear was born in 1944 through a collaboration between the Forest Service, the National Association of State Foresters and the Ad Council, who were commissioned to develop a campaign to encourage Americans to be more vigilant in preventing wildfires. The character has taken many forms over the years but is immediately recognizable by his iconic hat and the passionate delivery of his most well-known call to action, "Only YOU Can Prevent Wildfires." His message has transcended generations for almost 80 years. Smokey's work to educate people of the risks of unwanted human-caused wildfires is more important than ever. 
"Wildfires may seem like a freak accident,
but the reality is that 87% of wildfires are human-caused and are entirely preventable. In any other scenario, that level of error would cause an enormous stir, as it should, but it's easy for that message to get lost," says Justin McDonald, global senior director, marketing, outdoor performance and kids business, KEEN. "This partnership is an opportunity for KEEN to take action and promote Smokey's message about wildfire prevention, so that we can avoid making small mistakes that can cause enormous problems. There is no better personality to help educate people on how to do their part to prevent wildfires than Smokey Bear." 
"Smokey's mission is to spread the message on preventing human-caused wildfires, and this footwear helps to further that message in a compelling way," says Maureen Brooks, branch chief, USDA Forest Service for Wildfire Prevention. "This partnership with KEEN will help spread Smokey's message to a new generation." 
The new collection of the KEEN Newport sandal features custom-designed patterns and details adorned with Smokey Bear's face and hat on both the fabric and the bungee lace toggle and includes Smokey's "ONLY YOU" line written on the heel tag. Each pair of sandals comes in a collectible Smokey Bear shoebox featuring Smokey's face on the top and a custom tissue paper on the inside. The "S'mores Pack" plays into the nostalgia of memories made and snacks enjoyed around a campfire, and features colors that pull from the hues found in graham crackers and melted marshmallows. 
The collection includes two men's styles, two women's styles and three kids' styles across toddler, youth and children's sizes. As part of KEEN's longstanding commitment to protect our planet, KEEN directs a portion of proceeds from the collection to the U.S. Forest Service to fund wildfire prevention education programs. 
Read more about:
Subscribe and receive the latest news from the industry.
Join 62,000+ members. Yes, it's completely free.
You May Also Like
Loading..