Chupa Chups: A Sweet Story
Chupa Chups: A Sweet Story
Chupa Chups. Mentos. Airheads... You've certainly heard of each and likely purchased one of the candies recently. Century-old confectionery company Perfetti Van Melle continues to extend its sweet treats around the world via exciting brand collaborations and organic licensing partnerships.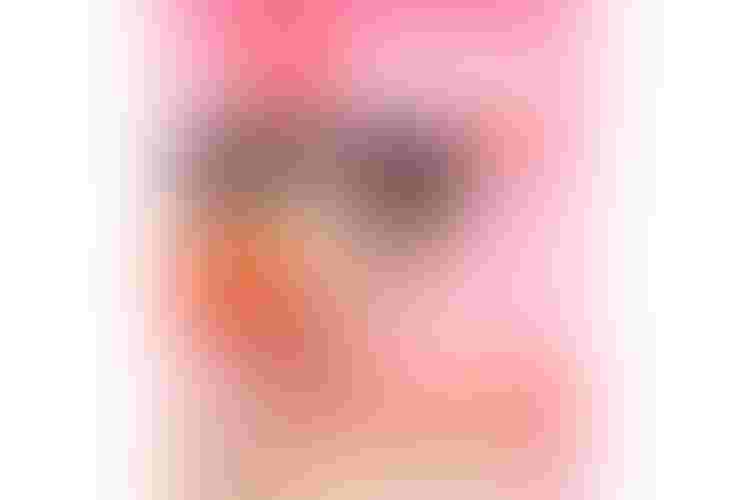 There's no denying the power of Perfetti Van Melle's brands. For more than 100 years, the candy maker has been treating the world to its portfolio of confectionery, each with a distinct brand profile and identity. Brands such as minty Mentos, tangy taffy Airheads and, of course, the jewel in its crown, brightly-colored and sweetly-flavored lollipop Chupa Chups, are known the world over in every major market and enjoy a presence across all channels of retail.
And a significant portion of that global awareness can be attributed to Perfetti Van Melle's brand extension expertise, which has created product and collaborations that raise the profile of each of the company's IP one partnership at a time.
But let's take a walk back to the beginning and see where it all began...
Perfetti Van Melle was created in 1900 by the Van Melle family in the Netherlands, where brands such as Mentos (born in 1932) helped to build the company's profile in the Nordics. During World War II, however, the Van Melle factory was destroyed and forced to relocate to Rotterdam, a port city, which allowed the company to begin to expand internationally.
Meanwhile in another part of Europe, brothers Ambrogio and Egidio Perfetti were creating their own range of sweets and bonbons in a small town just outside of Milan, Italy, during the 1940s; while yet another candy brand, Chupa Chups, was making its mark in Spain in the late 1950s when Enric Bernat invented a way to fit a fork into a sweet candy.
Come 2001, Perfetti acquired Van Melle, bringing together the two candy powerhouses to become Perfetti Van Melle, and then in 2006, the combination snapped up Chupa Chups, completing the round portfolio we now know today.
2006 seems rather recent considering how far and deep the collective Perfetti Van Melle portfolio has grown to become–today, the group manufactures and distributes more than 20 brands.
"In our group, we strive to be the world's most innovative confectionery company," says Christine Cool, licensing area manager, Perfetti Van Melle.
"We create high-quality products and brands that are enjoyed in more than 150 countries. We are always innovating what confectionery can do."
Licensing activity is also a fairly recent endeavor for the combined portfolio, but a model that is proving to be instrumental in strengthening brand activity around the world.
"Twenty years ago, we were pioneers to license a food and beverage brand in the European market," says Marta Ballesteros, licensing area manager, Perfetti Van Melle. "This farfetched initiative has proven to be, two decades later, a profitable and sustainable business model.
"When Perfetti Van Melle acquired Chupa Chups in 2006, the group realized that licensing was a fantastic brand building tool that could also add value to other brands of Perfetti, so we were invited to enlarge the portfolio, and we have progressively added new brands to the licensing activity since," continues Ballesteros.
Today, the tight-knit Perfetti Van Melle licensing team works to extend eight core brands–Chupa Chups, Mentos, Airheads, Frisk, Smint, Brooklyn, Fruittella and Big Babol. For these, more than 400 licensees have been engaged and more than 1,000 new licensed consumer products are launched every single year, all figures that help Perfetti Van Melle to achieve its $122 million-plus in annual retail sales.
"For the Perfetti Van Melle group, licensing activity is much more than a business model–licensing is a tool that creates a halo effect for the brands and keeps them cool, raises brand loyalty and is a way to innovate and continuously surprise our consumers," says Ballesteros. "It also allows us to create opportunities for cross-promotion with the core business, candy."
It doesn't hurt that the brands have impressive, eye-catching artwork to draw from, particularly in Chupa Chups famed logo, a creation of legendary artist Salvador Dalí.
"Since the beginning, the success of the Chupa Chups brand was not only based on having a great confectionery product, but also on the decision to create a strong and unique brand identity," says Mar Gili, design and approval coordinator, Perfetti Van Melle. "The amazing Chupa Chups logo was designed by Salvador Dalí, and for this reason, ever since we have a strong connection with art. It can be said that art has always been in our DNA."
For Chupa Chups, which celebrates its 60th anniversary this year, fashion and art are at its heart, and its consumer product program relies heavily on the iconic flower-shaped logo to develop ranges that are accessible and aspirational, approaching partnerships from a fashion-oriented perspective.
Brand collaborations are also a key way the property continues to stay relevant and are a useful tool to drive wider sales across the entire Perfetti Van Melle portfolio that are often executed with interesting and innovative partners such as designer Maya Hansen for a capsule collection that debuted at this summer's Mercedes-Benz Fashion Week.
"We are proud to say that the Chupa Chups logo has become a fashion brand icon unto itself," says Gili. "We have always worked with a large portfolio of external designers from all over the world. They help us to develop eye-catching and appealing artwork based on new trends in order to cater to the needs of the fast fashion industry. In the more mature licensing markets we also promote collaborations with artists–we love to receive fresh and creative new interpretations of the Chupa Chups brand.
"The Rodnik Band, a London-based art and fashion label known for its pop art style, was also tapped last year for a range of offerings, from bold sculptures and paintings to ready-to-wear clothes, furnishings and home accessories.
Other groundbreaking collaborations include artists such as Mariscal, Jordi Labanda, Willow, Catalina Estrada and fashion design house Fyodor Golan.
"The benefit of brand collaborations is that they allow Chupa Chups to stand out in a very crowded retail space and generate buzz," says Cool. "Many of our artist and fashion collaborations are typically positioned at the higher end, so they are not the type of projects that will bring in large revenue, but they will create a halo for the rest of the collection and at fast fashion retailers."
Traditional licensing partnerships are also a key strategy for the Chupa Chups brand. For example, in April, Chupa Chups joined retailer Uniqlo's The Brand Masterpiece collection, a collaboration that celebrates internationally well-known brand identities across music, food, electronics and home. Chupa Chups featured on a range of men's t-shirts.
But Perfetti Van Melle is more than Chupa Chups. Its other brands each have strong followings and offer deep product opportunities around the world.
"Perfetti has several global brands and many that are very popular in local markets. What they all have in common is their clear brand image and an emotional link with their consumers who are eager to experience the brands in new ways," says Cool. "We always develop our activity where the brands hold a strong awareness, have wide distribution in the candy space and where licensing is a relevant opportunity."
For the Perfetti portfolio, leading brand markets are France, the U.K., Italy, Japan and South Korea. China is also a growth region, particularly for Chupa Chups and Mentos.
Across the Perfetti Van Melle portfolio, the top three categories are fashion, personal care and air care, accounting for 60 percent of the company's licensing business.
Perfetti Van Melle licensed apparel can be found at global retailers such as Zara, H&M, Cotton On, Urban Outfitters, OVS and ASOS, as well as in in It'Sugar shops in the U.S., where confectionery and lifestyle products sit together.
"In seeing the success and growth of the Chupa Chups licensing activity, we have been invited by Perfetti to develop the business model with some of the most iconic brands of the group like Mentos and Airheads," says Cool. "As these brands have a distinct character of their own, each time we start working with a new brand, we need to fully understand its DNA and its unique selling point for licensing. It's not a 'one size fits all' business model. Mentos, Frisk and Smint, for example, are more functional brand types, but then they have great potential to create niche opportunities, fresh concepts or sports categories.
"Each time we start with a new brand, we need to dress it for licensing according to its personality, tone and voice," continues Cool. "This obliges us to work on many different design fronts to get very different style guide executions and target approaches. On the other hand, this provides for a larger business opportunity. Ultimately, our goal is that all the licensed products should be as authentic as the original core product."
For brands like Airheads that have a very distinct flavor profile, partnerships with retailers such as quick service convenience store 7-11 drive brand awareness through special offerings that are natural extensions, such as the Airheads Slurpees, soda and popsicles that launched in locations around the U.S.
Flipping the traditional licensing model completely on its head for Mentos, Citroën, the French car maker, launched a limited edition car based on the minty candy brand, which was further supported by a TV campaign and linked with a consumer promotion in France.
Other key licensees for Perfetti brands include Fila for sportswear, Itochu Fashion System for apparel, RTC for candles, International Greetings for stationery, Bee International for candy gifting and Car Parts, Who Rae and 151 Products for air fresheners.
A major focus for Perfetti Van Melle moving forward is food and beverage extensions. "
To license the brand into other food and beverage products is a huge opportunity for our candy brands, but it is also a big responsibility as it is so close to the core business," says Ballesteros. "The food and beverage program is developed following a step-by-step approach with an exhaustive screening of the best-in-class partners for each product."
In 2016, the Perfetti team tapped Unilever to launch Chupa Chups Calippo Shots, a range of individually wrapped ice creams that feature iconic lollipop flavors. That range continues to grow. In addition to Unilever, licensees on board in the space include Baskin-Robbins for ice cream, Vandermoortle for doughnuts, Griesson De Beukelaer for biscuits and Jel Sert for frozen novelties.
The Perfetti Van Melle food and beverage program grew close to 20 percent of the overall licensing business in 2017, says Ballesteros, and will to continue to expand its brands across categories such as frozen novelties, desserts, bakery products and drinks.
To help further manage the global business, Perfetti Van Melle engages a network of agency relationships, many of which are long-standing. Beanstalk, Seltzer Licensing, CPLG and Sanrio Far East are just a few that are integral in growing the company's brand licensing business.
"For us, our agents are really strategic partners," says Cool. "We like the idea of working long-term with them." So with all of this success behind the Perfetti van Melle licensing team, what is next?
Asia, certainly, where Perfetti says they expect significant growth in China, as well as more food and beverage expansions.
Ballesteros says that 2019 is set to be an "excellent year" for Mentos, which will see even more collaborations as it moves into the sports sector, as well as dives deeper into personal care.
Perfetti also points to the U.S. as a growth region–recently the team has begun to license Chupa Chups, Airheads and Mentos into the region with more frequency, and they are bringing new partners on board.
Retail is also a focus for the Perfetti Van Melle team, and a new project that will bring "surprising" corners and shop-in-shop concepts to brick-and-mortars is set to deliver "unique brand experiences" for customers. And these plans and brand wins are compounded when you consider the size of the Perfetti van Melle team.
"We have a tight-knit team of six women with 61 years of combined licensing expertise. It's true that we never have a boring moment, but we manage to keep the balance because we are not alone," says Cool. "We have the backing of our strong international organization that is very committed with our activity and supports us on legal matters, financial management and the marketing support of the international brand teams.
"Above all, it's very rewarding to work with these brands. Wherever we go, we get a big smile from people when we talk about our brands," continues Cool. "We have a lot of fun creating new ideas every day, and we put passion into what we do. And it helps that we get to try a lot of that delicious candy, a perk that comes with the job."
Subscribe and receive the latest news from the industry Article
Join 62,000+ members. Yes, it's completely free.
You May Also Like
---